Pfaff appoints brothers to take McLaren into Montreal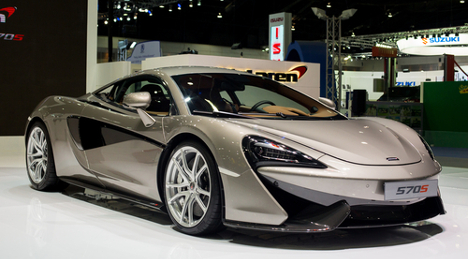 MONTREAL -
Canadian importer for McLaren automobiles Pfaff Automotive Partners announced today it is bringing the luxury brand to the Quebec market.
Pfaff is extending the McLaren dealer network with the appointment of Nino and Renato De Cubellis, who will open McLaren Montreal in late 2016. This will be the third dealership in Canada for the high-performance nameplate.
And the two brothers are no stranger to luxury brands. In fact, they already own Jaguar Land Rover Laval. The new McLaren dealership will be located on Boulevard Chomedey, adjacent to their existing Jaguar Land Rover facility.
"Both Nino and Renato have always focused on providing long-term exceptional service instead of short-term gain," said Christopher Pfaff, president and chief executive officer of Pfaff Automotive Partners. "In that way, their values reflect ours: the trust and respect they have developed with their customers over the years has kept satisfaction high and consistent. Like us, Nino and Renato understand the value of exceptional customer service, and the level of engagement only a truly passionate team can deliver."
And the location choice is not a product of chance. Instead, Pfaff explained McLaren Montreal is strategically located, as Laval has been one of the fasted growth areas in Canada in terms of population and wealth.
"We are looking forward to McLaren Montreal opening up as our third dealership in Canada, and I am confident the De Cubellis brothers will do an excellent job representing McLaren," said Tony Joseph, president of McLaren North America. "Their experience with premium British brands makes them the ideal fit for McLaren."
The two brothers are celebrating a decade in business with their Jaguar Land Rover Laval store, but their experience in the luxury market goes back farther than that. In fact, the pair come from a family with an automotive background dating back to the early 1970's, having dealt mainly with luxury brands.
"We enjoy developing sustainable long-term relationships with our customers," said Renato De Cubellis. "Purchasing a luxury vehicle is a big deal, and we understand the importance of making clients feel valued. Our friendly and knowledgeable staff is just as dedicated."
The brothers have already developed strong ties to their community. For example, Jaguar Land Rover Laval has supported AGAPE, an organization that caters to Laval's underprivileged residents, and in 2014 and 2015, the dealership pledged a platinum sponsorship to the Laval Families Magazine Young Author's Contest.
In 2016, they've pledged to take their efforts a step further by partnering with the Canadian Cancer Society.
"Pfaff has helped grow the McLaren brand in Canada, from the opening of the country's first McLaren store in 2012," said Christopher Pfaff. "From that starting point, we have grown to serve a nationwide audience, delivering vehicles from Nova Scotia to British Columbia, and established McLaren Vancouver in 2014. We have always strived to serve the Quebec market well, but with the introduction of the new Sports series, it became clear that Quebec – and Montreal in particular – was an untapped opportunity. We think the time is right for Quebec, and Montreal, to have its own McLaren dealership — and are equally certain that the De Cubellis brothers are the right partners to help us grow the brand even further."