Pfaff balances need of high-end, mainstream buyers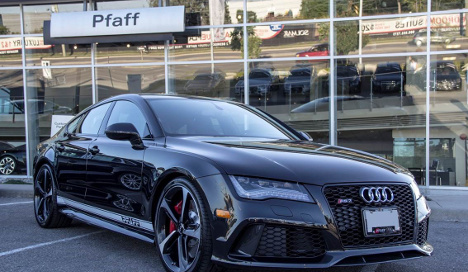 LONDON, Ontario -
Many of us may approach turning 50 with mixed feelings, but for Pfaff Automotive Partners, crossing the half-century mark a couple of years back was a truly exciting milestone.
As Pfaff Automotive settles into its second 50 years, president and chief operating officer Christopher Pfaff offered his thoughts on a changing industry, challenges in the used-car market, as well as what's on the horizon for the 52-years-young business.
The London, Ontario-based dealer group got its start when H.J. Pfaff emigrated from Germany and launched H.J. Pfaff Motors. Christopher Pfaff took ownership of Pfaff Automotive Partners in 1986.
Pfaff today has nine dealerships plus two leasing and two service locations throughout Ontario and British Columbia. The company deals in super/luxury brands (McLaren, Pagani, Audi, BMW, Porsche) as well as Volkswagen and Toyota Scion.
So there is a bit of balancing the needs of high-end and mainstream buyers.
According to Pfaff, buyers in both categories want a fast, convenient, reliable purchase experience from a trusted source. After that, he said, the two groups diverge.
"Our high-end buyers typically purchase more vehicles with us over time, and find an increased level of engagement with Pfaff through our track events, international driving experiences, and their involvement with car clubs," he said. "Conversely, those looking to purchase a reliable vehicle want an experience that is seamless and gives them confidence in the car they're purchasing and the dealer they are working with."
And whether buyers are in the market for a used Porsche or a used VW, Pfaff is paying attention to how it draws customers to its used departments. According to Pfaff, a strong online presence is top of the list.
"We've invested heavily in vehicle merchandisers to ensure the quality and consistency of our photography and descriptions are there, and we are dedicating more of our online advertising budget to pre-owned cars and seeing success," he said.
"In addition to that, it's important to acquire and maintain healthy inventories at all of our stores — so we have what people are looking for — and highlight the manufacturers' certified pre-owned programs to build consumer confidence, and emphasize the benefits of buying from a franchised dealer."
The used business is not without its challenges.
"Inventory is a constant challenge," Pfaff said, "and we are constantly evolving and adapting our practices to make sure we have what our customers are looking for. An interesting consequence of the growth of our pre-owned business has been extra strain on our service capacity — the pressure to get cars to market quickly, and not have them stuck in reconditioning, has created some challenges.
"New government regulations about disclosure ensure that our processes are transparent, and safety and reconditioning standards are met. While we are a big supporter of the manufacturers' CPO programs, keeping a balance between their involvement in the business and our own needs is something we are always thinking about. The management of stop-sale actions on pre-owned inventory (Takata airbags; diesel) are an example. We are always considering our position, and trying to minimize these issues' financial strain on our business."
As far as trends in the used-car market, Pfaff cited changes in consumer confidence and consumer behavior.
"Due to government regulations as well as the manufacturers' promotion of their certified pre-owned programs, (consumer confidence) is higher than it's ever been, and has helped build the value in quality used cars. More than ever, new-car dealers are seeing their used business as an integral part of their business.
"Customer behavior is changing as well. Consumers research and find what they want online, so it's more important than ever that we're providing the information they need — in the form of detailed descriptions and good photos. They simply don't do physical lot-to-lot searches anymore."
That means digital technology is critical. "How we represent ourselves online is crucial to attracting consumers to our used inventories, and to beginning a discussion with a potential buyer. Great photos, accurate and well-written descriptions, full and transparent vehicle histories, and technical highlights of the relevant model year vehicles are a must.
"Pfaff has had particular success marketing some of its more unique, high-priced vehicles online. Special editions, custom-ordered colors, individual options, and other outliers are great fodder for social media, which continues to drive an increasing amount of our online traffic. We have even created entire campaigns around special pre-owned vehicles at our Audi, Porsche and BMW dealerships."
After having opened the country's first McLaren store in 2012 (in Toronto; McLaren Vancouver opened in 2014), Pfaff is poised to open its third McLaren dealership in early 2017 — this time in the Montreal suburb of Laval. Pfaff hired brothers Nino and Renato De Cubellis — owners of Jaguar Land Rover in Laval — to open the dealership.
"We are very excited to help bring McLaren to the Quebec market," Pfaff said. "It is an incredibly vibrant, high-performance car market, and we already have a great customer base there. We've found the right partners in Nino and Renato De Cubellis in Laval, who are great advocates for the brand and are making the appropriate investments to deliver a McLaren-level experience for our customers."
As far as continued growth and expansion, Pfaff could only offer a hint: "More is on the way."