Policaro Family's Marketing Win & New BMW Store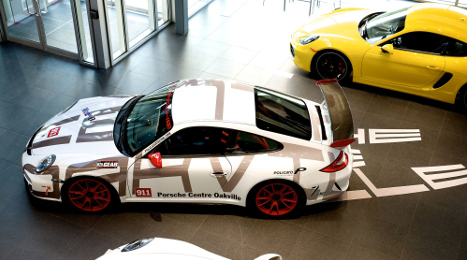 BRAMPTON and OAKVILLE, Ontario -
It's been a busy few weeks for the Policaro Automotive Family, which on top of adding another dealership to its franchise network, also recently won a global dealership contest for marketing innovation.
The Policaro Automotive Family, who runs franchises in Brampton and Oakville, Ontario, grew its lineup to eight stores, breaking ground last week for a new location, BMW Brampton.
The new BMW store will serve Brampton, Caledon, Orangeville and surrounding areas, located on the east side of the 410 at Mayfield Road.
The breaking ground ceremony, held last week, was attended by dealership general manager Francesco Policaro; chief of staff for the City of Brampton, Ian Newman; Robert Arnone of R.H. Carter Architects; and, the president and chief executive officer of BMW Group Canada, Hans Blesse.
"BMW is a brand that I have always aspired to be a part of, and today my dreams have become a reality as we broke ground on a facility that we believe will become one of the most exciting showcases for BMW this side of Munich," said Policaro.
BMW Brampton, set to open its doors in late 2015, will be the 46th BMW retailer in Canada.
The 60,000-square-foot dealership is scheduled to open its doors in late 2015.
Blesse, expressed his enthusiasm for the new location, noting, "Brampton is a growing and vibrant market, and we're certain the Policaro family's significant investment will be well received by the community. As an established family business focused on providing exceptional customer service, we know the Policaro way of doing business has a lot in common with ours.
"The Policaro's are an excellent fit with BMW, and we look forward to seeing them grow and prosper in Brampton, Caledon and the surrounding markets," he added.
Architect Arnone shared the new facility will incorporate new technologies while offering a "warm, inviting atmosphere."
Porsche Centre Oakville Recognized for Marketing Efforts
Porsche Centre Oakville, the Policaro Automotive Family's sole Oakville dealership, hosted an event honoring Porsche's re-entry into the 24 Hours of Le Mans car race, and it got the automaker's attention.
The event — which coincided with the race, lasting 24 hours and touting more than 500 guests — won the dealership first place in the Porsche AG marketing competition.
After review of global submissions over the past few months, the automaker decided the June 14th celebration was tops.
"We are thrilled to be recognized globally for our marketing innovation," said Policaro, general manager at Porsche Centre Oakville. "With our 24 Hours of Le Mans event, we tried hard to give our customers an exciting experience and to celebrate and support Porsche's re-entry into the famous European sports car challenge. It was a great day here at Porsche Centre Oakville as witnessed by the abundance of current and future Porsche owners that participated in our award-winning experience."
Guests of the event were privy to a family BBQ, popcorn station and ice cream truck, as well as face painting and facility tours.
The dealership even held a Junior Grand Prix, which included a 65-foot-long inflatable racetrack for kids of all ages to race Porsche peddle cars.
And the dealership even had the World Cup fans covered.
Porsche Centre Oakville created a custom World Cup Lounge that played the matches day and night and provided a foosball table.
Lastly in the 24th hour of the event, the dealership unveiled a Porsche 2010 997 GT3 RS that had been transformed into a Le Mans race car, with an iconic red roll cage and a Le Mans-inspired vehicle wrap.
"I want to thank my colleagues at 7 Communications for helping me put together a globally recognized marketing campaign," said Policaro. "They're true supporters of our work here at Porsche Centre Oakville and we're very glad to have them on our team."