Porsche Canada breaks ground on new dealership, headquarters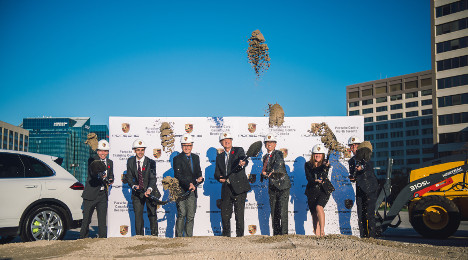 TORONTO -
Porsche Canada announced today it has broken ground on the site that will be home to a new Porsche Center as well as the company's new headquarters.
The new dealership will be the fourth greater Toronto area Porsche Center, and will house the brand's first training center in Canada. The training center will feature two work bays for Porsche Center personnel nationwide, the company announced.
The new headquarters will have room for about 50 Porsche Canada personnel. The company explained this move is "preparing the brand for the anticipated future growth in the Canadian market."
The building, coming in at over 60,000 square feet, will also feature a dealership showroom that will be able to hold 27 new and pre-owned vehicles, as well as an underground garage with over 50 parking spots.
The facility is located in the northeast corner of highways 401 and 404, where approximately 600,000 vehicles pass daily, the company said.
"Porsche has been very successful in the Canadian market over the last few years where it became the fastest growing automotive brand in 2014," said Alexander Pollich, president and chief executive officer of Porsche Cars Canada. "Our customers have been embracing our products year after year; therefore it is only natural that we grow our footprint in order to serve them even better as well as pave the way for continued success."
Among those who attended the ground-breaking ceremony last week were Pollich; Detlev von Platen, executive member of the board sales and marketing at Porsche AG; as well as representatives from Agellan Capital Partners Inc., Traugott Building Contractors, Ware Malcomb design firm and the City of Toronto.
"Porsche is a brand that celebrates performance, passion, and dedication," said von Platen. "The team representing the brand has demonstrated these qualities as the past five record years have shown. It is with the greatest pleasure that I am present today for the beginning of construction symbolizing a materialization of the brand's vision for the Canadian market."