Privacy4Cars launches Vehicle Privacy Report tool in Canada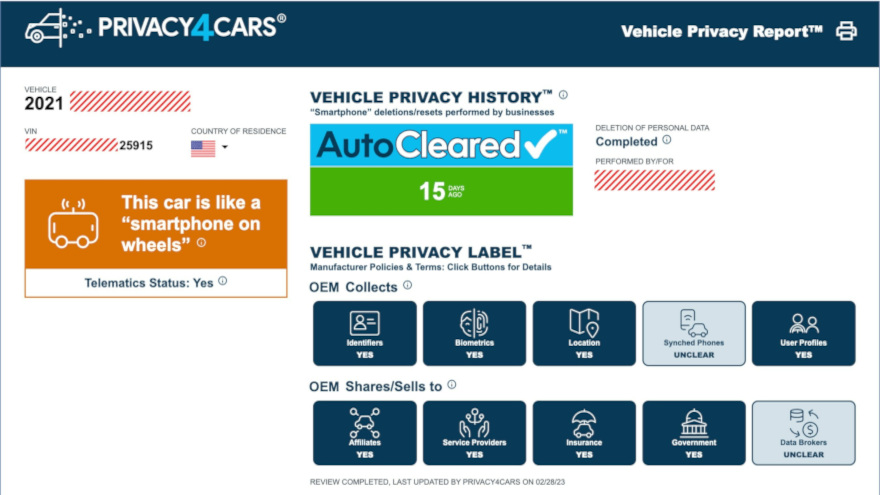 Privacy4Cars, a privacy-tech company focused on identifying and resolving privacy issues related to data collected by vehicles, announced its Vehicle Privacy Report is now available in Canada.
The tool allows Canadian consumers to quickly see key privacy facts about a vehicle — including the personal information the manufacturer collects, shares and sells — by entering the VIN at vehicleprivacyreport.com.
The tool's expansion to vehicles registered and operated in Canada comes a month after its launch in the United States.
"Before the release of our Vehicle Privacy Report tool, consumers had to spend hours researching and reading complex legal documents to try and understand the privacy policies and terms of the average automaker that they agree to when they buy, lease or rent a vehicle," Privacy4Cars founder Andrea Amico said in a news release.
Amico said "tens of thousands of consumers have already accessed personalized reports" in the U.S. since the launch and noted many of them have taken action to advocate for their privacy.
"The impressive number of consumers who care about their privacy and demand greater transparency and fairer practices in the automotive sector made us even more eager to expand our tool's reach into Canada, where both consumer attitudes and the regulatory mandates for privacy continue to increase," he said.
Each Vehicle Privacy Report includes two key pieces of information: the Vehicle Privacy Label, which is a set of 10 standardized clickable icons that synthesize the data collection, sharing and selling practices of vehicle manufacturers per their Canadian public policies and terms; and the Vehicle Privacy History, which lists known actions businesses have taken to protect the privacy of their customers.
Auto dealers in Canada can embed the Vehicle Privacy Report tool into their websites to communicate the data practices of auto manufacturers for each specific vehicle on their lot, which helps builds trust with their customers and embraces PIPEDA's Openness Principle.
Privacy4Cars said dealerships can also safeguard the personal information consumers often leave behind in vehicles by adding its multi-patented data deletion solution, AutoCleared, available in Canada through HeyAuto.
Privacy4Cars emphasized the need for its tool by citing a recent study it conducted in association with Canadian Automobile Association that found nine out of 10 Canadian consumers could find the data of previous drivers and passengers, such as home address, garage codes, location history and phone data, just by test-driving one or two vehicles.