Q&A with Alan Bird of SCI Marketview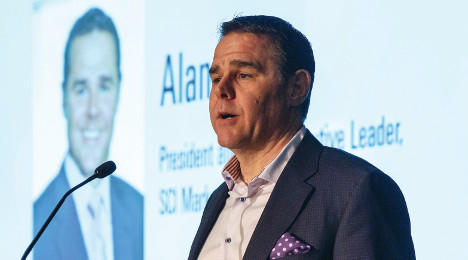 TORONTO -
At the Auto Remarketing Canada Conference earlier this spring, SCI Marketview president and chief executive leader Alan Bird was recognized as the 2017 Executive of the Year, an award presented by Canadian Black Book.
Prior to the conference, Conrad Galambos in Canadian Black Book media relations put together a Q&A with Bird, which is featured below.
Galambos: Tell me about your beginnings with SCI.
Bird: I joined SCI in 2010. Business had some challenges at that time and they were looking for new leadership. I did have a relationship with the majority investor and it seemed to be a perfect fit.
Galambos: Explain how you have grown or diversified the business in the past year.
Bird: The auto business is faced with a number of different challenges and the way people get vehicles has changed, and SCI has helped fill some gaps in the current auto marketplace … by running into the gaps ourselves, we worked to fill them. Dealers are great working with customers who walk through the physical front door of the dealership, but not so good when they walk in the digital front door, and we help them manage that experience and learn and understand how to capitalize on those customers.
Galambos: How would you explain your leadership style?
Bird: Very collaborative. If I do anything well, I surround myself with a team with different skillsets and appreciate all the skillsets on the team. You need to complement yourself with strengths that support your own weaknesses.
It is very much a team … nobody by yourself ever achieves what a team can. You need the right people. The one word to define my style would be "appreciation." I'm not sure of what an officer can do; I do know what a leader can do. The person answering the phone is just as important as me.
Galambos: Tell me about your team and how you, as a person and a leader, feel about them.
Bird: Friendship. The best part of my job is that I can pick the people I work with. It's like a bunch of friends come to work every day, and we get work done. We like to hang out with each other and enjoy each other's company.
Galambos: What qualities are key to become a successful entrepreneur?
Bird: Curiosity. Humility. You need to assume you don't know and ask lots of questions. Ask why! When I was kid, I started off sharpening skates; I bought a machine and started a business. I figured out early on that I can make more money if I had other shops and people (my friends) doing it for me and with me.
I thought that was good common sense. And that is how it started for me. If you make a workplace fun and a place you want to be, you are more likely to succeed. Have some fun, don't be afraid of it. Every business has a culture, so it is best that you define the culture you want and ensure that takes hold.
Culture is very hard to replicate versus product, structure, etc. Culture is about, how do you feel? — not perks or free lunches. The team needs to feel good. People that work for me is a privilege, not a right.
Galambos: In terms of the auto industry, where do you see the greatest potential for improvement moving forward?
Bird: Without a doubt, other industries have changed the customer experience dramatically, and the auto industry is behind. With the exception of the internet, the auto industry itself has not changed as much as it needs to.
Buying a car can be painful, and this needs to be improved. There is so much change coming, the future will be fun. The industry needs reinvention, and it will reinvent. Dealers need to start opening up and want the change that is coming. Car dealers in Canada are some of the best entrepreneurs we have; they will make it through.
Galambos: What would you say, or like to say, that your reputation in the industry is?
Bird: I hope they would say I am a good person. That I do things for the right reason. That he surrounds himself with really good people. And that he doesn't mind giving back and, in fact, feels an obligation to do so.