Quebec Benz Dealership Breaks Ground on New Facility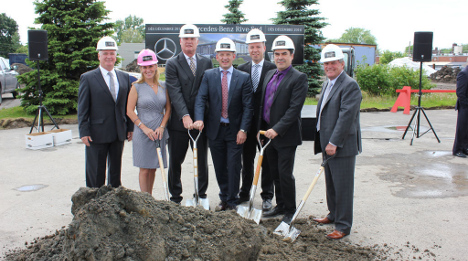 TORONTO -
Quebec's Mercedes-Benz Rive-Sud broke grown on a new larger dealership facility at the same location that has been home to the store for more than 50 years.
Tim Reuss, president and chief executive officer of Mercedes-Benz Canada, along with company executives, recently joined Claude Leclair, Carolynn Leclair and François Leclair, respectively president, vice president and general manager of Mercedes-Benz Rive-Sud, to turn over the first shovelful of soil at the 4844 Taschereau Boulevard in Greenfield Park, Quebec.
"This event represents an exciting milestone in the history of one of the oldest Mercedes-Benz dealerships in Canada," said Reuss. "After 50 years of operations, this sizable investment promises to be game changing as it demonstrates the Leclair family's motivation to best serve the needs of our many existing and potential customers in this well-established market. I applaud the hard work and dedication that this group has demonstrated since joining our Mercedes-Benz Canada dealer network."
The company said the new 120,000-square-foot dealership — scheduled to be fully operational in December — will "significantly expand both the sales and aftersales capabilities for the dealership."
The new building will include a 35,000-square-foot showroom and a dedicated Sprinter Center that will be annexed to the facility.
The 45,000-square-foot service area will include 40 service bays.
François Leclair, general manager of Mercedes-Benz Rive-Sud, said, "We are celebrating the beginning of a new chapter for Mercedes-Benz Rive-Sud. Over the course of our first year tenure, our team's unwavering commitment and enthusiasm has enabled us to provide a first class experience for all our customers. We now look forward to continue delivering on this promise by providing an experience that is commensurate with the Mercedes-Benz brand in a modern, comfortable and highly functional facility."