SiriusXM Canada Subscriber Wins Her Wheels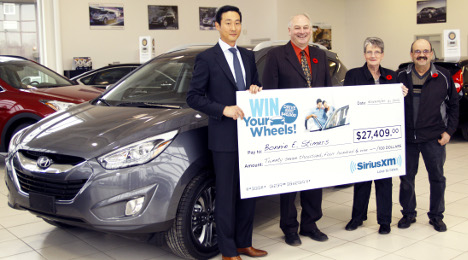 TORONTO -
SiriusXM Canada recently announced the winner of its summer Win Your Wheels contest.
Bonnie Stimers, a resident of Peterborough, won up to $40,000 to use toward a new or used vehicle purchase.
The contest, which was available to any customer who signed up for a one-year subscription to SiriusXM at the time of purchasing their vehicle, was won by Stimers, who purchased a 2014 Hyundai Tucson from Carmax Hyundai in Lindsay, Ontario. She was randomly chosen in September.
"I was absolutely floored when they let me know I had won my brand new car," Stimers said. "It's exciting enough to get a new vehicle, but to find out someone else is footing the bill is something else. I will enjoy my new car even more now, as well as my SiriusXM subscription!"
James Byun, SiriusXM Canada's vice president, OEM, presented Stimers with her check on Thursday, Nov. 6.
"This was a great opportunity for us to reward a subscriber," Byun said. "It also gave us a chance to talk to dealerships across Canada, who are so vital to our business."