Steele Auto's reputation, inventory programs boost Fairway Honda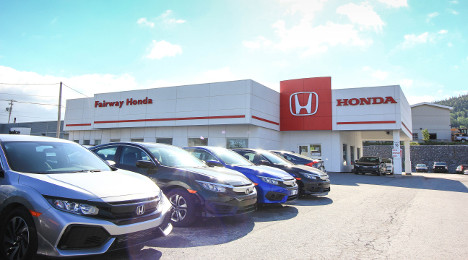 CORNER BROOK, Newfoundland and Labrador -
Corey Stone, general manager of Fairway Honda — a Steele Auto Group store — says being part of a well-known dealer group has been very beneficial for the store. The dealership, which has been in business over 25 years, has been a part of Steele Auto for about two years now.
"The biggest benefit is inventory management," Stone said. "It's really about inventory. Access to inventory.
"And we find it's beneficial for being up-to-date, problem solving, reporting. It certainly helps us manage the used-car department and the entire store as a whole," said Stone.
Reputation is key, as well.
And the stats back it up. The store has generally been able to secure 75 percent of its used cars from customer retention and trade-ins. When asked how his store secures such high customer loyalty rates, Stone had this to say, with a laugh: "We sell Hondas."
But in all honesty, the dealer says for the last few months he has depended on the factory remarketing programs, such as a partnership with Enterprise, to secure enough quality used inventory for his pre-owned lot.
"We partnered with the local rep from these programs and have been able to secure some good inventory from them, as well," said Stone. "So, we have been using some of those avenues to beef up our inventory and to get us the off-brand inventory that we are looking for."
The dealership also works with Steele Auto Group through an internal dealer group wholesale program, which Stone said has made "a significant and positive impact on sales."
"It allows us to buy certain products that we might need, specific to customers and customer requests, or just what we believe will sell if one store is overstocked or has some leases they don't want," Stone added.
Dwight Brown, used-car manager at Fairway Honda, told Auto Remarketing Canada that before Steele Auto took over, Fairway Honda was known on the used side of things as "a Honda store."
Fairway Honda had lots of customers looking for pre-owned Hondas, but what about the guests in the market for a different nameplate or model?
"What we've done in the last couple of years and that we are still striving to do with our marketing and such is really diversify and offer people a full complement of inventory of all brands, makes, models; not just Honda," said Brown. "And so we are seeing quite a bit of success there. We are getting a lot of late-model vehicles, whether it's Ford, Dodge, Chevy, and really trying to expand our presence in the market with much more diversity of high-quality vehicles."
Lastly, Honda provides a customer retention plan that works to bring customers back into Fairway Honda, as well.
"But we also have to make sure we create great experience to capture those customers and get those customers back and have the inventory we need to reach our goals," Stone said.
Fairway Honda is particularly careful to find quality used vehicles as it promotes the Honda factory CPO program at its store.
"We love CPO here. We find it's an easy transition for us. With our Honda brand, we are probably certifying 50 percent of our used inventory," Stone said. "And that's been very good for resale confidence with the customer. We enjoy it, we like it, and we find we close deals because of it."
At the core of used and CPO sales for Fairway Honda are the Honda Civic and Honda CRV. The store finds that trucks do particularly well, too.
"If we have an Odyssey van or if we have a Honda Pilot — these products never sit on our lots for very long. They are in high demand, and hard to find," Stone added.
As for why customers keep coming back to Fairway Honda, from a manufacturing point of view, is that store is the only Honda dealership in the market area.
"Our programs are solid. We are very competitive," said Stone. "On the people side, I would think we have great staff. One of the goals of our store is our managers; we definitely are pushing for that customer experience. It's the number one priority in our store. Creating the best customer experience possible."
The store is also very "process driven" — they try to follow the same process for each customer, to build value in the "Fairway Honda experience."
"I spend a lot of time as a GM making sure that the atmosphere and morale in our store stands up to par, so that when someone enters our store there's a great vibe, there's a great feeling and friendly environment," Stone said.
"Everyone tries to do that, but I believe we do it consistently," he added.
The Newfoundland and Labrador-based dealership is also in the middle of building a new facility.
"This is something that we will really try to leverage because we are in a smaller store now trying to accommodate a large customer base," Stone said. "Our customers are excited, too."
Fairway Honda plans to open the doors at its new location this September.