Still time to nominate Women & Automotive: Profiles in Leadership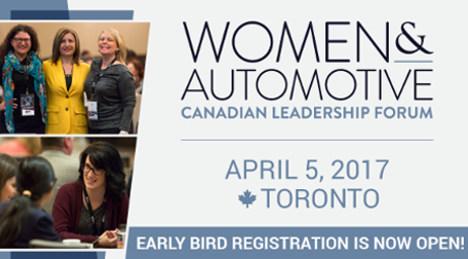 CARY, N.C. -
Since opening up nominations in early January, we've already had a few strong nominations roll in for a new upcoming feature dubbed "Women & Automotive: Profiles in Leadership."
The profiles in this feature will be part of the Special Conference Edition coverage in the March/April issue of Auto Remarketing Canada.
So, what are these profiles all about?
In conjunction with the Women & Automotive: Canadian Leadership Forum, we will be compiling a handful of profile stories about women in the Canadian auto industry who exemplify the best in leadership.
Thus far, the nominees have included the dealership world, auto finance and auto technology.
"And that's a great first step," said Auto Remarketing Canada senior editor Joe Overby. "We are looking for nominees in any and all areas of the Canadian car business.
"The goal is to have a mix of retail, wholesale, OEM, remarketing dealers, finance, aftermarket, technology, vendors and so on," he said.
So, if you know someone who represents strong leadership qualities in the auto business, we want your input.
If you have a suggestion for an auto industry leader(s) for us to profile, please email joverby@cherokeemediagroup.com by Feb. 3 with the following:
Her name, position and company.
Her email
Her top leadership qualities.
Again, this is not limited to the used-car business.
We want to represent the Canadian auto industry at large.