Subaru, Toyota, Porsche top retained value honors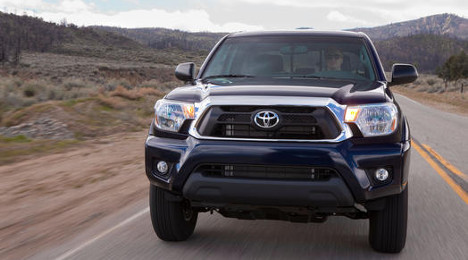 MARKHAM, Ontario -
Canadian Black Book has added a new wrinkle this year to its 10th annual Best Retained Value Awards, which were announced Tuesday.
The company is now honoring overall brand winners, in addition to the individual model honorees.
Taking the inaugural Overall Brand Award for Cars is Subaru, with Toyota taking Truck/SUV honors and Porsche earning the top spot for Luxury.
"After a decade of presenting these awards, we've established that it is necessary to recognize the brands that really excel in terms of retained value, across all their products," Canadian Black Book president Brad Rome said in a news release.
"That said, our number one priority in presenting these awards, is to help consumers know what models and brands provide the best opportunity to save money in the long term," Rome said.
In a phone interview, Brian Murphy — who is the company's vice president of research and editorial — explained what sets this trio of brand winners apart from others.
Starting with Subaru, Murphy said the brand has been conservative when it comes to incentives and rental car activity, while also hitting some "really impressive sales growth" in recent years.
"They just have a product that people in this market inherently find attractive," he said of Subaru. "And they have a reputation for quality, reliability and durability.
"And similar (reasons) for Toyota," Murphy said. "There is quite a bit of variability within any manufacturer's lineup, but really when you look at the big picture for Toyota … eight different Toyota models won awards, so I think that just speaks to those (traits) of discipline with respect to incentives and rental car activity, and inherently good product.
"I think that's a brand that's always had a certain amount of equity in the minds of Canadians, and that shows up in the retained value, as well," he said.
As for Porsche, the brand has historically had strong retained values. Murphy said it has been reported that the automakers doesn't overbuild — which is a "good place to start" — so their supply is typically lower.
"And they have some pretty compelling products that lots of people would like to own," Murphy said.
He said there aren't incentives from the German brand, "and not that much rental car activity, unfortunately, either," Murphy added with a laugh.
"To be honest, for a lot of people, they can't afford a new one, and so there is a real strong demand for used Porsches," Murphy said. "And they have a very well developed CPO program, which really helps the value as well."
To Murphy's last point, Auto Remarketing Canada asked how certified pre-owned programs might help in retained values.
"We haven't done any formal study of it, but we do know that by having a CPO program, you are creating another market for your vehicles," he said.
"And by diverting vehicles directly into CPO, it lowers the volume of vehicles out the in the market that you as a manufacturer or a dealer for that manufacturer don't have control over," Murphy said. "It's just a better way to manage the process. Especially if you're doing a lot of leasing, having a CPO program is a way to make sure the resale market doesn't get flooded with your product.
"And when that happens, when there is too much supply, your product, the prices are going to go down," he said. "So a mature, well-managed, well-funded CPO program is always an effective tool at helping to keep retained values where you hope they are."
Individual model winners
CBB also honored 4-year-old vehicles in 20 categories that retained the highest percentages of MSRP, and found a few record-breakers.
The Toyota FJ Cruiser (winner in the midsize SUV category) retained 83 percent of its value, which was an all-time high for any honoree.
The Jeep Wrangler (compact SUV) had retention of 82 percent, as did the Toyota Tacoma.
The Wrangler's 79 percent retention last year was the prior all-time high. The Wrangler has now won seven consecutive years, while the Tacoma and the Toyota Tundra in the full-size pickup class have won eight straight times.
CBB points out that overall used-car values reflect these record performances, as average four-year retained values are at 50.6 percent.
"These new records are truly astonishing achievements, considering the average vehicle today loses around 30 per cent of its value in the first year alone," Murphy said in a news release. "My best advice to consumers is to consider those vehicles that have a history of strong value retention, to minimize the inescapable effects of depreciation on your bottom line."
By vehicle category, small pickups fared the best this year (73 percent retention), followed by full-size luxury SUVs (60 percent), full-size pickups (59 percent) and full-size SUVs (58 percent).
On the opposite end of the spectrum, subcompacts had retention of 37 percent.
"Canadian market demand and US demand for Canadian used trucks and SUVs are driving up their retained and future values," Murphy said in the release. "To get the most bang for your buck, it seems trucks and SUVs are currently the best bet."
The complete set of winners are below in the charts from CBB: