Super Dave's Auto Sales looking to 'stay ahead of the curve' for independent dealers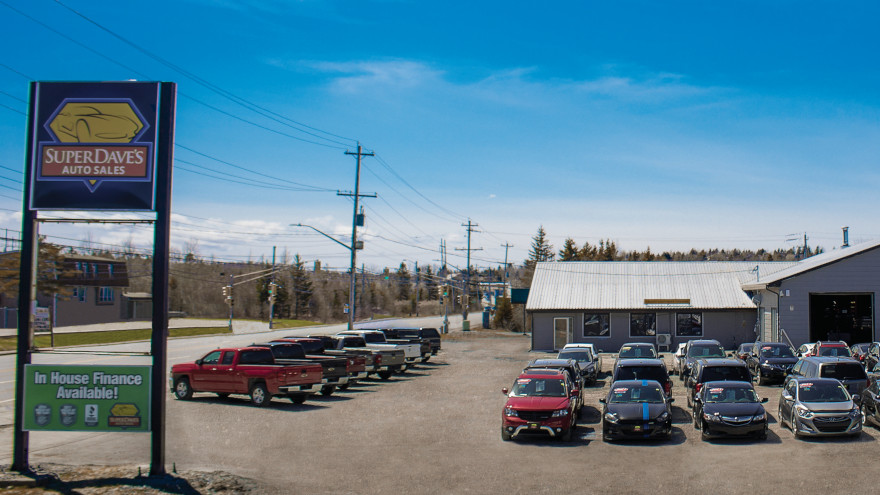 DARTMOUTH, Nova Scotia -
Dave Barrow, owner and president of independent auto dealership Super Dave's Auto Sales in Dartmouth, Nova Scotia, entered the car business in 2010 with no prior "car experience."
But that didn't stop Barrow, previously in real estate, from launching into the auto world in full force.
"In fact, I think it was the first time I think I had ever been in a used-car dealership," Barrow told Auto Remarketing Canada, referring to his first forays into the used-car industry.
But although it was a difficult to launch a dealership with little experience, Barrow said it was a "great way to enter the business without any preconceived notions of how the business should operate and the 'old school' way it's often still run."
And Barrow remains to this day a business owner that doesn't shy away from challenges. In fact, he said that the biggest challenge for an independent auto dealer in Canada today is also the biggest opportunity. That's simply the need to stay ahead of the curve and innovate.
This includes integrating more technology and automation into your business, while still focusing on relationship building and not losing sight of the fact that you are still in a "people-first business."
Barrow said, "Dealers that try to ride the status quo and are not trying to constantly find ways to improve their business, find new, exciting ways to reach customers, find inventory, manage administration, improve the sales process and instead they just generally do things 'old school', will fade away.
"Innovation and staying ahead of the curve is key; develop the curve yourself," he added.
And for this Nova Scotia independent used-car dealer, that means being on top of digital m/jasimarketing and the latest tools.
"I really have tried everything. Back when I was first starting to figure out the business I intuitively started with a strong focus on digital marketing, being a millennial (I Googled it; I just make the cut) it was the only type of advertising that even made sense to me," said Barrow.
He tried his own paid search accounts with platforms like AdWords, and worked with web developers to create landing pages and web pages, and focused on conversion optimization of these pages.
He also did his own SEO. But as the business grew, he created an in-house marketing team of three, "all experts in their various fields of digital marketing, and working full time to generate the store's own leads.
"I would say the skill level we have put together here would rival any top-quality digital marketing agency. We do some traditional stuff such as radio and mailouts, but most of our budget is focused on digital," Barrow said.
Marketing for independent dealers can often be even more daunting than their counterparts, as franchised dealerships directly benefit from national OEM-based marketing programs and advertising, as well.
As for what type of marketing is the best investment for independents, Barrow noted, "I really have tried everything … We do some traditional stuff such as radio and mailouts, but most of our budget is focused on digital."
New space to market service
One aspect of Super Dave's Auto Sales — other than a robust marketing department — that might give it a leg up over competition, is its in-house service department.
A few months before the interview for this article in April, the dealership had moved to a new facility.
"Before that, we did not have enough space to really market our department to new service clients. We were maxed out at four full-time technicians and a service adviser that mainly prepared our used vehicles for sale.
"Now with our new facility, we're looking forward to growing our service department," said Barrow. He explained the dealership does find that sales leads to service, and service leads to sales.
"When you get a service client, you create a relationship over the lifespan of their vehicle," said Barrow. "They grow to know and trust you. Then when the day comes that it doesn't make sense to continue to put money into their vehicle, or they decide to move on from it, is a great time to sell them a new vehicle."
To ensure more of these deals, the dealership sets up automated emails after the sale reminding customers in four-month intervals to come in to change their oil. The store also sends a reminder a month before their safety inspection is due as well as when they hit milestones in their warranty before it expires.
The dealership's sales staff also provide a service intro at the time of sales. The dealer explained that often with these strategies, if the buyer doesn't already have a trusted technician and is close in proximity to the store, "we can usually create a long-term service customer."
Fulfilling a need
Another aspect of the business for independent dealers that has to be considered is the potential for customers to have poor credit histories — and most pre-owned dealers have plans in place to try and help serve these customers to the best of their ability.
When asked how he ensures his customers are satisfied and comfortable with the finance options his store provides, Barrow said, "We really try to reduce as much friction in this area as possible.
After receiving finance applications from their customers, the store then gives a questionnaire that goes beyond the standard app in an effort to understand the customers' needs better.
"This questionnaire is really the most important part, qualifying and pulling out of the customer their real needs and separating them from there wants," said Barrow.
He said people will often withhold or not disclose information without realizing that very same information may be very helpful for the store in attempting to negotiate an approval or better terms from a lender.
"It's our job to ask the right questions. Knowing and understanding our customer — their lifestyle, credit and income is essential," said Barrow. "Joining that information with our expert knowledge of our lenders, allows us to pair our customer with the lender that will give them the best deal, and we do it quickly."
This philosophy goes hand in hand with the stocking strategies the store employs.
"We don't focus on the make/model so much as the utility, and ensuring we have something in each utility category to fit each type of customers financing approval," said Barrow.
For example, Barrow makes sure the store has sedans ranging from 2011 to 2019 in price ranges starting around $8,000 and going up to $25,000.
He explains most customers come to the store with "a need and a budget."
"We are constantly reviewing our inventory to see where any holes in inventory may be. We have our salespeople constantly informing us when they are seeing trends of consumers looking for something, we may be missing, such as seven-seater SUV's; then we fill that hole."