TADA comes on as partner for 2016 AR Canada Conference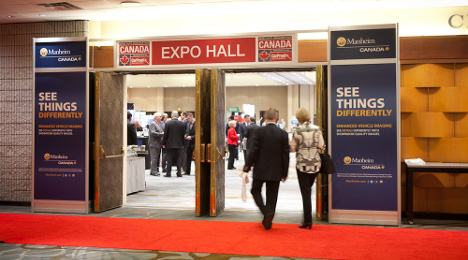 MARKHAM, Ontario and CARY, N.C. -
Auto Remarketing Canada and the Trillium Automobile Dealers Association (TADA) are pleased to announce a partnership for the upcoming industry leading conference in April.
The Auto Remarketing Canada Conference will return to the Westin Harbour Castle in Toronto on April 4 and April 5 for another event full of networking, analysis from the industry's leading experts, presentations from top vendors and more.
And make sure to keep your calendar open for April 6, as well. Auto Remarketing Canada will be launching a brand new event for our audience that day, which will be announced next week.
This year, as part of TADA's involvement as an Industry Partner to the conference, the association will develop and host a workshop at the event that will focus on the topics of attracting, hiring, training and retaining millennials in the dealership.
Todd Bourgon, executive director at TADA, explained that millennials are not understood by many in terms of value systems, such as shopping habits and preferences.
"We would like to panel individuals that could speak to this and help attendees better understand the shopper of the future and how to prepare for that, as well as how to successfully attract and employ them," he shared.
Bill Zadeits, conference chairman and president of Cherokee Media Group, expressed enthusiasm for the partnership: "We are thrilled to have TADA on board as an Industry Partner for what's bound to be the best Auto Remarketing Canada Conference yet.
"TADA's workshop topic is of prime relevance as the millennial generation is now the largest and most diverse generation in the Canadian population," he added.
Also, as part of the partnership, TADA will be promoting the event to their dealer members. Last year, Auto Remarketing Canada drew its biggest crowd yet with over 700 attendees, which included almost 300 dealers. The 2015 expo hall also doubled in size — the largest the conference has ever seen — featuring a total of 34 companies.
"We are happy to be partnering with Auto Remarketing Canada to continue to grow the event that hones in on current and relevant topics for dealers and remarketers," said Bourgon of TADA. "Bringing dealers together to network and learn is crucial to moving the industry forward and finding solutions to today's industry challenges."
Registration for the Conference begins in early January. The Early Bird registration rate of $795 will be available until Friday, March 4. Following that date, registration rate will increase to $995. But you don't have to wait that long to reserve your room for the event. See here to reserve your spot at the Westin Harbour Castle today.
Auto Remarketing Canada is already busy ensuring this year's conference attendees are privy to even more great content this year.
For example, the first-ever "Canadian Subprime Auto Finance Benchmarking Study" will be presented by Dwayne Furmidge, director America's for Benchmark Consulting International. The study results presentation will be offered exclusively to Auto Remarketing Canada Conference attendees.
And this is just the first of many announcements of new offerings and partnerships at 2016's upcoming event. Stay tuned! And make sure to check out our conference website for updates as the event approaches.