Tools in hand, industry members show their humanity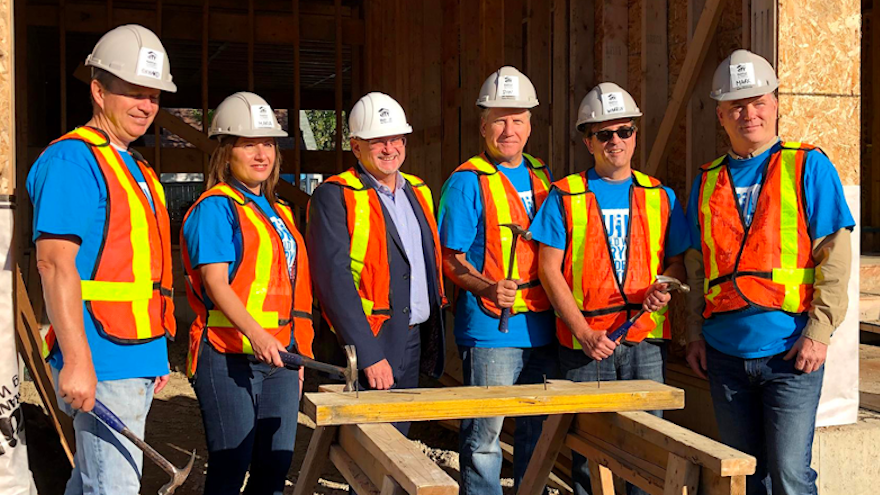 MISSISSAUGA, Ontario -
Maria Soklis says automotive industry leaders believe in the importance of supporting their local communities.
"Today, we had the opportunity to do just that — leading by example — to help build homes for Canadian families who need a little support to gain stability and self-reliance," said Soklis, who is president of Cox Automotive Canada.
Soklis was referring to an event in September in which team members from several automotive industry organizations kicked off the first-ever Canadian Automotive Industry Build in support of Habitat for Humanity Canada.
Team members from Cox Automotive Canada along with Build partners from Canadian Black Book, CARFAX Canada, Hyundai Canada and the Used Car Dealers Association attended the ceremony. The Bank of Montreal, Desjardins, Scotiabank and TD Canada Trust were additional sponsors.
Canadian Black Book also talked about its work for Habitat for Humanity, as its head office team members left the comfort of their office to help build homes for local families. They picked up some tools and materials on an HFH build site in Mississauga.
"The Canadian Black Book team is a family," Canadian Black Book president Brad Rome said in a news release. "That is a major reason why we collectively feel strongly about the importance of giving back and helping families that need it."
Cox Automotive Canada describes Canadian Automotive Industry Build as an opportunity to connect the industry to the cause of helping build stronger communities and helping families "achieve strength, stability and self-reliance."
On average, according to Cox Automotive, Habitat generates $175,000 of benefits to society for every home built. Cox reports that since 1985, Habitat Canada has helped 3,619 Canadian families to get access to a decent and affordable home.
Canadian Automotive Industry Build team volunteers will be on the Mississauga Build site through the end of October with community volunteers and seasoned Habitat construction staff.
Also, as part of their partnership with Habitat for Humanity, future Habitat homeowners will complete up to 500 hours of volunteering.
Regarding the Canadian Black Book team, eight of its team members spent the day at the build site in Mississauga. The team completed work such as general construction, moving materials, safety watches, and site cleaning.
"It was hard work, that was a tough day, and I sure learned a lot," Canadian Black Book vice president business development and marketing Richard Phillips said. "But the satisfaction of knowing the end game really provides the encouragement. I think we all enjoyed ourselves and feel good about the contribution."