Toyota Celebrates 50 Years in Canada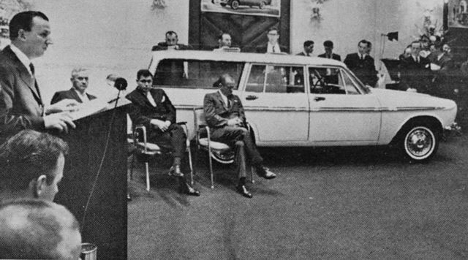 TORONTO -
It has been 50 years since Toyota entered the Canadian marketplace.
A half a century ago, Toyota granted a distributorship agreement to Canadian Motor Industries, Ltd., which would later become Toyota Canada Inc. (TCI).
The following year, TCI would sell only 755 vehicles.
To put the automaker's growth in perspective, Canadians have purchased over 4.6 million vehicle as of this year, and the lineup includes 40 vehicles.
"On this special occasion of our 50th anniversary, we thank Canadians for making Toyota a part of their lives, and allowing us to be woven into the social and economic fabric of this great country," said Seiji Ichii, president and chief executive officer of TCI. "Our customers are the inspiration that motivate us — and they are behind the passion that drives our innovation in the automotive industry."
And TCI has put an emphasis on creating jobs in the country, as well.
Today, almost half of the Toyota vehicles sold in Canada are made at Toyota Motor Manufacturing Canada Inc. (TMMC).
The Toyota Corolla and RAV4, and the Lexus RX350 and RX450 hybrid are built at TMMC.
And this year, TMMC also hit a milestone, celebrating the production of its 6 millionth vehicle.
TCI employs 700 associates, and the total of Canadians employed by Toyota in Canada reaches about 11,000 when adding team members, as well as at Toyota Financial Services, the company said.
And when taking the network of 285 dealerships into account, total employment reaches approximately 24,000 Canadians.
The company said that innovation is at the heart of the automaker's long-term vision, both for Canada and on a global scale.
In fact, the milestone of 100,000 TCI hybrids sold in Canada was recently reached.
Since 2000 when the Toyota Prius hybrid was first introduced to Canada, based on the total Toyota/Lexus hybrid units sold, using approved government of Canada test methodology, Toyota and Lexus hybrids have saved Canadians almost 260 million liters of fuel and helped avoid over 600,000 tons of C02 emissions, according to TCI.
The company also works to support Canadian communities, with help from its dealerships. Toyota Canada Inc. and the Toyota Canada Foundation work within the community with a primary focus on the environment, safety education and quality.
Toyota and its dealerships support the Toyota Evergreen Learning Grounds program and the Toyota sponsored KartSTART, a driver-safety training program.
In addition, there is support for research in telematics at Canadian universities such as the Toyota Collaborative Safety Research Center (CSRC) project at the University of Toronto, and research done by specialists at a dedicated Cold Weather Testing facility in Timmins, Ontario.