Toyota, Porsche among top winners of Retained Value Awards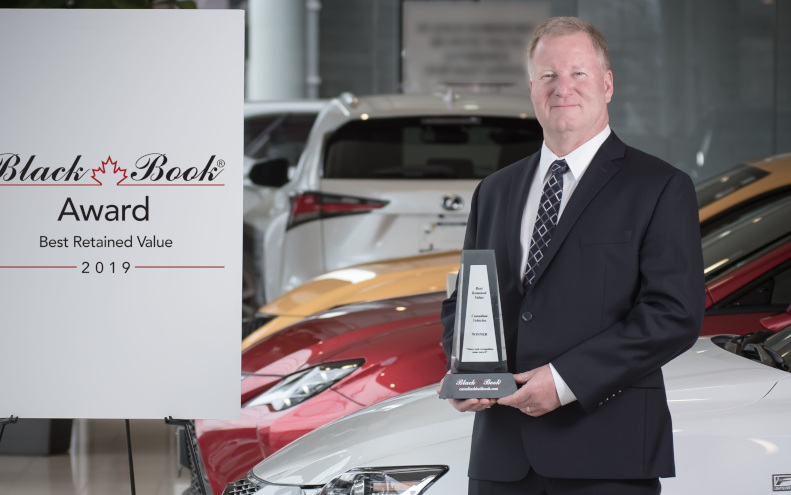 MARKHAM, Ontario -
Negative equity, when a consumer owes more on an auto loan than the market value of the vehicle, is a growing issue for Canadians, according to a news release announcing the 2019 Canadian Black Book Best Retained Value Awards.
Canadian Black Book says the awards illustrate to Canadians which four-year-old vehicles hold their value best, and the awards help educate consumers on lower depreciation models across 23 categories of vehicles and three overall brand categories.
Consumers often roll negative equity — which could equal thousands of dollars of additional debt — into subsequent auto loans. That can compound personal debt, Canadian Black Book says. The company notes that understanding negative equity, which cars hold value well, and when during your auto loan you will be in an equity position, is important.
For 2019, overall retained value across all vehicle models sold in Canada is 52 percent for 2015 model-year vehicles MSRP, according to Canadian Black Book. That is the second highest year on record, with last year's 53 percent being the highest.
The 2019 "Overall Brand" awards measure retained value across all models a brand offers. Toyota was the winner in the "car" class as well as in the "truck/crossover/SUV" category, and Porsche came out on top in the "luxury" category.
This year's awards feature three new vehicle categories. Mercedes-Benz GLA class won the "sub-compact luxury crossover" category, the Jeep Renegade was the winner in the "sub-compact crossover" category, and the BMW i3 took the honors in the "zero-emission" category.
Canadian Black Book noted that trucks and SUVs have been dominating demand over the last several years in Canada because of their value in the used-vehicle market. The top segments for value retention over four years are small pickups at 73 percent; full-sized luxury crossovers/SUVs at 63 percent; and full-sized pickups at 61 percent.
The premium sports car segment broke that truck/SUV trend by holding 64 percent as a category overall, and the Chevrolet Corvette won in that category for a second consecutive year.
According to recent Canadian Black Book research, 97 percent of Canadian car owners believe more education on loan term and equity position should be made available during the car buying process. The company noted that it recently launched a free Equity Calculator on its website. After consumers enter their vehicle and finance information, the tool produces a chart showing when they will have equity in their vehicle during their finance agreement.
Other highlights of the awards:
—Ford Mustang won in its segment for first time, holding 64 percent of its 2015 original MSRP, after seven straight years of Dodge Challenger wins.
—Jeep Wrangler has won nine consecutive years in its segment, holding 85 percent value.
—By region, Japanese manufacturers led the way with twelve first place finishes, European brands had eight wins, and North America had six.
For a full list of 2019 Canadian Black Book Best Retained Value Awards winners, go to: https://www.canadianblackbook.com/awards/