TradeRev Partners with Apex for Inspection Services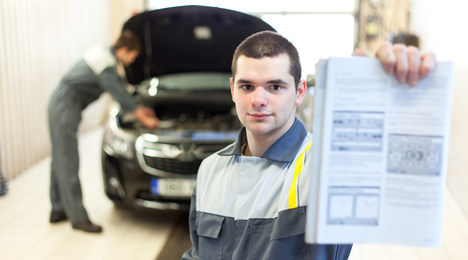 TORONTO and HAMILTON, Ontario -
TradeRev and Apex Inspection Solutions have partnered for a deal that will provide vehicle inspection services to TradeRev buyers throughout Canada.
This strategic partnership lets buyers on the online wholesale platform order accurate post-sale inspections directly from their desktop computers, helping to drive confidence among buyers, who can now ensure that every car they purchase via TradeRev is accurately described and fully disclosed.
Apex's coverage is nationwide, and the company will provide inspection results within 24 hours of when they are requested online by TradeRev customers.
Available on desktop computers now, users will soon be able to access this new feature via iOS and Android devices.
"Partnering with Apex adds yet another value-added service that helps ensure our buyers receive as much vehicle information as possible. We strongly encourage our buyers to take advantage of this service and realize the benefits of Apex's national coverage, quick response times and detailed accurate inspections," said Brad Hart, TradeRev's chief operating officer.
Craig Martin, director of Canadian operations for Apex Inspection Solutions added: "We have long admired TradeRev's online and mobile auction process for its ability to give users an accurate and quick market value assessment of vehicles.
"With the addition of Apex's services, TradeRev users will now have the added ability to quickly request a comprehensive and detailed condition report on purchased vehicles, prior to incurring any additional transportation and delivery costs," Martin continued. "We look forward to working with TradeRev and their dealers, while providing the highest service level in a long-term partnership."
The companies went on to emphasize the importance of inspection services to buyers who are making purchases outside of their own province. These inspections are done before the transportation expenses are incurred. They let also let an out-of-province buyer assess the condition of the vehicle he or she has bought prior to it arriving on the dealership lot.
This is just the latest of TradeRev's expanding services brought on as the company grows its footprint across Canada. The company also recently made it possible for users to order transportation and arrange payments via TradeRev.