Unique wholesale strategy at Harvard Auto Sales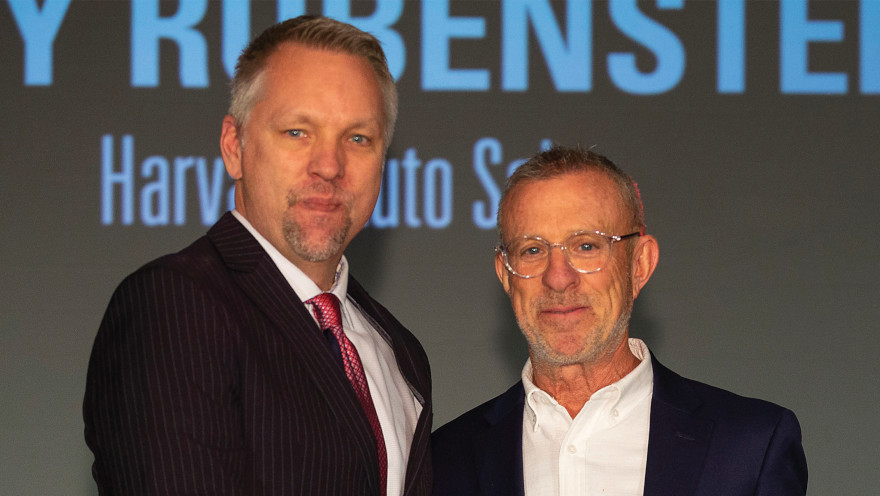 LOWER SACKVILLE, Nova Scotia -
Auto Remarketing Canada caught up with the AR Canada Independent Dealer of the Year, Gary Rubenstein, after the Nova Scotia dealer was honored during the March Auto Remarketing Canada Conference in Toronto.
Rubenstein is owner and president of Harvard Auto Sales, located in Lower Sackville, Nova Scotia. The business owner got his start in the auto industry in the late seventies, doing mostly dealer-to-dealer sales.
"I was in the wholesale end of the car business. I was just selling dealer to dealer. So, I'd go to one dealer, buy a car and sell it to another one," he said. "That's how I started, and originally did that for quite a few years."
Then in 1988, Rubenstein launched Harvard Auto Sales on a small lot. After opening two additional locations, Rubenstein brought the three stores together in 2006 to its current Nova Scotia location.
"We made it one 'super lot', which is what we are today," said Rubenstein. "It's a used-car, independent store, but people come and look, and they feel like they are getting a new-car store experience, a unique experience."
And Rubenstein has had over 30 years in the business to perfect that "experience." Rubenstein may be experienced as a dealer, but he's kept humble through success — evident by his reaction to the recent AR Canada award ceremony.
"I didn't know about it at all. We were very surprised at the time. And it's something very special to be, you know, get an award among your peers basically … it feels good," he said. "You know, you work for all your life, you know, just try to do the best thing and the right thing, and something like that comes along.
"It just validates the things we've been doing over the years," Rubenstein added.
A unique wholesale strategy
One of those "things" has manifested through a focus on wholesale — which serves to diversify revenue, as well as bring more, different customers around the store. Rubenstein said about a third of the store's business is wholesale, through which they sell directly to other dealers. The rest of the store's sales are consumer-facing.
Interestingly, it's because of Rubenstein's background in the wholesale industry that's made a huge difference in this part of his business.
"We don't advertise wholesale to dealers, but because of the years that I have been in that end of the business, I still get a lot of calls from dealers," he said. "They'll look at our inventory, or maybe they have sold us cars in the past, because we source a lot of our vehicles from outlets outside the auction, as well."
This focus on the wholesale side of his business, Rubenstein says, not only helps with sourcing his own lots, due to his wide range of dealer relationships, but it also helps him better control the aging of inventory.
"That's what makes a big difference. So, to be successful in this business means basically having the correct inventory," he said.
"If you have a car after like four months in stock, basically you've got something that you shouldn't have," he said. "You always buy something, because you want to sell it right away; not In five months or six months or seven months.
"That happens sometimes in this business," Rubenstein said, but it's something that should be avoided. And Harvard Auto Sales' focus on wholesale helps them do that, he added.
Rubenstein calls it the "90-day rule."
"Sure, after 90 days, it gets wholesaled, whatever, you take your loss, and you go, because you know, you have to move on and get the next one off your lot," he added.
But, of course, as a dealer, you hope not many of your vehicles reach that point. Rubenstein says he really has to continuously track economic forecasts and changes in weather — or gas prices — to keep the right stock on his lots.
"I watch gas prices, and if I see gas is going too much, I lay off my trucks. They're gas guzzlers, that people shy off a little bit when it goes up," he said. "The marketplace changes with what people want."
Stocking can be even more difficult, of course, for independent dealers, because, "we don't have a manufacturer to tell us all what's going to sell. We don't have anyone helping us out in the background. We have to figure it out. You don't have a stream of analysts," Rubenstein said.
Sometimes, though, stocking simply comes down to "competing for that good car."
"Sometimes, you just have to pay a little more, and you buy a better car. It's easier to sell after!" Rubenstein said.
The next customer
So, if you're an independent dealer and you have stocking down, what's next on your mind? Getting people in the store, of course — or on your website. Rubenstein says to ensure a steady stream of loyal, repeat customers, he looks to online reviews and customer reviews.
He offered the example of ordering a pizza in an area you don't know. It's likely hundreds of customer reviews are available for you to check out at the swipe of a finger on your smartphone.
"People haven't really changed much; it's still word of mouth. But it's just the medium has changed. They are online, instead of chatting at a gathering, etc.," Rubenstein said.
Further, Rubenstein pointed out another key to independent used-car store success is "having the right partners."
For Harvard Auto Sales, this means industry partnerships with companies like CARFAX, CarGurus, Kijiji and autoTRADER.
"These companies have a brand name. If you use it, you know, that makes you more successful because people relate to CARFAX," said Rubenstein, whose store is also a preferred CARFAX dealer this year.
Lastly, as the conversation wrapped up, the Independent Dealer of the Year told Auto Remarketing Canada as an independent dealer, it really comes down to having the right staff, the right team on board.
"We have 16 employees now … and it's all about treating everyone equally; everyone plays a role. From the general manager to those in charge of washing the vehicles," Rubenstein said.