Unlocking The Potential Of In-Image Advertising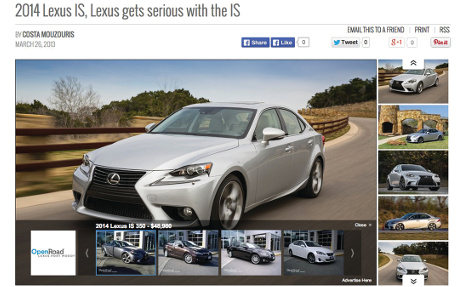 VANCOUVER, British Columbia -
In-image advertising is another buzzword to hit the digital marketing world in recent years. But not all in-image ads are created equal.
A large portion of in-image advertising, a form of advertising where specific images on a website are overlaid with display advertising, is focused on brand awareness and brand imaging. Ian Cruickshank, vice president at Speed Shift Media, says this angle doesn't tap into the advertising method's true potential.
One of the ways the digital marketing company serves its dealer and industry partners is through dynamic in-image advertising.
"We provide dynamic inventory display advertising that use really advanced technology to effectively match the right vehicle with the right buyer in the marketplace," Cruickshank told Auto Remarketing Canada. "In working with a large number of auto review publishers, we are now serving what is an in image ad, with a few extra bells and whistles."
These ads live in the bottom quarter of the primary vehicle image, or video, on a review page.
"If a consumer is reviewing a Porsche Cayenne S 2013, what they will see in that ad unit is all of the Porsche Cayenne S 2013 models from our dealer partners that suit that particular shopper's geographic location," Cruickshank explained.
Recently, the company created what it calls the Auto Audience Network, which uses the ability to serve ads dynamically and to assess the content on a specific Web page to deliver the exact vehicle to match the auto review that is being read by the user.
The company does this by using its Web-activity analysis and data tools to target an automotive intender and dynamically serve them the appropriate vehicle and vehicles from the specific dealers' inventory in question, Cruickshank explained.
If Speed Shift Media determines an automotive buyer is looking for a 2012 BMW 3 Series coupe, he said, then it is able to determine their model preference and make sure the ads the shopper gets served are served with that specific piece of inventory.
"We call it perfect contextual targeting. Based on the vehicle being reviewed, the ad matches the make, model and year of the vehicle in order to display the right vehicles within that ad unit. So the results and activity on those ad units is extremely high," said Cruickshank.
So when a shopper is reading a review and looking at that specific information, their immediate potential next step is to go and explore that existing vehicle which is at a dealership near them, said Cruickshank, making in-image inventory advertising a logical marketing step.
The Dealer Perks
As the company has begun working with more dealer groups and individual dealers across the U.S. and Canada, Cruickshank said the response from the Canadian market has been very positive.
But don't just take his word for it: "We have been impressed by the stats so far, and we're looking forward to seeing how AAN (Auto Audience Network) continues to deliver," said Ben Lovie, director of marketing, OpenRoad Auto Group Canada.
Cruickshank broke down a few of the factors of dynamic in-image advertising that make it so appealing to dealers.
First, dealers are almost always looking for ways to drive new traffic to their website, and more specifically, ways to drive the traffic to the "right" part of their website.
"When you are running a display ad, if a user clicks on that ad, they need to arrive at the right place," said Cruickshank.
The company's in-image ads lead consumers to the specific vehicle description page of the vehicle they have clicked on within the ad.
"The experience that a user is having is far better than when they are clicking on a vehicle and going to a landing page, or the home page for that specific dealer. Where as in our instance, they are going exactly to the page they want to be on in order to submit a lead, request more information or communicate directly with that dealer," Cruickshank said.
Dealers are also focused more now on driving traffic to their own websites, taking the emphasis of of third-party inventory listing sites.
Another perk to take into account regarding this type of advertising is that these ads are being placed in the most primarily viewed part of a website. According to webpage heat mapping, consumers are spending the most time on any page viewing the primary image and the title, which usually lives just below the primary image, Cruickshank said.
"So really these ads are in the most visible part of any given content page. Second, it is unexpected because it is seeing something within that primary image that is less common — which makes it more interesting," he added.
The ad unit is also considered native advertising, another industry buzzword, in that It is part of the content customized to each individual site. It adds value for dealers, the company's publishing partners, and most importantly — the user looking for a vehicle.
Speed Shift Media president and chief technology officer Steve Kump said, "Our auto dealer clients are seeing significant value when using in-image campaigns; when comparing results to standard display ads lifts of as much as 100 times in highly targeted clicks are not uncommon."
One of the most amazing statistics, Cruickshank said, is the engagement click rate, meaning people who scroll through and look at multiple vehicles in each ad.
"The engagement click rate is typically 15 percent or better. That's more than one in every 10 people actually engaging with the ad — this is completely unheard-of for online display advertising," Cruickshank said.
Kump, of Speed Shift Media, added: "But more than driving new traffic to dealer sites with a high click through rate we are sending customers to the best possible landing page — the dealers vehicle detail page where they are spending more time and converting more often."
Targeting Auto Shoppers
One of the most captivating elements to this type of in-image inventory advertising is its targeting capabilities.
Since the inventory ad is found directly over the bottom quarter of the related review, Cruickshank went so far as to call it "perfect contextual" advertising.
The other aspect is geographic targeting.
Cruickshank pointed out that the ads are not perfectly contextual unless the dealer is in the shopper's geographic area, "so, of course, we enable targeting within specific geographic areas around that dealers location."
Shoppers in Winnepeg, Manitoba, for instance, who pull up an ad unit or review will only see inventory in that location, and the vehicle in question won't be farther away than the allotted number of miles away from the dealer's location.
"Typically, it is set up to ensure that buying region or designated market area of that dealer is respected," Cruickshank added.
Honing the VDP
In-image inventory advertising really puts the spotlight on dealers' vehicle description pages, putting more emphasis on creating VDPs that are inviting to shoppers.
"We see a lot of VDP pages in what we do, and there are always varying degrees of effectiveness, in that in some cases, a VDP can look a bit like a three-ring circus. If there are too many things going on, users can get baffled," said Cruickshank.
The key is simplicity. Two or three call-to-action choices on a VDP are enough, he said. For example, "complete this Web form," and "call here for more information."
In this case, a user is more likely to convert into a lead as opposed to just being confused or worse, irritated.
"One of the most important things in e-commerce environments is simplicity," said Cruickshank. "Keeping things simple is the most effective way to get results."