Used Supply & Pricing: What to Expect in 2015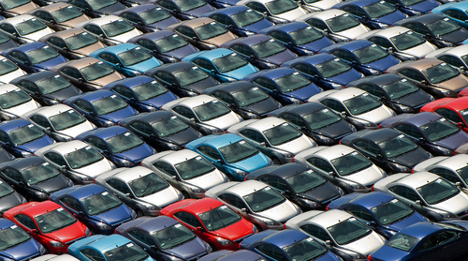 TORONTO -
Used supply is tight. Are you sick of hearing that yet?
Well, you may be in luck, as Canadian Black Book editorial director Josh Bailey voiced some promising predictions for supply and used prices for the near future.
Supply is expected to loosen this coming year, and as a result, prices are likely to start dropping.
In fact, they already have.
This past September, according to the ADESA Canada Used Vehicle Price Index, wholesale prices fell by an average of 0.4 percent. And in October, the Index fell by another 0.2 percent.
But Bailey says soon the price drops will move beyond seasonality and as predicted may end up looking a bit more like the prerecession market.
The Truck Anomaly
In looking back over the past year at used-price trends for 4-year-old vehicles, Bailey pointed out one phenomenon that is bucking industry trends right and left: full-size pickup price movement.
When a vehicle ages, it is supposed to depreciate, right? Well, there are exceptions.
Going back to January, 4-year old full size pickups were holding about 44 percent of their value.
As of mid-October, the segment was holding 44.7 percent of its value. This is slightly higher than the January rate, and at some points this year, the segment saw prices rise up almost 2 percentage points from rates seen at the beginning of the year.
This rate is also higher than the general equity average of 43.9 percent MSRP of 4-year-old vehicles, as of mid-October.
"This is quite unusual, since normally, vehicles are still a depreciating asset, even though when we look year-over-year coming out of the recession, things have been picking up as a whole," said Bailey. "But throughout The course of the year, you expect things to go down, and that has not been the case with the full-size trucks."
Bailey said this trend defies most analysts' ability to explain. Similar to trends seen in the U.S., gas prices are dropping, but at the beginning of the year they were climbing — and so were truck prices.
"So there was a disconnect between what most people would expect to see with rising gas prices and larger vehicle prices," Bailey said.
There has also just been an increase in general interest in trucks when you observe Canadian new-vehicle sales.
"Trucks are tremendous in growth and that is spilling over into the used-car market," Bailey added.
Competition in the Luxury Market
Another aspect of the wholesale market that has been making waves this year: luxury vehicles.
Their story has been a bit different than the trucks this year, with luxury cars seeing some of the largest price declines in the market.
Bailey said the premium luxury segment, sporting vehicles such as the BMW 7 Series and Audi A8, saw some of the steepest drop offs in price in the lanes.
But Canadian Black Book also noticed the entry luxury cars and the small luxury SUVs saw some comparatively sharp declines, as well.
Bailey said this decline is mostly due to the competitive landscape for luxury manufacturers in Canada.
"When we look at the competitive landscape in Canada, the apparent battle for No. 1 position in the luxury market is really creating some downward pressure on pricing on the new side, and that spills over into the used-car market," Bailey said. "It is unrealistic to believe you could sell a 1-year-old vehicle for more than what you could spend for a new vehicle."
Strong incentive spends in the luxury market are cascading down to the used side, pushing high-end vehicle prices down at auction.
The Skinny on Supply
Prices have been rising this year, but analysts predict this may be the last 12 months the industry will experience an overall annual price spike as supply is expected to expand in 2015.
As of mid-October, the general average equity rate for 4-year-old vehicles was sitting at 43.9 percent of MSRP.
This is up 1.6 percent from 2013; and compared to 2012, this rate is up 3.2 percent.
"We've seen pretty steady increases for the past of couple of years," Bailey said.
For the rest of the year, Canadian Black Book predicts there will still be a demand for used cars that cannot be met by the current supply.
Bailey also pointed out the vehicles that are coming off lease are equity-heavy, a trend that impacts supply, as well.
"I think some people have underestimated the fact that even with the vehicles that are coming off lease, since we are looking at 4-year-old vehicles now, even in 2010 there was a level of pessimism in the residual forecasts that were set. That then translates to a lot of equity in the cars coming off lease now," he said. "The effect of that is both customers and the dealers who are taking them back, they are both buying those vehicles up and stemming from them hitting any open market. That's been a compounding factor in this aspect."
Though prices remain higher than levels seen in 2013, over the last couple of months, the industry has definitely seen rates decline.
In fact, rates dropped nearly 1 percent from October to November, which Bailey pointed out is a fairly steep decline.
"It's not unheard of, but certainly this time of year dealers tend to be a little more reluctant to bring extra inventory into stock because of as soon as Halloween is over we are into Christmas, and people's minds tend to drift away from big spends and toward shopping for Christmas. It's a typical drop," Bailey said.
Canadian Black Book predicts there will be some increase in supply next year, although once again, there will most likely be some positive equity in the vehicles coming off lease, which likely will contribute to the trend "of those cars getting scooped before they enter the open market," Bailey said.
That said, in 2011, leasing rates were coming up, so more off lease product is expected to flow back into the market this coming year.
"It will be a little better than this year in terms of supply situation, but I don't believe there is a great deal of room to grow the used car market, given the new-car market incentive situation," Bailey said.
Though there are certain segments here and there that will experience growth, Bailey asserts the market is going to hit a plateau unless there is a willingness to move away from strong cash offerings and other incentives on the new-car side of the market.
"For 2015, we expect things to be similar to this year, and it won't show the strong growth that we have seen for the last couple of years," Bailey said. "For the end of this year, things will roll along at a steady pace."
Since it has been such a strong year for new-car sales, Bailey predicts manufacturers will capitalize on that momentum during the holiday season and will continue to ramp up incentive spending.
"So, I think this time could be a great time to buy a new car, which in turn means there are a significant amount of trade-ins coming in, so it might be a good time to buy a used car, too," Bailey said.
And though 2015 has the potential to be a "transition year," showing little price or supply movement up or down, Bailey concluded: "We do think that coming into 2017 and 2018, we are going to get back into a situation where there is not so much grappling for the first car that comes down the auction lane."