'The way we do things' at Tip Top Auto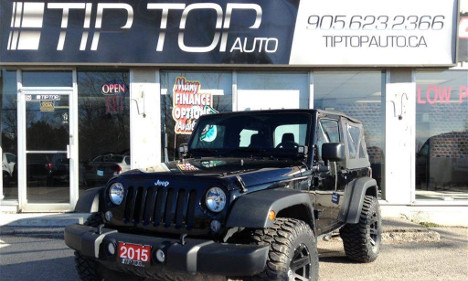 BOWMANVILLE, Ontario -
Payam Zareian's objectives for success go way beyond moving metal at Tip Top Auto's two locations.
"I really don't like the way the industry is going, where dealerships are looking to make huge gains in the back-end of financing, often without customers really being aware of it," Zareian said. "I think it's essential to treat customers fairly from the beginning. We want them coming back to us and being able to trade in their vehicles because we haven't buried them financially.
"Customers come to us for a no-pressure, no-haggle sales environment where they can feel comfortable test-driving different options without the pressure to buy. We know that if the vehicle makes sense for them, they'll buy it from us," he continued.
Tip Top Auto looks to present vehicles that make sense for their customers at two lots, each less than 100 kilometers east of Toronto. Tip Top Auto's employees are actually known as "tour guides" rather than salespeople or another traditional dealership moniker. Zareian explained why his stores utilize this employee label, mentioning that he first learned about this approach while attending the Auto Remarketing Canada Conference a few years ago. That's when another dealer appeared and shared how it worked so well.
"When we meet a customer, we aren't focused on the delivery, but about how to earn their business today," Zareian said. "We've adopted a system I heard about from a dealership in Wichita. We no longer have salespeople at our dealerships, rather we have tour guides. None of the staff is paid commission.
"The point is that we aren't here to sell cars, we simply help people buy them," he continued. "Therefore, for us, the delivery process starts the minute the customer walks through the door. We know that today's customers have done tons of research and could very likely know more about the car than we do."
While the tour guide moniker might have been new to Tip Top Auto, approaching potential buyers with respect certainly wasn't for the dealers that started 10 years ago.
"The most important thing I've learned is everyone says you've got to be customer-service oriented. Saying it and doing it are two completely different things," Zareian said.
"That's the biggest thing our business has been built on is not necessarily customer service but treating every customer like a friend who you're going to see again in the future," he continued. "It's not so much just a one-time transaction. Being in a smaller market and smaller town, we've seen a huge increase in our business because of the way we do things."
Zareian closed by hinting about "some big changes coming" to Tip Top Auto but couldn't share any specifics at the time he talked with Auto Remarketing Canada. But he did emphasize the dealership's foundation, starting out with his wife and a small, 10-vehicle lot. Now Tip Top Auto offers more than 70 vehicles at its two locations.
"Through this time I've been able to grow a really great team and empower them with what I hope are industry changing tools and standards," Zareian said. "We pride ourselves in staying current with the latest tools and technology so that we are providing our customers with the most accurate information — whether it is the best possible value for their trade-in or how to help them build their credit up.
"We've got a solid team of game-changers at Tip Top Auto who our customers gladly refer their friends and family to," he continued. "We are known for taking care of our customers, for being fair, and for never leaving someone in a lurch.
"In an industry that has long struggled to maintain a good reputation, I'd say this is something to be very excited about," Zareian went on to say.