Weins Canada Looks to Company 'Roots' for Customer Service Management Philosophy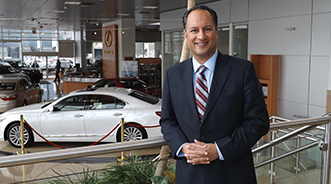 MARKHAM, Ontario -
Amin Tejani, vice president of dealership operations at Weins Canada and Auto Remarketing Canada's 2013 Dealer of the Year, cites Weins Canada's rich history and heritage as a significant factor behind the success of the organization.
Weins Canada, formerly known as the Don Valley North Automotive Group, was founded in October of 1973 with its first dealership, Don Valley North Toyota, located in Markham, Ontario.
"It was the first overseas investment outside of Japan made by our parent company Yohohama Toyopet, which is part of the Weins Group of Companies," explained Tejani.
Over the years, the dealership group added six more stores; Markville Toyota, Don Valley North Lexus, Lexus of Richmond Hill, Don Valley North Hyundai, Oakville Volkswagen and Audi Centre Oakville, along with two collision repair centers and a 10-acre pre-delivery center.
Resulting from this expansive growth, the company which started with only 27 employees in 1973, has currently grown to over 650 associates to date.
Holding on to Its Roots
Learning from the philosophy rooted in the Japanese culture from its parent company, Amin said the dealership group has "always tried to treat our customers like a guest in our own home."
Tejani offered this example:
"In the early 1970s it was very uncommon in our industry to wash customer vehicles; however, it was our owners belief that we must always do more to look after our customers," he said. "In today's world, giving a car wash is a minimum standard customers expect, and there are many other things we do now to focus on giving the highest level of service."
Tejani said Weins Canada growth over the years is in large part due to their people and processes — an assertion former vice president of operations David LaLonde believed in, as well.
Tejani looked back on LaLonde's advice, noting, "He (LaLonde) says if you have the processes in place and the right people, then you can become very successful.
"Thankfully, we have many long-term employees that know what they are doing and become mentors to the new associates," Tejani added.
In fact, he explained one of the biggest challenges for the dealership group is on-boarding the right people to fit its culture.
"We continue to work on programs and strategies to recruit, retain and promote people in our organization," Tejani said.
And once the dealership does find new employees, training is a top priority.
"Above all we value our people, and therefore, we spend a great deal of money and time training our employees. We know if we invest in our people, our customers will be treated better at every level and help us achieve our goal to be the dealerships that customers choose," he said.
The Importance of the E-Commerce Department
To tackle the challenges and opportunities of online and digital marketing head on, Weins Canada developed a dedicated e-commerce department several years ago that helps the group "better communicate with our customers and give them the information they require as quickly and as efficiently as possible" Tejani said.
The e-commerce team is responsible for answering email requests in a timely manner and coordinates any further action required with the respective dealerships.
"Customers love it, and we have gained a strong reputation on the Internet as a company to do business with," Tejani said.
This department also coordinates all e-marketing strategies and campaigns for all company divisions as well as maintains all of its websites and digital marketing efforts.
In addition, Weins Canada also employs a growing centralized call center that that proactively reaches out to all of our service customers to help remind them to maintain their vehicles.
"The call center currently handles the volume of our two largest dealerships, and we will be expanding this function to handle all our locations," Tejani said.
Lastly, the company also has a social media coordinator to connect with its customer base and potential new customers across all social platforms.
With respect to a complete digital marketing strategy, Tejani sai: "I believe you need all parts to successfully grow sales and service and maintain good relationships."
Securing Inventory in a Tight Supply Environment
Tejani also offered some insight into how Weins Canada is finding quality, pre-owned inventory in today's tight used supply environment.
The company's primary focus remains on trade-ins, as used inventory has always been a top-of-mind concern within the group.
"We feel the best place to source great pre-owned inventory is through our front door. This means doing our very best to win every trade possible," Tejani said. "We get to know the current owner and how they maintained their vehicle and for the most part many of the vehicles we get in on trade we keep for retail."
And once the company secures a trade, its efforts don't stop there.
"We continually stay in touch after the customer purchases the vehicle through our service retention activities," Tejani said.
"And we continually make strong new-car offerings to them at the appropriate time in their vehicle life cycle. This helps us ensure we get a steady stream of good used cars," he further explained.
Another area Weins Canada employs to connect with customers is through renewing its lease portfolio.
"We continually monitor and adjust our processes to ensure we are getting to these customers at the right time. They have the 3- to 4-year-old cars we are looking for, and we have great new vehicles for them to drive," Tejani said. "If done effectively, it's a win-win for everyone."
These are all contributing factors to Weins Canada's 40-year success story. The business practices and philosophies that go back to their roots in Japan are alive and well in the culture and the way the dealership group conducts it day-to-day business.
Editor's Note: For more news on top companies in the Canadian remarketing industry, see the inaugural Power 120 Issue of Auto Remarketing Canada Digital Magazine.
Sarah Rubenoff can be reached at srubenoff@autoremarketing.com. Continue the conversation with Auto Remarketing Canada on LinkedIn and Twitter.