Zanchin Automotive Group talks marketing, fintech, digital retail, mobility and more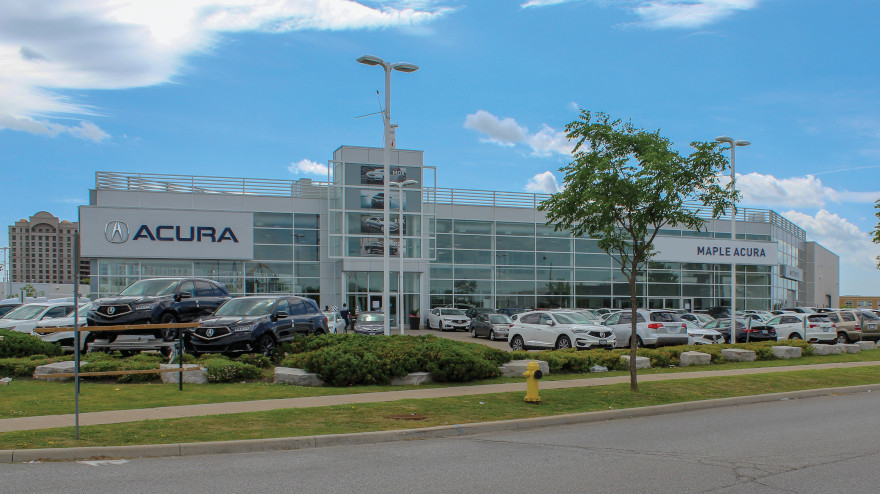 WOODBRIDGE, Ontario -
The Zanchin Automotive Group is the largest auto dealer group in Toronto. So, the business obviously already touts a pretty solid, well-known reputation in the city and the greater Toronto area, as well.
But when you already have your name out in the community, where do you focus your marketing effort then? What next?
To find out, Auto Remarketing Canada reached out to Daniela Traficante, marketing specialist and compliance officer at Zanchin. She explained that on a group level, their marketing strategy is "fairly simple.
"We focus on the strength of our people and the involvement at the dealership level in the community they represent," she said. "We believe the experience our guests have is the greatest tool that can market for us."
Although the dealer group sets a "macro strategy" for marketing, each dealership runs their marketing events true to their own store and based on the personality of that store.
The marketing specialist noted the dealer group goes out of the way to involve itself in any chance to give back to the community that nurtured it.
From supporting the Canada's Wonderland Charity Duck Drive in support of Sick Children's Hospital to the store's yearly Holiday Toy Drive delivering truckloads of toys and care packages to Ronald McDonald House Charities, to recently making a $2 million dollar donation to the new Mackenzie Health Hospital in Vaughan — the dealer group makes a point of staying active in the community.
"On a dealership level, we do a lot of smaller sponsorships from sports teams, to golf tournaments to school events. We leverage tools on different social media platforms like YouTube, Instagram and Facebook — both paid and organic to get messaging across," Traficante said.
She offered this scenario to describe their efforts in regards to standing out from the pack: At the end of the day you can get a new Lexus RX at any new-car dealership, but what makes coming to Zanchin different?
"It's that level of customer service, friendliness, and most of all trust that we strive to deliver to our customers," she said.
Traficante said these are not just marketing tactics, but rather values that stem from the leaders of the company, Joe Zanchin, along with his two daughters Andria and Laura (who were both recognized through the Women & Automotive conference's Profiles in Leadership awards program in March).
"It is truly the way the dealerships are run, and it's what his employees believe in," Traficante said.
And perhaps it's working. As the dealer group has customers who have purchased from the business for up to three generations.
"We try to make their experiences at any touch point of our dealership as comfortable as possible, whether they are purchasing a vehicle or visiting our service department," Traficante said.
The business is also trying to perfect their guests' experiences online. The dealer group is in the middle of a website refresh, "so you'll have to stay tuned to see the new online experience of zanchinauto.com in the next month," Traficante said during an interview in July.
Today's dealership buzzwords
Think fintech. Digital retailing and more. Many of these new tools and platforms are key to crafting a true omnichannel consistent experience from online to brick and mortar in today's market.
How is the Zanchin Automotive Group incorporating or staying abreast of these trends?
Traficante laughingly said, "We definitely get pitched by every fintech vendor out there."
But the business always ensures to take a hard look at each platform and ask the following questions:
— How will they integrate with the stores?
— What is the online experience for the guest with these tools?
— Is it easy to use?
— Most importantly, is the information accurate?
"A lot of the times these new platforms don't check all of those boxes. So sometimes while something is a great idea in theory — it doesn't necessarily make the guest shopping journey online easier or better," Traficante added.
That said, the dealer group certainly has adopted digital retailing tools on its websites, which it sees as important tools that allow the customer to see information that was previously only available accurately by the dealer or automaker.
"They can price out a car entirely online, with options, and play around with payments and securely submit their credit application," Traficante said.
The dealer group promotes these tools on its websites, and within the online journey, encourages customers to explore these options.
"In terms of sales, it hasn't made a huge difference, but that's not to say that it didn't make a difference in the guests research journey; it may have given them all of the info they needed and enticed them to come in to see the vehicle," she said.
Buy a car online — yes or no?
As far as where Zanchin Automotive Group thinks fully online car sales from start to finish are headed: "Can it happen? Yes. Will it happen? Sure. But it's not here yet, and it's important to remember that a car purchase is usually the second largest purchase someone makes in their lifetime," Traficante said.
"I still believe people need to touch and feel the car," she said. "You can virtually learn everything about a car online – but you can't feel the drive, the comfort of that drivers' seat; that's the part that ignites the excitement in that purchase."
Although she contends there are particular groups of people who will be fine with purchasing online — it's likely not the majority.
But what does the digital retailing trend mean for physical dealerships?
"As this evolves and becomes the norm, physical dealerships will have to adapt but will still play a crucial role," she said. "We will reconstruct to our guests' needs, in whatever way that looks like we will have to wait and see, but we are not afraid of change."
Adaptive to mobility & connectivity trends
Mobility and connectivity are two additional key areas for today's consumers that are effectively changing the face of the auto dealership.
Zanchin Auto is well aware of this.
"Connectivity is the future, and every OEM is aware of this, and so are we," Traficante said.
From an OEM standpoint, these businesses are focused on ensuring their vehicles are fully connected to mobile devices — things like unlocking and starting cars from an app on a smartphone, as well as eliminating the need for an in-car navigation with the use of Apple CarPlay.
How auto dealerships connect with their own guests and customers has evolved, as well.
"It all depends on how they prefer to be contacted. Whether they prefer to use mobile and online scheduling, being notified by text when their vehicle is ready for pick up from service — or do they prefer one of service associates calling them and speaking to them on the phone?" Traficante explained.
During the sales process, Zanchin Auto has its delivery experts teach guests about connectivity in their new vehicles, but also highlights on a dealership level the apps and programs that help guests connect to the dealership and service department quickly and easily.
New marketing, operations and retailing tools can seem to come in a flurry. Ultimately, although the Zanchin Automotive Group spends time exploring new products and tools, it doesn't get too caught up in the "next best thing."
"A tool means nothing if the fundamentals are not in place," Traficante said.