2 new digital financing & fraud prevention tools from eLEND Solutions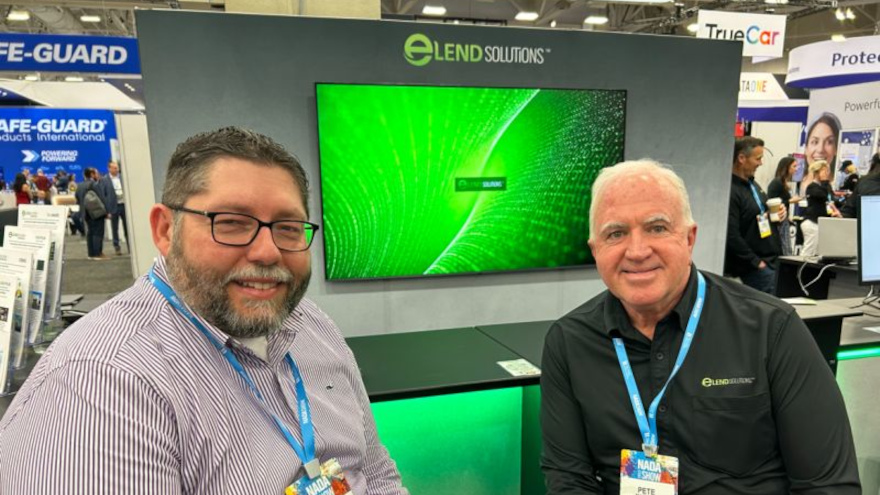 Pete MacInnis, founder and CEO of eLEND Solutions, and his team rolled out a pair of new tools during NADA Show 2023 to help dealerships and finance companies.
First, eLEND Solutions launched of DealMaker, a digital finance pre-desking platform. MacInnis explained that the platform is an evolution of basic online payment calculator tools and the "educated guesswork used by most desk managers."
Also, MacInnis and eLEND Solutions deployed of IDentify, a layered, multi-factor, identity verification solution designed to verify a customer's true identity and establish "proof of presence" in an interaction.
Both tools are geared to help amid an uncertain economic landscape with fraud growing more prevalent.
With DealMaker, eLEND Solutions said it is designed to eliminate frictions and profit leaks by providing customer and vehicle-qualified payment terms matched to finance company fundable contract terms prior to the F&I handoff.
"Most digital retailing experiences promise more than they can deliver, especially when it comes to matching a consumer's credit profile, vehicle selection and deal structure to a fundable purchase contract with lenders," said MacInnis, who runs an automotive fintech company focused on accelerating "transactional" digital buying experiences.
With affordability representing a bigger challenge to vehicle buyers and monthly payments matter more than the selling price, eLEND Solutions contends that ensuring quoted payments are accurate is critical to modern retailing success.
Yet, in a new report from eLEND Solutions, based on a recent survey of auto dealerships, the majority said it's common for payment estimator tools to provide inaccurate or unrealistic payment expectations.
DealMaker is designed to solve this matter and is currently being piloted by a handful of dealers across the country.
Here's how DealMaker is designed to work:
• DealMaker is powered by a logic- and rules-based decision engine and pre-desking software that goes deeper than other tools that calculate payments based on factory cash, finance, and lease incentives with fully integrated rates and residuals.
• DealMaker is embedded within the dealer's sales and finance workflow, similar to a finance company's loan origination system (LOS) and empowers fundable deal structuring matching the vehicle model ID/trim level and the consumer's entire credit profile to a waterfall of lender programs, including underwriting, pricing, loan advance and stipulations simultaneously.
• DealMaker includes advanced credit filtering and calculation logic for all makes, all models, new and used, all terms and all credit tiers.
• Consumer-submitted credit application and full credit file is parsed and filtered by DealMaker to determine ability, stability and credit qualifications.
• DealMaker's rules-based decision engine then calculates debt-to-income, payment-to-income and loan-to-value ratios; identifies high credit, time on credit report and lender rules, which can vary depending on consumer qualifications.
• DealMaker's loan program pricing varies by lender and is based on: is the vehicle new, pre-owned, or certified pre-owned? Is it the same brand as the captive lender, are there mileage limitations at different terms and more.
• DealMaker credit decision results are displayed instantly at the point of sale.
• DealMaker matches "The Deal" to the best lender fundable program.
•The near-final deal can be negotiated online or completed before the test drive ends.
A hybrid, pre-desking solution for digital retailing, MacInnis noted that DealMaker is powered by advanced credit filtering and calculation logic and can match a remote or in-store customer and vehicle-of-choice to a waterfall of qualifying finance company programs, "eliminating F&I guesswork."
MacInnis mentioned that 88% of dealers report they would realize a 10% or more increase in F&I sales penetration if consumers are quoted qualified payment terms matched to finance company fundable contract terms, with dealer mark-ups, before getting to the F&I office.
Moreover, MacInnis said 85% of surveyed dealers estimate that this process could save 15 minutes or more in the F&I office (with over 30% saying it would save more than 30 minutes).
"Quoting transactional and fundable rate, term and payment options reduces frictions during the negotiation, leads to faster, more profitably structured deals and higher closing ratios. It can also positively impact F&I sales penetration," MacInnis said.
"Making deals transparent is the linchpin to accelerating digital retailing into truly successful modern retailing. This, along with fully connected workflows, is the mission of DealMaker," MacInnis went on to say.
Details of fraud-stopping tool
MacInnis said a combination of identity proofing technologies can dramatically reduce fraud risks by detecting account takeover, true name, synthetic and other forms of identity fraud in the vehicle purchase process.
In just the past year, eLEND Solution's recent report found that 79% of dealers directly experienced an identity fraud-related vehicle loss at their dealership.
Furthermore, the report revealed that the large majority are not using any identity verification technologies as part of their fraud prevention strategy, instead choosing to rely on conventional methods such as photocopying IDs.
"These unsophisticated defenses are not only ineffective against increasingly sophisticated fraud schemes, but they also put dealerships at risk" MacInnis said in another news release. "This is why we developed IDentify, which offers unparalleled ID fraud protection for dealerships, including protections for both traditional (in-store) and digital retailing (remote) transactions" continued MacInnis.
IDentify offers a combination of multi-factor identity verification solutions:
• Identity Data Check can cross match customer-provided information against hundreds of databases, including government agencies, public utilities, cell phone carriers, etc. to verify the customer's name, address, date of birth, Social Security and cell phone numbers.
• Confirm Identity is a multi-factor authentication and fraud prevention tool that can replace traditional out-of-wallet questions with a "proof of presence" feature that sends a one-time passcode to the cell phone number of the customer identified by the phone carrier.
Here's how IDentify is designed to work:
• Once a customer has signaled a strong intent to buy, dealers can send an email link to a short form requesting their personal information and their consent to verify identity to protect against identity fraud.
• If a customer has already submitted a credit application through one of eLEND's Credit Solutions, the consent language includes running the IDentify Data Check Report.
• In-store, dealers are able to get customer consent and run the IDentify Data Check Report through the dealer dashboard.
• Dealers have the option to run the Identity Data Check independently or in conjunction with the Confirm IDentify multi-factor authentication and fraud prevention tool.
• Results are displayed in the dealer dashboard, showing a match to customer name, address, date of birth, social security number and cell phone or an alert that warns there is no match to database records.
• IDentify can be implemented in any digital retail solution through APIs – an increasingly critical function as 95% of dealers attribute increased identity fraud to the increased digitization of the deal and remote buying.
Chuck Bell is corporate finance director for Bayway Auto Group and added perspectives in the news release from eLEND Solutions.
Bell said, "eLEND Solutions IDentify product is a core component of our digital retail strategy. It enables us to identify our customers before engaging in test drives and remote test-drives or deliveries. It has already saved us countless thousands of dollars."
MacInnis added IDentify is fully integrated with eLEND Solutions' ID Drive, a driver's license scanner that can perform dozens of forensic document tests in real time for robust authentication on any driver's license or any other government issued ID from the U.S., Canada, and Mexico, plus 160 worldwide jurisdictions.
Furthermore, MacInnis said eLEND's Identification Solutions are integrated with eLEND's Credit Solutions that match identity to credit application and credit report data. From pre-screen, pre-qualification and traditional hard credit pulls, all data is cross-referenced and integrated with Red Flag and Synthetic Fraud tools from companies such as 700Credit.