AFSA reveals new board and executive staff succession plan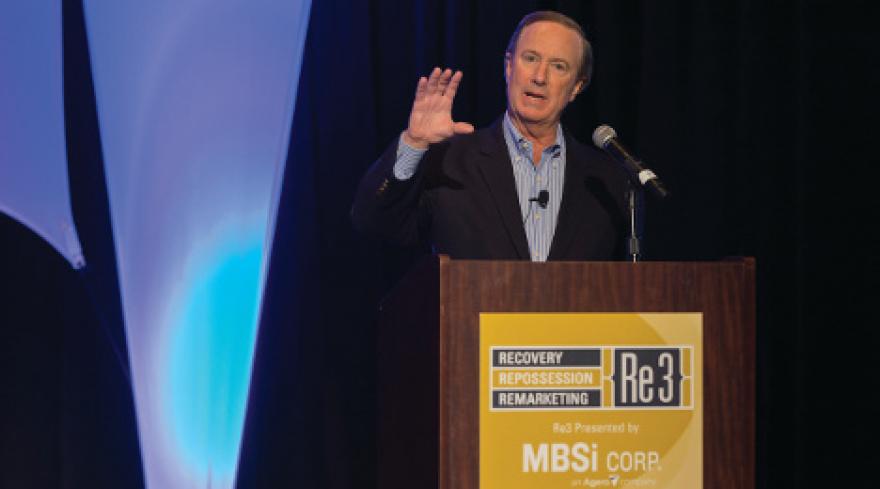 WASHINGTON, D.C. -
Significant changes are in motion within the American Financial Services Association (AFSA).
On Wednesday, AFSA announced that its board of directors has elected a new chairman, chair-elect and vice chairman-treasurer for the next 12 months.
Additionally, the board approved a succession plan for executive leadership of the 102-year-old trade association representing the consumer credit industry.
Josh Johnson, chief executive officer of Mariner Finance Co., based in Baltimore, was elected the new chairman of the AFSA board. He takes the gavel from outgoing board chair Ginger Herring, president and CEO of 1st Franklin Finance Corp., of Toccoa, Ga., who completed her one-year term.
Dale Jones, executive vice president of Ford Motor Credit of Dearborn, Mich., was elected chair-elect of the AFSA board and will succeed Johnson in 12 months.
Tom Hudgins, president and chief operating officer of Western Shamrock Corp., of San Angelo Texas, was elected vice chair and treasurer.
The AFSA board approved an executive leadership transition plan that promotes Bill Himpler, currently the association's executive vice president, to president-elect of the association, effective Nov. 1 until April 1, at which time Himpler becomes president and chief executive officer of AFSA.
Chris Stinebert, president and CEO of AFSA since 2006, will assume a transitional role of assistant to the president, starting April 1 until Dec. 31 of next year.
"These are exciting times for the consumer credit industry, our customers and our communities," Johnson said. "Chris Stinebert has provided excellent leadership of the association since 2006 while navigating the association through the recession, recovery, and creation of the Bureau of Consumer Financial Protection (BCFP).
"During that same timeframe, Bill Himpler has worked tirelessly to provide our industry with a clear voice and message on Capitol Hill and with regulators on the need for safe, affordable consumer credit," Johnson continued.
Johnson said AFSA's Board, comprised of leaders in the consumer credit industry, believes that this executive leadership transition plan will ensure that the association's mission to provide access to safe, affordable credit, continues to support a robust U.S. economy.
Johnson co-founded Mariner Finance in 2002. Under his leadership, Mariner Finance has grown from a single branch in Maryland to more than 500 branches in 22 states. This growth has been fueled by strategic, organic growth and the acquisition of several regional consumer finance companies, including Pioneer Credit, Personal Finance Company and Regency Finance.
Johnson has more than 25 years of executive level experience in the consumer finance business, including a previous CEO role with Rose Shanis Financial Services.
In addition to his new responsibilities as Chair of the AFSA Board, Johnson has served in numerous leadership roles over the past decade, including treasurer of the AFSA board, chair of AFSA's independents section board and various roles in the AFSA Education Foundation.
Johnson and his siblings cofounded Jeffie's Choice, a nonprofit organization that is dedicated to serving the needs of food banks across the footprint of Mariner Finance. Jeffie's Choice is operated 100 percent by volunteers and generously funded by Mariner Finance employees.
Jones serves as Ford Motor Credit's executive vice president of the Americas, with responsibility for the U.S., Canada, Mexico, Brazil, Argentina and Venezuela businesses. His responsibility also includes global operations and global quality.
He previously was vice president of business center operations and, before that, vice president of strategic planning and business operations. Jones joined Ford Credit in 1989 and subsequently held a variety of increasingly responsible positions throughout North America.
Jones is chairman of Ford Credit Canada and a board member of FCE Bank, Ford Credit's European subsidiary, in addition to serving as chair-elect of the AFSA board. He also is a member of the board of the YMCA of Metropolitan Detroit.
Hudgins has served as president and COO of Western-Shamrock since 2011. He joined the company in 2007 as vice president of operations. Western-Shamrock is a privately owned traditional installment lender with more than 300 branch offices in nine states and more than 900 employees
Hudgins currently serves as the president of the Independent Finance Institute of Oklahoma and the Missouri Installment Lenders Association and serves on the boards of the Georgia Installment Lenders Association; the New Mexico Independent Finance Association; the Tennessee Independent Loan Association; and the South Carolina Independent Consumer Finance Association.
Himpler joined AFSA in 2004 from the U.S. Department of Housing and Urban Development, where he headed the congressional relations office. Prior to joining HUD, he was director of legislative affairs for BGR Holding where he worked as a lobbyist. He has also worked on Capitol Hill, serving as tax counsel and legislative director for two members of Congress.