Auto finance 'never boring' for NMAC's Cullum, the 2023 Executive of the Year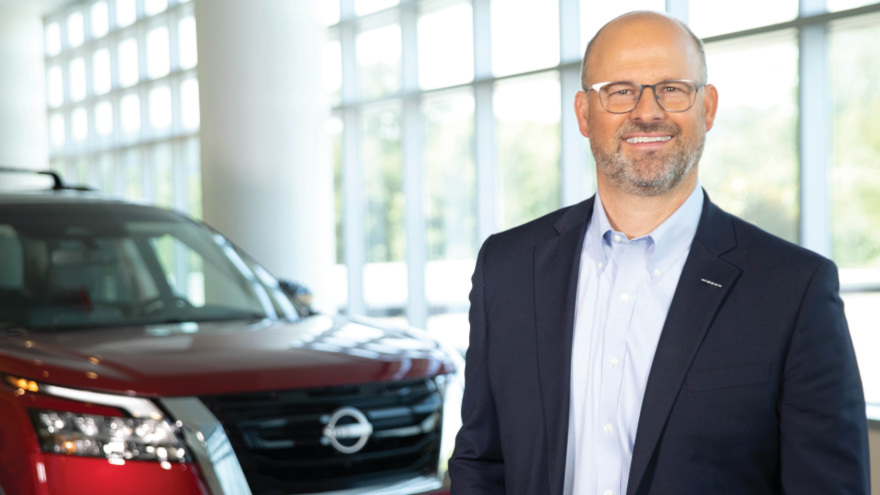 Kevin Cullum grew up in a suburb of Kansas City, Mo. An internship during his senior year of college at the University of Central Missouri began a career in auto finance that took Cullum to a multitude of places, beginning in Chicago, then Atlanta.
After a time in Florida, Cullum moved to Philadelphia and then Detroit. After three years in Toronto, he moved back to the United States.
"Well, it's never boring that's for sure," Cullum replied when asked about what he enjoys most about the auto finance business. "There is always a challenge to address and opportunities to pursue to ensure the company is supporting customer demand, moving forward and adjusting to changing marketplaces. Whether it's managing rising interest rates, a pandemic, regulation changes, etc., the auto business keeps you on your toes. I have the absolute privilege of working with fantastic group of people and they certainly challenge me to be better."
And Cullum certainly has responded well to those challenges while now serving as the president and CEO Nissan Motor Acceptance Co., and INFINITI Financial Services, so much so that he was chosen as this year's Auto Finance Executive of the Year presented by Black Book.
Cullum will be honored during Used Car Week, which begins on Nov. 6 in Scottsdale, Ariz.
"It's a humbling honor to receive this award and certainly reminded me how long I have been doing this," Cullum said. "Time really does fly by when you are having fun and I have been so blessed to have worked with such great people, mentors and friends over the last 34 years. Nobody achieves success in this business on their own, so I am accepting this award on the behalf of many that have supported me over the years."
Cullum joins a list of past award winners, which include:
—Marc Womack, Santander Consumer USA
—Kyle Birch, GM Financial
—Tanya Sanders, Wells Fargo Auto
—Bill Jones, Regional Acceptance Corp. & BB&T Dealer Retail Services
—Andrew Stuart, TD Auto Finance
—Tommy Moore Jr., First Investors Financial Services
—Ozzie Ramos, National Auto Lenders
—Dan Ulatowski, Credit Acceptance
—Bill Jensen, Chase Auto Finance
—Ian Anderson, Westlake Financial Services
Cullum's career began with a customer service position at Ford Credit. He spent about three years in that role before moving into the dealer credit division for the Blue Oval's captive.
Ford Credit liked Cullum's work that the company made him a regional trainer and dealer service supervisor in Chicago. Ford Credit then deployed to Florida as a dealer account manager, later to Atlanta as the customer service and credit operations manager and then to Detroit as a marketing manager and national operations manager.
Philadelphia was the last location Cullum had while with Ford before leaving for Nissan in 2006.
Cullum joined Nissan to help set up commercial lending for NMAC, which he ran for five years. After spending two years running the remarketing department for Nissan's captive, Cullum relocated to Canada in 2014 to run Nissan Canada Finance in Toronto.
After three years in Canada, Cullum returned to the U.S. in 2017 and has been the president and CEO of NMAC ever since.
"I can't tell you how proud I am of my team," Cullum said. "They have been incredibly flexible, creative and supportive over these last six years where we started with some portfolio issues we had to address followed by a pandemic that sent everyone home and now rising interest rates. Every challenge that has been thrown at us, they have risen to the occasion and supported our 1.5 million customer base, our parent company Nissan and our dealer network."
Having been in multiple cities holding various roles, Cullum described the elements of the auto finance industry that have changed the most during his professional career and how those changes helped him.
"The speed of our business is the one thing that has changed the most over my 34 years," he said. "What used to take hours now has to be done in seconds to ensure competitiveness and supporting customer demand. Sure, there are many things we can't do today that we did in 1989 and vice versa but managing technology and data today is key to a successful performing portfolio and maximizing customer and dealer satisfaction. The changes that have helped me the most are visibility to data that allow for consistent and quick decision making."
When he's not tending to chores for Nissan's captive, Cullum enjoys cheering his hometown Kansas City Chiefs, as he's had season tickets since 1994.
"I really enjoy time with my two girls and traveling with my wife as well as flying airplanes, scuba diving and playing golf," Cullum said. "The last several years we have really enjoyed being Chiefs season ticket holders. We have incredible family and friends that we very much enjoy spending time with."