DealerSocket CRM now integrated with captives for Audi & VW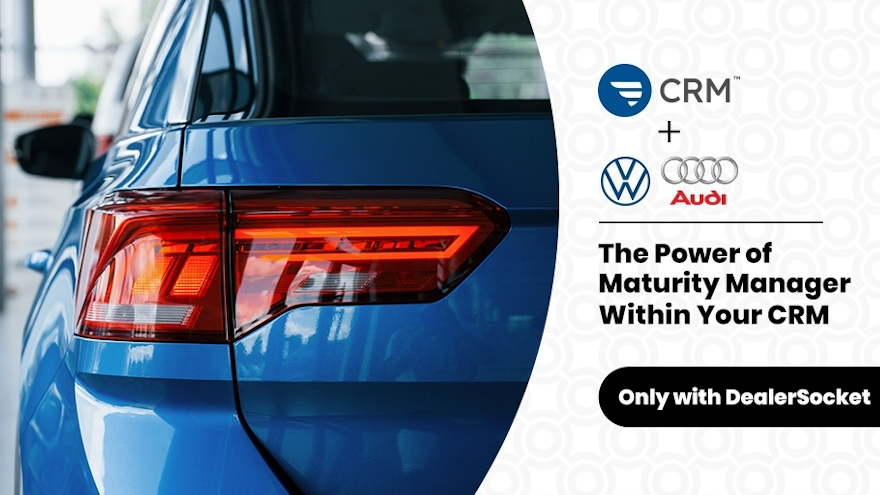 DALLAS -
DealerSocket, Audi and Volkswagen are collaborating to make deliveries more efficient for their chain of franchised dealerships.
On Monday, DealerSocket announced that VW Credit selected its customer relationship management (CRM) suite to help drive connections between vehicle buyers and its nearly 1,000 U.S. franchised dealers.
Through deep integration with DealerSocket's CRM, the captive finance arms of Volkswagen and Audi can funnel more than 40 critical data points on prospective buyers, including contract rates and terms, base payment amount and outstanding balances, as well as vehicle health metrics like odometer readings.
DealerSocket explained the power of this deep and seamless integration — which stems from Maturity Manager, the dealer portal VW Credit created to facilitate end-of-term transactions and initiate maturity programs — can give dealership employees, including the business development center and sales teams, critical insights inside DealerSocket's CRM on what moves a customer to a buying decision, which can help increase sales for the dealership.
"This integration, which no other automotive CRM provides, means Volkswagen and Audi dealers simply log into DealerSocket's CRM to access Maturity Manager," said Darren Harris, executive vice president and general manager of retail solutions at DealerSocket.
"By centralizing access to the portal within DealerSocket's CRM, users can access insights on past buyers without toggling between systems, saving valuable time while ensuring intelligent touchpoints that ultimately drive brand loyalty," Harris continued.
The new functionality can enable Audi and Volkswagen dealers to centralize further day-to-day operations within DealerSocket's CRM, which provides end-to-end sales, marketing, communications, service, data mining, and retail management capabilities.
On the back end, DealerSocket's CRM can fuel informed decision-making for dealers by providing real-time access to extensive reports, analytics and dashboards.
"This innovation provides Volkswagen and Audi dealers actionable data and insights that drive better customer experiences," Harris continued. "This functionality is just the beginning, as additional innovations between DealerSocket's CRM and VW Credit, are already in the works."