Digital Motors adds Autotech Ventures as a lead investor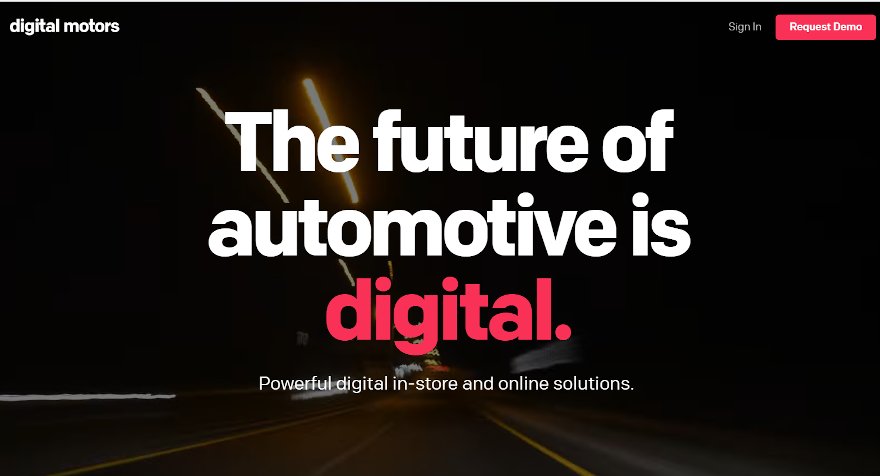 IRVINE, Calif. -
Digital Motors, which provides dealers a digital retail and fintech platform to enable online transactions, now has Autotech Ventures as a lead investor, as the comapny announced its first external funding round.
Autotech Ventures, based in Silicon Valley, is one of the more well-known investors in the space and focuses on ground transportation. Its portfolio includes the likes of Lyft, Work Truck Solutions and Volta.
Financial terms of the investment were not disclosed in a news release.
Irvine, Calif.-based Digital Motors was founded in 2018 by former Mercedes-Benz Financial Services and AutoGravity executives Andy Hinrichs and Nick Stellman.
"Autotech Ventures validates our strategy and broadens our circle of influence," Hinrichs, who is chief executive officer, said in the release. "By partnering with the best investors and operators in the automotive business, we are able to shift into high gear."
Digital Motors said its online store technology can be integrated with any dealership, automaker, auto lender or marketing site and tailored to their specific needs. By using its digital retailing platform and fintech configuration engine, dealers can conduct full transactions online with the consumer.
The shopper can choose to conduct all steps of the buying process online or choose to move the process to the dealership at any point.
"The automotive industry is facing an increasing demand for digital sales processes to create efficiency and improve the consumer experience," Autotech Ventures managing director Alexei Andreev said in a news release. "Digital Motors' highly configurable platform can power an integrated digital retailing experience ranging from Tier 1 to 3 websites."
Autotech led the round of funding. Also included in the round were InMotion Ventures, OpenRoad Auto Group, Maryann Keller and Kerrigan Advisors managing director Ryan Kerrigan, and Jonathan Gray, who is owner and president of Orange Coast Auto Group.
Several of these investors shared their takes on Digital Motors in the news release.
OpenRoad is itself a dealership group, the largest in British Columbia. It also operates a few U.S. stores in Washington state.
"Dealers recognize the importance of transacting online, in real time, with all parts of the deal integrated," OpenRoad CEO Christian Chia said in the release. "There is particular urgency in preowned where customers are ready and willing to buy online."
Sebastian Peck, who is managing director of the Jaguar Land Rover-powered InMotion Ventures, pointed out that it's not about in-store and online, but rather a combination.
"Digital retailing is not about online transactions vs. in-store sales," Peck said. "Digital Motors combines these channels to create a seamless car buying experience for all parties involved."
Keller, a longtime auto industry expert, said: "The auto industry is evolving from lead generation to a transaction-based business model."
The company is "innovating in exactly the right area," which is the integration between digital retail and the current retail model, "still allowing dealers full control over their processes and economics," Kerrigan said.
"This is the future," he said.