Equifax unveils 3 more solutions within automotive portfolio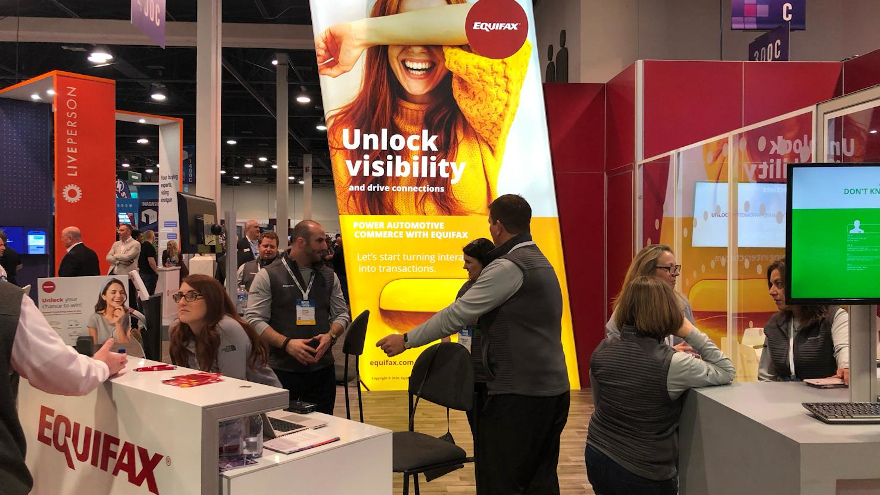 LAS VEGAS -
The recent events hosted by the American Financial Services Association and the National Automobile Dealers Association marked Equifax unveiling a trio of new solutions aimed at help dealerships retail more vehicles and finance companies build their portfolios.
The series of product launches began with the Automotive Intelligence Council member highlighting a new suite of digital retailing solutions that aim to remove frustrations often associated with today's online car shopping where early-stage research and preferences rarely translate to showroom experience.
Equifax explained the three new offerings — Digital ID, Digital Qualify and Digital Accelerate — are designed to help dealers, finance companies and third-party service providers to identify, authenticate, qualify and customize the right deal for each online shopper. This suite is geared to complements a selection of Equifax Automotive offerings that can help dealers to accelerate the financing process and get customers into a vehicle that meets their needs faster.
"Equifax Automotive continues to expand its solution set to meet the needs of automotive dealers, lenders, marketers and the third parties critical to the car sales process," Equifax Automotive general manager Byron McDuffee said in a news release.
"Helping consumers to understand vehicle affordability at the start of their online research and to speed up the financing process from their digital shopping to the showroom is critical to the car shopping experience," McDuffee continued.
A survey commissioned by Equifax found 74% of consumers wanting a more seamless experience that translates between online research and the showroom. Equifax said shoppers are looking for a simple, personalized car buying experience where they can seamlessly move from online to the dealership at any point in the journey.
Speed of identity verification and financing are critical to this experience, according to the company.
The new Equifax Automotive suite is comprised of three offerings, which can be purchased separately or used together to create a powerful automotive digital retailing experience:
—Digital ID: Can transform the digital shopping experience and accommodate the fast-paced, high-interaction expectations of today's online consumers. It can allow shoppers to easily authenticate their identity from the dealer site and capture their consent online.
—Digital Qualify: Can accelerate the digital shopping process by qualifying the consumer with real-time pre-qualification information — helping dealers to make offers of credit to consumers at the point of digital interaction and personalize the consumer experience with that information. With Digital Qualify, consumers are able to receive qualified offers online.
—Digital Accelerate: Can help to provide the information required to confidently structure the deal to meet the consumer's needs.
"Our new Equifax Automotive suite is designed to empower automotive professionals to identify and authenticate, capture consumer consent, and qualify the right shopper with the right vehicle," McDuffee said.
"We are helping them to ultimately construct the right deal so that their customers get the journey they expect in today's retail environment, whether the customer is online or in the showroom," he went on to say.
New collaboration involving Equifax and Inventory Command Center
Also this past weekend, Equifax and Inventory Command Center (ICC) announced a new partnership crafted to help automotive enterprise clients take more control of how they receive, manage and display dealer inventory.
This relationship expands the Equifax Automotive Solutions Suite to aid its enterprise clients to improve the speed, accuracy and management of vehicle inventory data from dealer partners.
Available to auto finance companies, OEMs, website providers and digital retailing providers through Equifax Automotive, the ICC Software-as-a-Service (SaaS) platform can help to provide firms with easy-to-use, normalized data that can generate improvements in digital retailing as well as retail installment sales contract and vehicle lease underwriting.
In addition, the Inventory Command Center platform can enable dealers to better communicate the value proposition of vehicle inventory to consumers. Also, ICC's proprietary data sets can deliver unique and value-market insights that can be leveraged by both the enterprise and dealers.
"We are working with Equifax to empower enterprise partners to more easily manage vehicle inventory from their dealer partners," ICC president Brian Terr said in a news release. "Together, ICC and Equifax enable partners to create a more seamless consumer shopping experience online and in the showroom.
"This is a critical shift in the auto industry," Terr continued. "Consumers' online shopping expectations have been set by other industries — and they want online car shopping and buying to be as easy as possible. This requires more timely and accurate vehicle inventory."
McDuffee from Equifax added this perspective.
"ICC and Equifax are working together to help the automotive industry present faster, more accurate vehicle data," he said. "Accurate vehicle information speeds the sales process and increases customer confidence and satisfaction levels."
Equifax and V12 partner for digital marketing solutions
And finally, Equifax and V12 announced a strategic relationship to deliver digital marketing solutions
This relationship combines anonymized Equifax customer economic data, based on direct measured sources, with V12 vehicle insights. Available through Equifax Automotive, the solution is designed to drive customer acquisition by matching the right vehicle with the right buyer through a personalized shopping experience.
The insight that comes from knowing what the consumer is currently driving helps automotive retailers maximize their digital marketing budgets, according to the companies.
Industry analysts have predicted that digital advertising spending by the U.S. automotive industry will reach $14.1 billion in 2020, up from $11.3 billion in 2018, and a compound annual growth rate (CAGR) increase of 13.7% from 2014 ($6.1 billion). Driving this increase are the millions of vehicle shoppers conducting early-stage research for their next vehicle online.
"Car shoppers want a simple, personalized car buying experience where they can seamlessly move from online to the dealership at any point in the journey," McDuffee said. "Equifax and V12 are helping automotive marketers meet the needs of their dealers and provide consumers with the right information during their online car shopping research phase. This includes helping to identify the vehicles that meet each shopper's needs as well as their budget.
"Smarter understanding enables smarter actions. Enabling more personalized information up front helps dealers maximize their marketing spend and creates a better shopping experience overall," he went on to say.
Equifax consumer economic solutions can help brands to identify the likely financial and economic characteristics of customers and prospects. Insights into estimated household income, spending and credit, buying behaviors and product preferences can help in the development of more targeted online marketing campaigns and in the creation of better overall customer experiences.
The Equifax relationship with V12 enhances the targeted marketing process for the automotive industry by combining anonymized Equifax consumer economic information with V12 data on 180 million VIN sources across all 50 states.
V12 information is fully populated with make, model and year, and other details including engine size, fuel type, drive train, engine block, and engine cylinders. The breadth of auto data can enable more granular personalization that allows for the right vehicle to be presented to the right consumer.
"Bringing Equifax consumer insights and V12 vehicle insights together in a single solution creates a powerful opportunity for OEMs, agencies, dealers and lenders to more meaningfully interact with car shoppers throughout their digital journey," V12 chief executive officer Andy Frawley said.
"We are helping dealers better understand the specific behaviors and preferences of potential customers," he continued. "This creates a shopping environment that best reaches the consumers most likely to purchase specific vehicle types, such as luxury, foreign, family, and eco-friendly automobiles. It also provides anonymized information on shoppers' likely economic capacity and interest in auto loans."
To learn more about the full suite of Equifax Automotive digital retailing solutions, visit https://www.equifax.com/business/automotive/.