New Wolters Kluwer index tracks ongoing digitization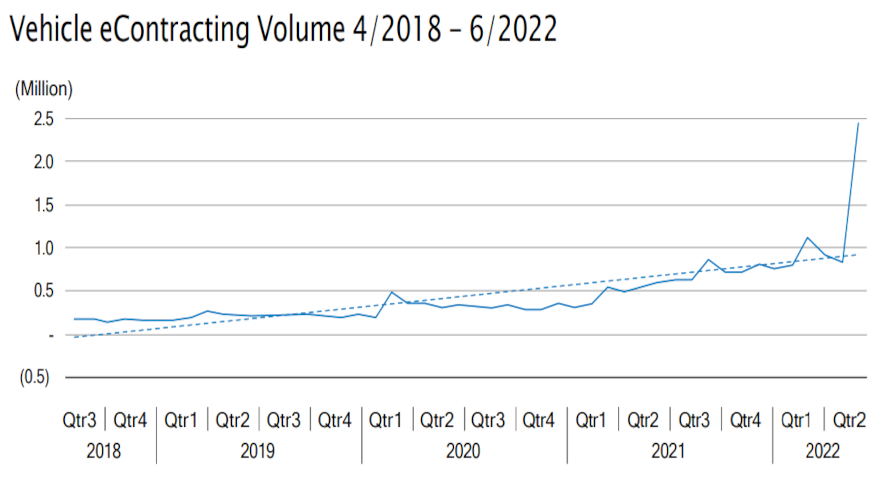 Perhaps the digitization of vehicle financing and retailing really is gaining significant momentum.
This week, Wolters Kluwer, a global leader in professional information, software solutions and services, announced second quarter results and analysis from its Auto Finance Digital Transformation Index, a resource that tracks the rate at which dealers, service providers and finance companies are seeing growth in the evolution from paper-based finance back-office processes to digital.
According to the index, dealers, service providers and finance companies have fueled a growth rate of 144% during the last 12 months; a 282% growth rate comparing Q2 2022 to Q2 2021; and a growth rate of 78% when comparing to Q1 of 2022.
Wolters Kluwer explained the continued decline in auto sales and lease activity is affecting the overall index eContract volume. Despite this pullback, analysts said it is evident that digital adoption remains high.
The company pointed out the 78% quarter-over-quarter growth rate was helped by a significant Wolters Kluwer client driving further digital adoption by moving their entire platform into the company's cloud-based environment.
For the year, 2022 has already exceeded 2021 YTD volume by 13%, further illustrating strong continued digital adoption growth, according to Tim Yalich, head of auto strategy for Wolters Kluwer.
"The automotive industry continues to look for digital transformation and adoption across the entire spectrum of operations, illustrated by the continued rise of digital retailing since the pandemic," Yalich said in a news release.
"However, it is critical for dealers, lenders and service providers to digitize their back-office functions to properly sync with the now digitized consumer facing experience, ensuring all loan and contract documents are converted from paper to digital assets," he continued.
Wolters Kluwer acknowledged the term "digital transformation" has frequently been discussed in the ever-changing business environment for automotive.
"In 2018 and 2019, the U.S. economy was relatively strong. During that time, there was only a modest increase in digital adoption," the company said in the full report shared with Auto Fin Journal that also can be found online. "The disruption in 2020 forced retailers and technology providers to innovate faster to meet the demand for contactless engagements. eContract volumes remained steady and elevated compared to previous years, and touchless and virtual transactions became more common. By 2021, digital adoption had begun to accelerate rapidly and was quickly becoming part of our new normal.
"It's critically important to adopt and achieve this paper-to-digital transformation to improve business processes, remain compliant, reduce risks, achieve higher efficiencies, and satisfy customers through more seamless transactions. This transformation helps automotive professionals keep compliance top of mind proactively with changing regulations and mandates, rather than leaving it on the back burner and opening up to exposure in a paper-based environment," Wolters Kluwer continued.
"The demand for touchless and virtual engagements remains high, especially with a continued increase in refinancing activity and consumer lease purchases. Used vehicle prices have also risen significantly, and many large used car conglomerates rely on digital platforms to efficiently manage the transaction volume. Whether auto finance and dealer service providers should implement digital technologies is no longer the question. As the need for digitization continues to accelerate, leadership may instead focus on how quickly they can adopt the technology to avoid the risk of being left behind," Wolters Kluwer went on to say.
Yalich elaborated about those points and more during an episode of the Auto Remarketing Podcast that's available through the below window.