Regions Bank and Carvana launch co-branded retail & financing website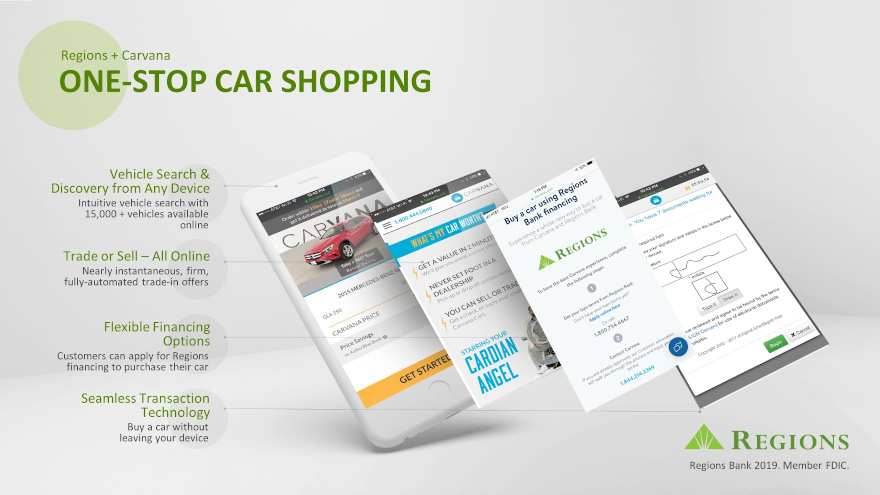 BIRMINGHAM, Ala. -
Last month, Carvana expanded its footprint throughout the Southeast, making vehicle deliveries more available in places such as Florida and Tennessee as well as unveiling plans for a reconditioning center in North Carolina.
Carvana also recently boosted its financing horsepower in the Southeast by finalizing a relationship with Regions Bank.
Working with Carvana, Regions Bank now offers what the institution called "a seamless, convenient, and simple way" for customers to buy their next vehicle. A link from the Regions Auto Center connects to a new, co-branded Regions and Carvana site, where prospective buyers can select from Carvana's inventory of more than 15,000 vehicles, get a trade value for their current vehicle if needed, obtain financing through Regions Bank (for qualified borrowers), and arrange for pick-up/delivery as soon as the next day — all from their computer, tablet or mobile device.
"The ways people search for and purchase a vehicle continue to change," Regions Bank auto lending manager Tom Lazenby said in a news release.
"Carvana, like Regions, is a company that is on the leading edge in terms of simplifying the purchasing process and doing it with reliability, transparency and a focus on putting the customer first," Lazenby added.
Through the co-branded Regions/Carvana website, customers can:
• Select from 15,000+ Carvana certified vehicles – vehicles that have undergone a rigorous, 150-point inspection, have never been in a reported accident and have no frame damage
• Acquire a trade-in value on current vehicle, if applicable
• Obtain a financing decision for a Regions Auto Loan
• Complete the selection and purchase of a vehicle completely online in minutes
• Arrange delivery or pick-up of a new vehicle in as little as one day.
• Buy with the confidence of Carvana's seven-day money back guarantee and 100-day warranty
With Carvana's model, customers can arrange delivery of their new vehicle to their door, or pick up their new vehicle from one of Carvana's signature Car Vending Machines, located in 21 cities across the country, with many located across the South, Midwest and Texas.