Shift in F&I presentation could pay dividends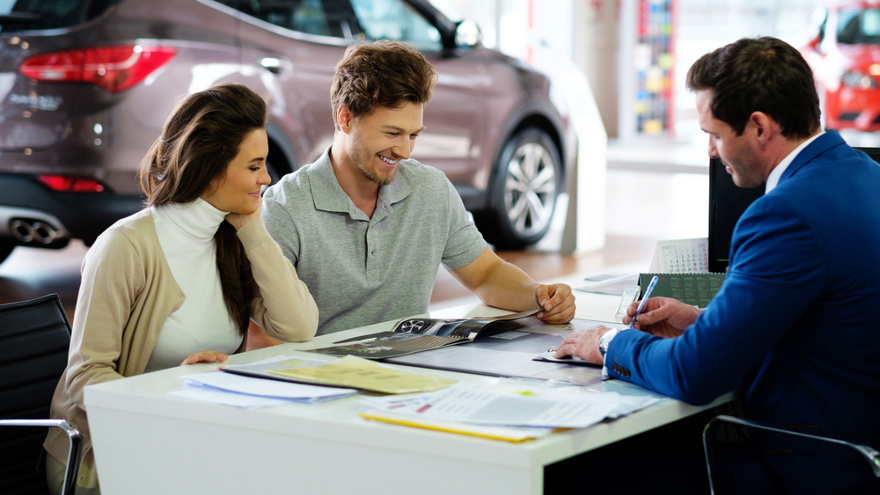 CARY, N.C. -
Sometimes, making a move to the "closer" position pays off.
Like in 2002, when ace pitcher and 2015 Hall of Fame inductee John Smoltz promptly posted 55 saves, a National League record, during his first full year as closer for the Atlanta Braves.
But in automotive, there has also been some success with the opposite approach.
Or as Roadster puts it, moving the dealership F&I manager from "closer to product educator."
The thinking is, instead of having one person come in at the very end of the car-buying process and perhaps overwhelm the already tired customer with F&I information — or an F&I sales pitch — the better route could be to educate and provide context throughout.
And empower more of the sales staff, including the front line, to do those tasks along the way.
As Roadster chief marketing officer Michelle Denogean recalls a dealer saying, "the opportunity that's out there is not to eliminate F&I; there's an opportunity to expand the number of people that are able to represent it."
'Educate customer upfront'
The need to understand the shopper's lifestyle needs and walking them through the process is still there. But the point is to, "educate the customer upfront, so they understand exactly what is available," Denogean said in a phone interview earlier this month.
"I think the big shift in that has been more on the consumer demand side, where people are very accustomed to having access to all sorts of information online," she said. "And so, being able to educate, research, make selections, decisions at your own leisure that we see in a lot of different industries just sort of thrust itself into the (auto) industry. And those that are embracing it are seeing these huge rewards from just having that education piece."
One of which is having a "more open" and "happier" consumer that understands their F&I options when he or she steps into the finance office, Denogean said, recalling a conversation with a dealer.
The F&I process has long been a pain point. So why is this shift happening now?
"I think a lot of dealerships are also very aware, as you're digitizing the sales process, there are different choke points or funnel points in the existing processes," said Roadster chief executive office Andy Moss, who also joined the call. "I hear again and again that on a busy Saturday, it could be waiting to get into the F&I office is what's causing that process to take a long as it does for a customer to — even when they're ready to buy a car — complete that process."
Efficiency of operations
But, still, the dealership has to strike a balance. There is still a need to explain the benefits of F&I products to the consumer and, in basic business sense, maintain dealership F&I penetration, Moss said.
And Roadster aims to address that with its software.
"How do you balance that with enabling either your salespeople or your sales managers and desk managers with tools that allow them to share that with the customer and maybe even complete some of those transactions without having to line up to go through the more traditional F&I office?" Moss said.
"We have dealers that are every extreme of that. Empowering the sales person to do nearly all of that through a very traditional F&I office," he said. "Our software supports all of those. But I do think the trend is there to move it further up the chain from introducing and maybe even going further with representing those products to the consumer."
Denogean adds: "There's demand for the efficiency; how do we save time in the process – (for) both sides, really? If a lot of time is there waiting for the F&I office to become available to finish your deal, then it sort of starts to feed into that perception that you're spending your entire day at the dealership."
The upfront education can make the sales process quicker, she said, "but it also changes the dynamic when they can be exposed ahead of time, side-by-side with the person they built the relationship with, quite honestly, at the beginning of their relationship with the dealership."
So, might this new approach impact how and whom dealers hire? That's to be determined. But Denogean said it can change existing employee tasking within a dealership.
For instance, instead of the F&I manager being the one of the only ones to know about the various F&I products offered, that manager could bestow that knowledge to 10 to 15 employees.
"Those that really embrace it are seeing that as an opportunity to extend their capabilities," she said. "And they're becoming much more (of) educators."
Moss noted that while that might it not be universal, he has seen stores that have reduced traditional F&I office-specific employees, instead redeploying those folks to sales management posts.
Some dealers are getting tools into the hands of frontline salespeople to free up time for desk and sales managers, Moss points out. Technology can come into play through this empowering of frontline folks.
"Because in an old-school model, the numbers weren't easily at hand. They probably only had a system that you could guarantee was going to be accurate if the desk manager was accessing it and the only one at the dealership that had the ability to get into that and understand it, because it was pretty complex. By democratizing, if you like, the presentation of that information, you're kind of making it so a sales person — or an end consumer themselves from home — can use the same tools to see that data and understand and have it explained," Moss said.
"But you can do it in a way where there are guardrails around it, where the salesperson can't mess something up and either screw up the profitability of a deal or miss the opportunity to introduce the consumer to a service and protection plan product," he said.
Moss sees a "redeployment of resources that will happen over time that actually makes the whole dealership be much more customer-centric."
Denogean adds that dealership "able to do more with the same," making the existing personnel base more efficient by empowering the front line
Time, awareness, context
The combination of in-person information sharing and giving the consumer the time and space to do research tends to be a combination that works, Denogean said. And so does providing F&I context throughout the process.
"It's having several bites at the apple, so to speak. So, I can see it online, I can educate myself, I can understand what's available. Maybe I'll add something because it's very compelling to my online deal that I started. When I come into the store, now I have some familiarity in talking to the salesperson about my situation," she said.
And that information can be layered throughout the process, as Denogean put it, providing a means to constantly educate the consumer throughout.
You raise the comfort level with, and understanding of, the F&I product.
Roadster is also seeing some dealerships working this angle on the trade-in side too, so they can possibly identify F&I products that could potentially fit the need of that consumer.
"Again, because they have the relationship with the customer from the beginning, they have a unique perspective and the relationship and commentary that they're having along the way, to identify in a very natural way what products might be important to that customer," Denogean said
For example, during the trade-in process, the salesperson might identify something as simple as the fact that the customer might rub their trade-in car's tires against the curb, then asking if a tire protection plan would be of interest to the shopper, Denogean said.
By the numbers
So how much more likely are consumers to self-select F&I products when they've been educated up front?
"The numbers that we are seeing right now — it's self-selection so it's not the end state of what they actually end up with in the order — but I think they're pretty on par with what is happening before somebody gets into F&I … just from conversations that are happening in transit," Denogean said. "So we're seeing 25 percent to 30 percent of people just attaching on their own without an interaction.
"And then you add on the interaction with the salesperson, then you add on the F&I (desk), and we can start to see it layers up. But I think in a world where nobody thought customers would actually select those things, that's a meaningful number to look at and we're constantly monitoring," Denogean said.
Roadster has heard from dealer partners that F&I penetration for consumers going the online route is, "on par or higher, depending on how they're using the tool to further that conversation," Denogean said.
Many dealers are seeing F&I penetration and profit gains, thanks to the consumer being more educated about those products and in a better mood when they arrive in F&I and "they're more open to hearing what else there is to offer," she said.
As Smoltz and the Braves could tell you, openness to change can bear strong results.