S&P Global and IHS Markit announce merger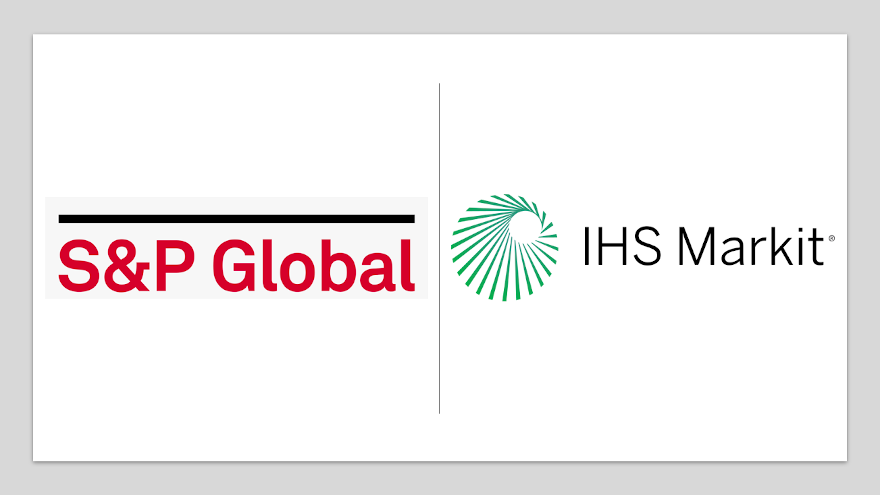 NEW YORK and LONDON -
S&P Global and IHS Markit highlighted nine reasons why the definitive merger agreement they announced on Monday is going to be beneficial for stockholders and the clients that use their automotive and finance data.
According to a news release, S&P Global and IHS Markit will combine in an all-stock transaction that values IHS Markit at an enterprise value of $44 billion, including $4.8 billion of net debt.
Under the terms of the merger agreement — which has been unanimously approved by the boards of directors of both companies — officials said each share of IHS Markit common stock will be exchanged for a fixed ratio of 0.2838 shares of S&P Global common stock. Upon completion of the transaction, current S&P Global shareholders will own approximately 67.75% of the combined company on a fully diluted basis, while IHS Markit shareholders will own approximately 32.25%.
S&P Global and IHS Markit indicated the transaction is expected to close in the second half of 2021, subject to, among other things, the expiration or termination of the applicable waiting periods under the Hart-Scott-Rodino Antitrust Improvements Act of 1976, as amended, other antitrust and regulatory approvals, and other customary closing conditions.
Officials added the transaction requires the approval of shareholders of both S&P Global and IHS Markit and is not subject to any financing conditions.
S&P Global president and chief executive officer Douglas Peterson will serve as CEO of the combined company.
"Through this exciting combination, we are able to better serve our markets and customers by creating new value and insights," Peterson said in the release. "This merger increases scale while rounding out our combined capabilities, and accelerates and amplifies our ability to deliver customers the essential intelligence needed to make decisions with conviction.
"We are confident that the strengths of S&P Global and IHS Markit will enable meaningful growth and create attractive value for all stakeholders. We have been impressed by the IHS Markit team and look forward to welcoming the talented IHS Markit employees to S&P Global," he continued.
Meanwhile, Lance Uggla, chairman and chief executive officer of IHS Markit, will stay on as a special advisor to the company for one year following closing.
"This transaction is a win for both IHS Markit and S&P Global as we leverage our respective strengths in information, data science, research and benchmarks," Uggla said. "Our highly complementary products will deliver a broader set of offerings across multiple verticals for the benefit of our customers, employees and shareholders.
"Our cultures are well aligned, and the combined company will provide greater career opportunities for employees. We look forward to bringing together our teams to realize the potential of this combination," he went on to say.
According to the announcement, the combined company's board of directors will include the current S&P Global board of directors and four directors from the IHS Markit board. Richard Thornburgh, current chairman of S&P Global, will serve as chairman of the combined company.
The companies also noted the leadership team will comprise senior leaders from both organizations. Among the confirmations already made, Ewout Steenbergen, executive vice president and chief financial officer of S&P Global, will serve as chief financial officer of the combined company.
"The approach to integration planning will draw from the best practices of both companies to ensure continuity for customers, employees and other stakeholders," the companies said.
Reasons for action
S&P Global and IHS Markit explained that their unique and highly complementary assets will leverage cutting-edge innovation and technology capability, including Kensho and the IHS Markit Data Lake, to enhance the customer value proposition and provide the intelligence customers need to make decisions with conviction.
The companies then elaborated about nine more reasons they made this move, including:
— Greater scale and business mix: The companies indicated the transaction creates a combined business with increased scale and world-class products in core market segments.
Officials said combined company will have balanced earnings across major industry segments and a resilient portfolio, providing additional financial flexibility to pursue value-creating opportunities.
— Creates strong offerings in high-growth adjacencies: Officials highlighted the combined company will be differentiated in attractive high-growth adjacencies, including ESG, climate and energy transition, private assets and SME, counterparty risk management, supply chain and trade, and alternative data, which together represent $20 billion of total addressable market, growing at least 10% annually.
As part of its ongoing commitment to remain on the cutting edge of technology and innovation, S&P Global and IHS Markit said they will continue to deploy well above $1 billion annually on technology.
— Increased customer value proposition: S&P Global and IHS Markit emphasized the transaction brings together both companies' customer-first cultures and broadens their combined reach across client segments, workflows and use cases. The pro forma organization will serve diverse customer segments across financial services, corporates and governments with differentiated data and intelligence, including the potential to link and create novel insights from new data set combinations.
S&P Global and IHS Markit pointed out that their complementary product portfolios are expected to enable the combined company to serve new and expanded customer use cases in existing and new geographies.
— Best-in-class talent: Officials mentioned the combined company will benefit from two best-in-class workforces with deep expertise and strong, complementary cultures focused on serving the global needs of customers.
As a single organization, S&P Global and IHS Markit said the collective workforce will benefit from expanded opportunities for career development and growth.
— Enhanced growth profile: S&P Global and IHS Markit projected the pro forma company will have 76% recurring revenue and expects to realize 6.5-8.0% annual organic revenue growth in 2022 and 2023, balanced across major industry segments.
— Increased profitability: S&P Global and IHS Markit also highlighted the combined company will target 200 basis points of annual EBITA margin expansion.
— Attractive synergy opportunities and earnings accretion: S&P Global and IHS Markit said the transaction is expected to be accretive to earnings by the end of the second full year post-closing.
Officials predicted the combined company expects to deliver annual run-rate cost synergies of approximately $480 million, with approximately $390 million of those expected by the end of the second year post-closing and $350 million in run-rate revenue synergies for an expected total run-rate EBITA impact of approximately $680 million by the end of the fifth full year after closing.
— Maintains strong balance sheet to pursue further growth: Officials emphasized the combined company is expected to maintain a strong balance sheet and credit profile, with pro forma annual revenue of more than $11.6 billion.
S&P Global added that it intends to maintain a prudent and flexible capital structure and will target leverage of 2.0-2.5 times EBITA, on an agency-adjusted basis.
— Enhanced free cash flow generation to support attractive capital return: S&P Global and IHS Markit went on to noted that they expects to generate annual free cash flow exceeding $5 billion by 2023, with a targeted dividend payout ratio of 20-30% of adjusted diluted EPS and a targeted total capital return of at least 85% of free cash flow between dividends and share repurchases.
Officials noted that both companies expect to maintain their current dividend policies until the close of the transaction.