Sunbit collaborates with TruVideo to expand service drive financing options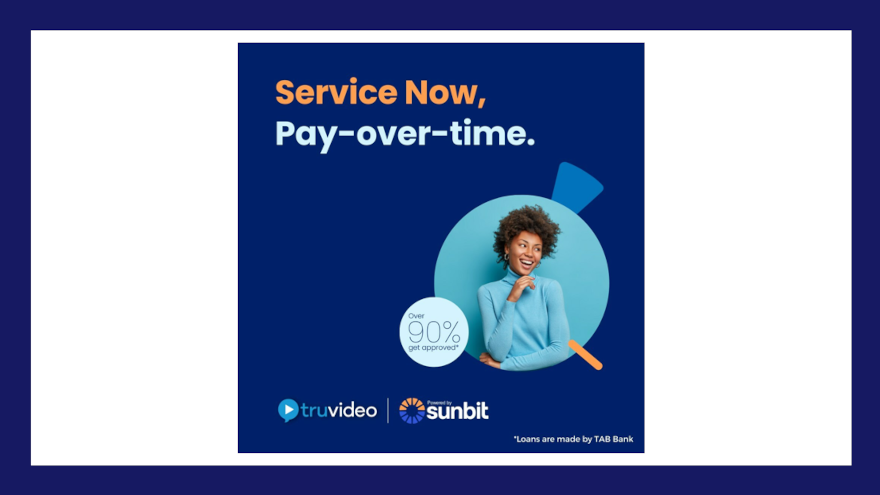 For the second time in a week, Sunbit finalized a relationship with another service provider to help dealership customers afford vehicle repairs.
On Wednesday, the point-of-sale lending technology provider announced an integration with TruVideo, a leader in video communication and artificial intelligence  for the automotive and transportation sector.
Under the new integration, service customers will now receive access to monthly payment options when reviewing their vehicle service recommendations. The companies said the partnership will provide enhanced flexibility for service customers, increasing customer satisfaction and loyalty, while also growing revenue for the department.
"Giving customers access to flexible payment options in order to ensure they receive the needed repairs to keep that vehicle in safe running order is of critical importance," TruVideo CTO and co-founder Douglas Chrystall said in a news release.
TruVideo offers solutions specifically designed to meet the unique needs of dealerships and OEMs. With the new feature, service departments using TruVideo can now present a "Pay as Low As" price on the repair order (RO), giving qualified customers the flexibility of an example monthly payment versus paying the entire amount in a one-time charge.
"Sunbit technology offers access to fast, fair financing choices to virtually every customer, and our relationship with TruVideo will continue to deliver on this promise. We believe that together Sunbit and TruVideo will help more customers accept the services they need, while also helping to drive increased revenue for the department," said Oded Vakrat, vice president of platform partnerships at Sunbit, which just finalized a relationship with Tekion, too.
For more information on TruVideo and its solutions, visit www.truvideo.com. For additional information on Sunbit, visit www.sunbit.com.