TransUnion and S&P Global Mobility spot strong credit profiles among EV buyers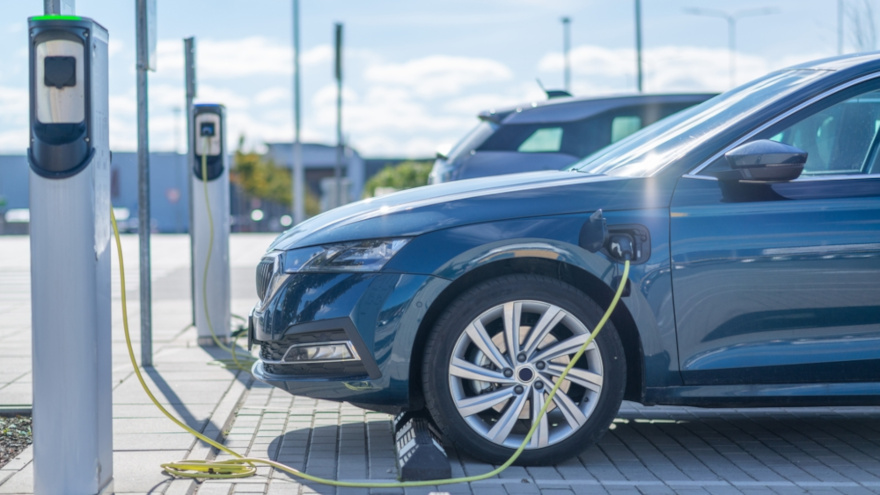 There's a good probability that individuals will remain current on their installment contracts for electric vehicles.
A new TransUnion study conducted in collaboration with S&P Global Mobility found that as the share of new-vehicle registrations for EVs rose, the credit makeup of these buyers continued to remain strong.
Analysts discovered the average credit score for mainstream buyers of EVs stands at 774 and has not changed significantly between the second quarter of last year and Q2 of this year.
The study examined the credit risk profiles of mainstream EV buyers — as opposed to those buying vehicles designated as luxury models — compared to the risk profiles of buyers of more traditional mainstream ICE (internal combustion engine) vehicles.
The project determined that the risk profiles of mainstream EV buyers were much more closely aligned with the risk profiles of luxury model buyers, whether EV or ICE, than buyers of mainstream ICE vehicles.
TransUnion and S&P Global Mobility discovered that more than 60% of mainstream EV buyers fell in the super prime credit risk range, which was in relative line with the percentages of buyers of luxury cars, both ICE and EV.
At the same time, while subprime made up 5% of mainstream ICE vehicle buyers, only 1% of mainstream EV buyers fell into that range, also in line with the 1-2% range for both luxury ICE and EV models, according to the research.
"Consumers in recent years have been moving to EVs for a myriad of reasons whether related to the environment, or cost, or simply personal preference," TransUnion senior vice president and automotive business lead Satyan Merchant said in a news release.
"Yet despite this growth in share, the credit profile of the mainstream EV buyer continues to remain stronger than that of the mainstream ICE buyer, something for lenders to consider when assessing appropriate lending options and risk," Merchant continued.
Despite EV sales moderating from a torrid pace, the share of new EV registrations increased markedly through the first half of 2023 to 8.3%, up from 5.6% one year earlier, according to TransUnion and S&P Global Mobility.
"EVs tend to be purchased more by lower-risk buyers such as those who may otherwise be shopping for luxury cars, with their premium price tag likely a significant factor as to why," Merchant went on to say. "Knowing the types of customers who are shopping for EVs can help lenders better target outreach and marketing and maximize their return on investment as they attempt to acquire new customers."
The risk profile of mainstream EV buyers is more similar to that of luxury buyers
| | | | | |
| --- | --- | --- | --- | --- |
| | Mainstream ICE | Mainstream EV | Luxury ICE | Luxury EV |
| Super prime | 39% | 61% | 54% | 64% |
| Prime plus | 23% | 20% | 22% | 21% |
| Prime | 21% | 13% | 15% | 11% |
| Near prime | 12% | 5% | 7% | 4% |
| Subprime | 5% | 1% | 2% | 1% |
Source: AutoCreditInsight by S&P Global Mobility and TransUnion
In addition to the credit risk range, the study found similarities in the credit profiles of mainstream EV buyers compared to the profiles of luxury buyers.
Analysts noticed that in addition to credit score, average APR and loan-to-value (LTV) among mainstream EV buyers tend to be more in line with luxury buyers than those of mainstream ICE vehicles.
TransUnion and S&P Global Mobility reiterated that loan-to-value is a ratio determined by dividing the amount borrowed (including sales tax, title and licensing fees) by the total cost of the vehicle.
The firms also pointed that at a time when leasing continues to lag well behind its pre-pandemic popularity, the growth in the EV sector may ultimately play a key role in helping to reinvigorate the leasing market.
While leasing over the first half of 2023 remained flat in comparison to 2022 figures among mainstream ICE vehicles, among EVs, in particular non-luxury EVs, TransUnion and S&P Global Mobility found that leasing has seen significant gains.
In the first half of 2023, analysts said a full 22% of mainstream EVs have been leased, more than double the 9% in 2022.
"The leasing market, which has been depressed in recent years for a number of reasons, may ultimately be sparked by the EV surge. It's a trend worth following, in particular, to see if ICE vehicles eventually come along for the ride," Merchant said."
In addition to credit score, APR and LTV of mainstream EV buyers tend to be similar to luxury cars
| | | | | |
| --- | --- | --- | --- | --- |
| | Mainstream ICE | Mainstream EV | Luxury ICE | Luxury EV |
| Average Credit Score | 739 | 774 | 764 | 780 |
| Average APR | 6.9 | 6.1 | 6.5 | 5.8 |
| Average LTV | 105.0 | 93.0 | 94.0 | 75.0 |
Source: AutoCreditInsight by S&P Global Mobility and TransUnion