Agora Data enhances BHPH coverage with ABCoA Deal Pack integration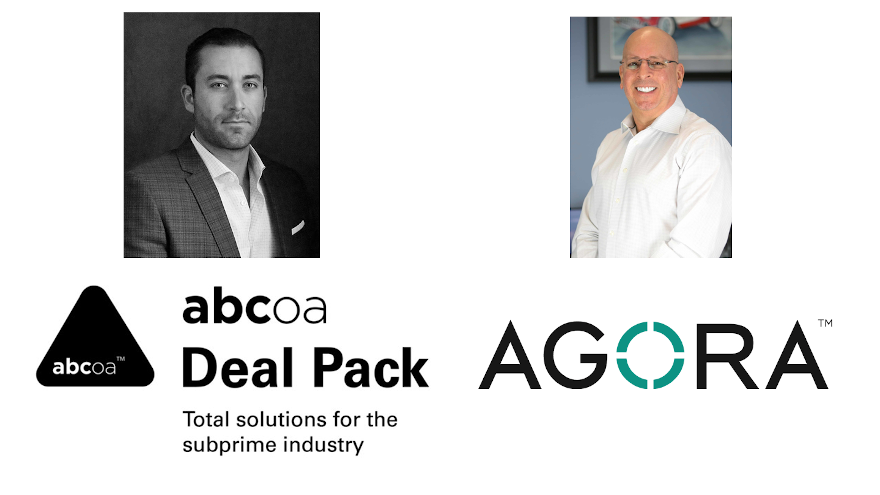 ARLINGTON, Texas -
Coinciding with its appearance this week during the Texas Independent Auto Dealer Association's 2020 Virtual Conference & Expo, Agora Data announced an integration with Advanced Business Computers of America (ABCoA) Deal Pack and its dealer management software solutions.
Agora Data chief executive officer Steve Burke highlighted the addition of Deal Pack expands Agora's integrated DMS partnerships to cover more than 80% of the buy-here, pay-here community.
"Great partners make great solutions," Burke said in a news release. "Deal Pack and Agora bring industry-changing solutions to BHPH dealers and auto finance companies by providing a range of operational options and more insights to help grow their business.
"Already in action, Agora is helping Deal Pack members identify ways to increase profits, convert loans to cash and access low-interest funding through capital markets," he continued.
To get started, Agora suggested members connect to AgoraInsights, its portfolio and loan valuation tool.
Using Agora Insights' 360-degree view of the business, combined with Deal Pack's fully integrated sales, finance, and service modules, BHPH dealers are empowered with the resources needed to develop plans for their biggest asset — their loan portfolios.
"At ABCoA, we believe integrations help to create an even more complete solution for our customers," ABCoA president Jonathan Hedy said. "The Agora platform was designed by a team with extensive experience in retail-auto lending and BHPH originations. Our integration with Agora provides access to liquidity and incredibly powerful analytics, giving our dealers a whole new level of control over their portfolio."
This integration arrived after Agora Data interacted with Lone Star State operators digitally during TIADA's annual event that shifted because of the coronavirus pandemic.
"At this crucial time for the world and our industry, we know our dealers want to be educated on the latest regulations and discuss the most pressing issues," TIADA executive director Jeff Martin said in a separate news release.
And Burke added, "TIADA continues to be a valuable resource to auto dealers across Texas. Agora is pleased to be a resource to BHPH dealers and provide solutions for their financing needs.
"Like many businesses, auto dealers have had to adjust their business strategy. Agora is happy to be that trusted resource where we can come together to share information, solutions, and new ideas for moving forward to support the future of BHPH," Burke went on to say.
For more information, contact Agora at (877) 592-4672 or contactus@agoradata.com.