Big Apple Regulator Out to Halt 'Predatory' Auto Loans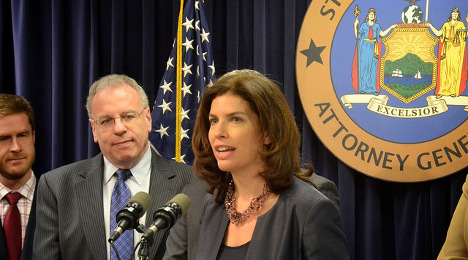 NEW YORK -
The New York City Department of Consumer Affairs didn't come right out and say its new initiative is targeted against the plight of buy-here, pay-here dealers in the Big Apple, but the regulator's descriptive words such as "predatory" in explaining its new plan perhaps should raise the attention of BHPH operators.
DCA commissioner Julie Menin recently announced a new initiative to create what she called a "safer" loan product for qualified secondhand auto borrowers and to help them "avoid financial ruin by predatory loans."
"Often, borrowers with low credit scores are targeted and sold predatory loans characterized by higher interest rates and less favorable terms," the agency said. "Studies show that these loans, which are similar to those that were blamed for the country's mortgage crisis, are growing at a staggering rate of more than 130 percent in recent years.
"In addition, many consumers who obtain these loans believe the dealer has negotiated the best rate for them and are unaware they are actually paying to increase the dealer's profit margin," DCA continued. "Dealer markups provide an incentive to sell consumers unwanted add-ons to increase the amount of financing on a loan and the related mark-up."
With the concerns that some dealerships may be engaged in illegal predatory practices, such as selling unwanted add-ons and arranging high-interest subprime loans without informing consumers of critical information, DCA is calling on banks and credit unions to submit vehicle loan proposals designed for low-income purchasers.
DCA issued a Request for Expression of Interest (RFEI), which is an invitation to an industry to create a product under certain guidelines or submit an existing "safe and affordable" vehicle installment contract that meets the outlined guidelines.
DCA's Office of Financial Empowerment will engage and review submissions from institutions insured and regulated by the Federal Deposit Insurance Corporation (FDIC) or the National Credit Union Administration (NCUA).
The following are among the requirements contained in the RFEI:
— Lenders must cover the cost of used vehicles at the time of purchase and/or to refinance existing auto loans.
— Lender must offer maximum APR below 16 percent.
— Lenders must describe criteria to consumers used by the institution to ensure the loan is affordable for consumers.
— Lender must provide a description of fair debt collection practices to consumers used by the institution.
— There must be an in-person and/or online application process available.
— There must be no required add-ons included in the loan such as credit insurance, roadside assistance, extended warranty protection, or vehicle service contracts.
— There must be no compensation for the secondhand auto dealer for referrals.
— Lenders must accept no or low loan application fees (e.g., $25 or less).
—.Lenders must provide clear and transparent marketing materials and loan disclosures.
—.Information (e.g., payment history and delinquency status) reported to credit bureaus by lenders must be accurate.
"For many families, especially those with low incomes, a car is one of the biggest purchases that they will make and many borrowers who are sold predatory loans are already struggling financially," Menin said. "Our hope is that New York City's financial institutions will step up and fill a void for a fair and safe auto loan product to be offered directly to consumers."
DCA licenses 869 dealerships and, in 2014, DCA received 283 complaints about secondhand auto dealers ranging from misrepresentation, to damaged goods, to breach of contract.
DCA also successfully secured nearly $900,000 in restitution.
New York City council member Rafael Espinal, Jr., who also is chair of the consumer affairs committee, explained DCA plays a unique role in that the agency has oversight of the used-vehicle industry and on "predatory" lending practices and misrepresentation, as well as an Office of Financial Empowerment that is charged with educating and empowering consumers with low incomes to make the most of their financial resources.
Espinal added this RFEI touches on both DCA's oversight and education roles, creating what elected officials and regulators said is a solution that will curb "predatory" behavior on the part of dealers and giving the consumer more information about the marketplace.
"As chair of the consumer affairs committee, ensuring that consumers know their rights and are protected from scams or predatory lending tactics has been one of my top priorities," Espinal said. "For many families on a tight budget, a used car is their largest investment, making it all the more important that their hard earned dollars are protected.
"The car loan program developed by DCA is a great example of a public-private partnership that will ensure consumers are protected from loans that have hidden fees and unclear terms," he continued. "Once again, DCA, under the leadership of commissioner Julie Menin has found a way to address a growing problem before it becomes a full-blown crisis."
Fellow city council member Robert Cornegy added DCA's auto loan product will link consumers to direct financing options with reputable banks and credit unions in New York City who agree to various consumer-friendly terms and offer interest rates lower than New York's usury rate of 16 percent.
With these new consumer-friendly loan products on the market, Cornegy insisted the public will benefit from increased competition and increased access to loan information, helping to ensure that consumers can find loans they are qualified for and can afford. He noted these efforts will also help support consumers' financial stability and may also help lower default rates. Financial institutions can benefit from a broader customer base through referrals and additional marketing.
"Predatory auto lending is an enormous problem for my constituents and other low-income New Yorkers, including new or aspiring small business owners," said Cornegy, who is chair of the small business committee. "The proposal to protect New Yorkers from predatory auto lending practices is very much in line with calls to end other forms of credit discrimination and I'm very much in favor."
The creation of this program is in addition to the aggressive work DCA has done over the past 10 months to protect consumers from "less reputable" dealers' sales and loan practices.
In July, DCA issued 200 subpoenas as part of an investigation to discover whether dealers were selling unrepaired, recalled vehicles without informing consumers.
In November, for the first time ever, DCA looked into dealer financing, in particular subprime loans underwritten by lenders and arranged for consumers by the dealerships. As part of that investigation, DCA issued subpoenas to Santander Consumer USA.
DCA recently entered into a settlement agreement with a dealer, Planet Automotive, which does business as Platinum Auto Mall in Long Island City. The regulator said the dealership had engaged in false advertisement, which required the dealership to pay nearly $450,000 in fines and restitution.
This new auto-loan program will add to DCA's "solution-based" products, which also include the NYC SafeStart bank account, introduced in 2009 (after a two-year pilot). NYC SafeStart was designed to serve people with limited banking experience and/or a poor track record with banking, allowing them to build their track record as a desirable customer. These accounts have a low minimum balance requirement, no monthly maintenance fees, and no overdraft fees.