Commercial Chapter 11 bankruptcies rise for 2nd straight month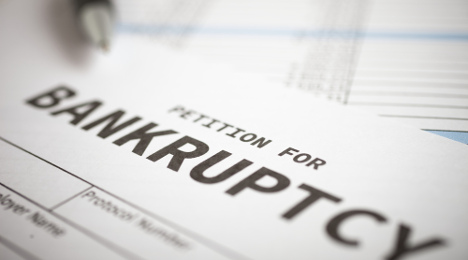 ALEXANDRIA, Va. -
Although total commercial Chapter 11 filings moved higher for the second month in a row, the American Bankruptcy Institute didn't waffle from maintaining its projection of what the overall consumer and business filing total should be for the year.
According to data provided by Epiq Systems, all bankruptcy filings in August came in at 67,712, which represented a decrease of 10 percent from last August's figure of 75,234.
Consumer filings last month also declined 10 percent to 65,248 from year-ago consumer filing total of 72,503.
Where the surge occurred was in total commercial Chapter 11 filings, which increased 48 percent increased to 531 filings in August, up from the 360 commercial Chapter 11 filings registered a year earlier.
Still, total commercial filings in August decreased to 2,464, representing a 10-percent decline from the 2,731 business filings recorded in August of last year.
Back in July, commercial Chapter 11 filings spiked even more than they did last month, climbing 77 percent. But officials didn't show much concern since the overall bankruptcy figure dipped 7 percent year-over-year.
"While commercial Chapter 11 filings have increased in back-to-back months, fewer distressed consumers and businesses are seeking the financial shelter of bankruptcy," ABI executive director Samuel Gerdano said. "Filings remain on track to total 800,000, the second-lowest total since changes to the bankruptcy law were implemented 10 years ago."
Total filings for August represented a 6-percent decrease compared to the 71,854 total filings in July.
Total noncommercial filings for August were also 6 percent less than the July noncommercial filing total of 69,202.
August's commercial filing total also represented a 7-percent decrease from the July commercial filing total of 2,652.
August commercial Chapter 11 filings experienced an 18-percent decrease when compared to the 645 filings registered the previous month.
ABI also mentioned the average nationwide per capita bankruptcy-filing rate in August was 2.71 (total filings per 1,000 per population), a slight decrease from the 2.73 rate registered in the first seven months of the year.
Average total filings per day in August came in at 2,184, a 10-percent drop from the 2,427 total daily filings in August of last year.
States with the highest per capita filing rates (total filings per 1,000 population) in August were:
1. Tennessee (5.76)
2. Alabama (5.35)
3. Georgia (5.09)
4. Illinois (4.46)
5. Utah (4.40)
ABI partners with Epiq Systems — a provider of managed technology for the global legal profession — in order to provide the most current bankruptcy filing data for analysts, researchers and members of the news media.