February dip in bankruptcies in line with annual forecast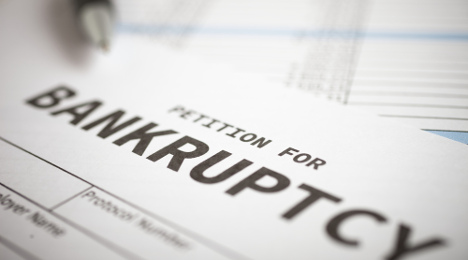 ALEXANDRIA, Va., and NEW YORK -
Still reinforcing a projection that bankruptcy filings would could to decrease this year, the American Bankruptcy Institute reported that total U.S. bankruptcy filings dipped just 1 percent in February compared to the same period last year.
According to data provided by Epiq Systems, bankruptcy filings totaled 64,662 in February, down slightly from the total posted in the same month last year of 65,064 cases.
The data showed consumer filings declined 2 percent in February to 61,662 from the year-ago figure of 62,784.
However, ABI noticed total commercial filings in February jumped to 3,000, representing a 32-percent increase from the 2,280 business filings recorded in February of last year. The 476 total commercial Chapter 11 filings in February represented an increase of 31 percent from last February's total of 364.
"February showed that decreases in total filings are starting to level off, and more businesses are turning to the financial relief of bankruptcy," ABI executive director Samuel Gerdano said.
"As the last major overhaul of Chapter 11 took place in 1978, the recommendations of ABI's Chapter 11 Reform Commission provide an updated roadmap for struggling businesses and courts trying to navigate today's complex financial terrain," Gerdano said.
Total bankruptcy filings in February increased 23 percent compared to the 52,542 total filings registered in January. Total noncommercial filings for February (61,662) represented a 24-percent increase from the January noncommercial filing total of 49,728.
The February commercial filing total of 3,000 marked a 7-percent uptick from the January commercial filing total of 2,814, although February's 476 commercial Chapter 11 filings represented a 4 percent decrease from the 494 filings recorded the previous month.
The average nationwide per capita bankruptcy-filing rate in February was 2.26 (total filings per 1,000 per population), a decrease from January's rate of 2.02.
Average total filings per day in February were 2,126, signaling a 5-percent decrease from the 2,244 total daily filings recorded in February of last year. States with the highest per capita filing rate (total filings per 1,000 population) last month were:
1. Tennessee (5.39)
2. Alabama (5.09)
3. Georgia (4.73)
4. Illinois (4.10)
5. Mississippi (3.55)
ABI has partnered with Epiq Systems, a provider of managed technology for the global legal profession, in order to provide the most current bankruptcy filing data for analysts, researchers and members of the news media.
Forecast for annual bankruptcy figure
ACA International, the Association of Credit and Collection Professional, recently highlighted in a personal bankruptcy projection by Fitch Ratings. The forecast called for personal bankruptcy filings this year to decline by 6 percent to 8 percent from levels observed in 2015.
ACA International recapped that in 2015, personal bankruptcy filings declined 10.2 percent from 2014, which was in line with predictions by Fitch Ratings.
The annual bankruptcy filings last year totaled 798,690, or 90,745 more than levels in 2014, according to the report. Personal filings in 2015 were less than 1 million for the second consecutive time in eight years, according to the report.
"During 2015, U.S. consumer credit quality sustained stable, albeit positive, momentum. Lower initial jobless claims and continued improvement in unemployment helped drive the decline in consumer filings," Fitch said according to the report. "While credit usage started to rise last year, spurred by higher consumer confidence levels, overall macroeconomic conditions have generally supported the lower trend."
Fitch analysts also touched on the factors that influenced the bankruptcy projection.
"Key elements that drive the level of filings are macroeconomic factors, including unemployment, consumer indebtedness, the interest rate and housing environment, among others," they said according to the report. "Fitch believes sustained job growth, low jobless claims and stronger consumer sentiment as a result of positive equity and real estate markets will support the overall decline.
Fitch noted in its report that personal bankruptcy filings should land approximately between 735,000 and 750,000 this year
"Although the expected decline is lower compared with the projection in 2015, the forecast remains favorable given continued positive macroeconomic conditions, and Fitch believes 2016 will be on target for a sixth straight year of lower personal bankruptcy filings," analysts said in their report.