Importance Of Creating & Maintaining Business Plan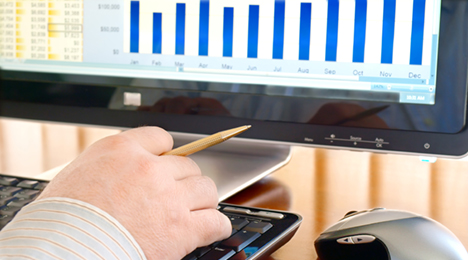 VINITA, Okla. -
The buy-here, pay-here operation Dustin Kerr started to oversee for owner Bill Powell 10 years ago followed a pattern many dealers might recognize. The BHPH store started as an off -shoot of a Chrysler franchised dealership — a place where Kerr could send older trade-ins and try to retail them on a piece of property already held.
"When we first got started, we didn't put a ton of thought into it," Kerr said. "Once it picked up, we had to step back and say, 'Hey, this needs a little more attention. We need to get a plan in place as to how we're going to do this because it's doing well.'"
Powell and Kerr did indeed sharpen their business plan significantly, so much that two years after establishing that first BHPH operation with less than 10 vehicles, Powell chose to sell his Chrysler franchise and delve into the BHPH space exclusively.
The pair opened another lot in 2006 that's now in Miami, Okla., about 25 miles away from the first store. Then when another lot came into the fold two years later, the business plan had to be refined even further because it is situated in another state. That third location is in Pittsburg, Kan.
During each growth stop along the way, Kerr has been the director of operations for E-Z Car Credit, working closely with Powell to keep the things going according to their plan, which is revisited twice per year. Kerr recollected what that first meeting was like after getting into the BHPH business.
"We just stuck five or six cars over there and didn't even know what we didn't know," Kerr said. "We were just going to put a down payment on them and finance them. Once that started picking up pretty quick, we sat down and had to reevaluate. What capital are We going to put aside just for this part of the business? Instead of just putting a few cars over there that we traded for, what is a set amount that we're going to draw from? What's going to be our operating capital?
"From there, your business plan starts to evolve," he continued. "This is our starting capital so what's our average ACV going to be? What's our recon going to be? That leads you to how many cars are you going to sell a month, all of those things you hadn't considered much before.
"We sat down, and said this is a dollar figure that we're going to devote just to this part of the business. Here's our average ACV, and this is how many cars we can sell a month. We can't sell more than this," Kerr went on to say. "We just grew organically from there."
In order to grow, Brett Carmichael, of NCM Associates, insisted that any size BHPH operator needs to have a sharp business plan in place. During his time as a 20 group leader, Carmichael noted that he's seen plenty of operators — large And small — without one, or not checking the plan at least on an annual basis to see if it's working at optimum capacity.
"There are quite a few dealers who have the philosophy that I'm just going to sell some cars and collect some money," Carmichael said. "Now they're starting to become a little more sophisticated to see what the business is going to generate. A lot of it comes from accountability. We've got dealers struggling at finding or keeping good people. One way to develop people is to make sure we have goals and things set in place for ways to hold them accountable."
Before coming to NCM, Carmichael spent more than 17 years in the trenches of special finance and BHPH, playing an integral role in growing Auto Master BHPH of Northwest Arkansas to 10 locations in three states with receivables in excess of $50 million before the operation sold in August 2006 to a publicly held company.
"We were a small operation but fairly sophisticated and grew it. We always did annual budgeting. Ours were due by Dec. 1," Carmichael said.
"I guess when I got into this side of the business (consulting and moderating 20 groups), I assumed everyone did it that way, but I guess we were an exception," he continued. "There are quite a few who really don't do that and are starting to understand that to manage money, to be competitive in this market, they're going to have to get a little more sophisticated in their overall business practices. The first step they've taken is let's take a step back to see what I've done and what I can do and make sure that makes sense so I know I've got enough capital available to either run the model."
Both Carmichael and Kerr emphasized how important it is nowadays to review the operation's business plan, especially in light of some captive finance companies and commercial banks giving vehicle financing to buyers with severely damaged credit histories.
"Know how much you can afford to sell per month, and know what your risk is and what your cash in the deal needs to be when the customer rolls out. That is so important to know what you can afford to sell every month, because here's what happens in the market: It's a revolving door. We have ups and downs," Kerr said.
"Let's say you're small and you can afford to sell 20 cars a month," he continued. "When business is good and it's easy to sell cars, it's easy to get caught up and say 'I don't want to limit myself. I could sell 30 cars this month or I could sell 40 cars this month.' Ten you can really sell yourself out of business. Know what that number is that you can afford to sell, and don't sell more than that.
"On the flip side when business is bad, and you can afford to sell 20 a month and you're selling only 10, maybe I need to start taking more risk and putting more cars out there," Kerr went on to say. "That's just as bad because you're taking more risk and putting more money out on the street with Customers who don't have as much stability.
"It's very important to get that business plan and no matter what stick by it," Kerr concluded.
BHPH Boot Camp Can Help to Sharpen Plan
If veteran operators need a fresh set of eyes on their business plan or "green peas" aren't sure of where to start in the buy-here, pay-here world, attending the next BHPH Boot Camp hosted by the National Alliance of Buy-Here, Pay-Here Dealers could solve the issue.
The next two-day session is set for March 29 and 30 in Monroe, N.C., near Charlotte. NABD founder Ken Shilson along with veteran BHPH operator Ingram Walters give hands-on training on a wide array of topics, ranging from formulating that business plan to creating a related finance company as well as state and federal compliance requirements.
Walters literally opens up his books and one of his BHPH lots to show how he's been thriving for 20 years. Attendees see how vehicles are reconditioned, how Walters markets his inventory and more.
"You come here to the boot camp so you can touch it; you can feel it; you can take pictures of it," Walters said. "You can see an operation works, not just hear about it."
Meanwhile, Shilson takes a portion of the weekend to delve deeper into how BHPH accounting is different from many other financial operations.
"Ingram and I, our skills complement each other because he's an operator and my background is in the financial and analytics side of the business," Shilson said. "Together, I think we can give you a complete perspective on how to operate a buy-here, pay here business successfully.
Operators can secure a spot at the next boot camp by calling (832) 767-4759 or visiting www.bhphinfo.com.