McCloskey commemorates 50 years in business by becoming new NIADA president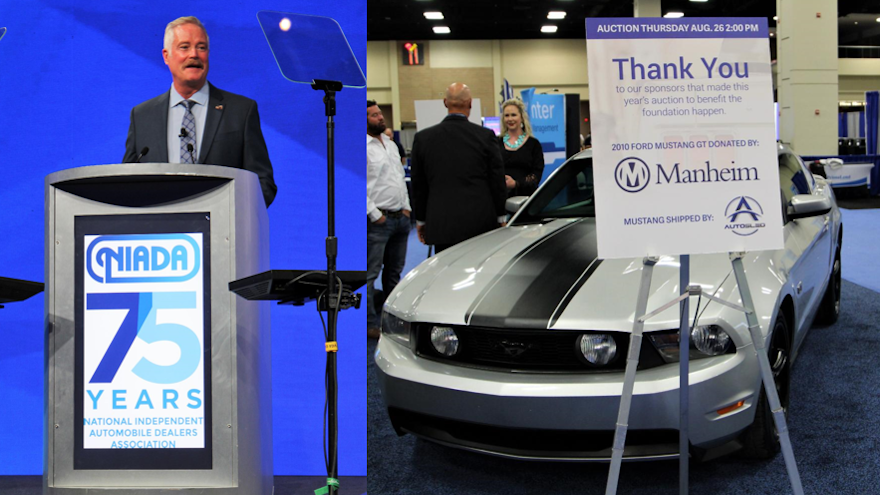 SAN ANTONIO -
The new president of the National Independent Automobile Dealers Association is celebrating a significant anniversary, too.
During the 75th annual NIADA Convention and Expo, Joe McCloskey began his term as for 2021-22 by receiving the President's Ring; an accomplishment that has arrived during his 50th year in the car business.
The owner of McCloskey Motors in Colorado Springs, Colo., gave his inaugural address during the event's National Leadership Awards ceremony at the Henry B. Gonzales Convention Center in San Antonio.
McCloskey, who succeeds 2020-21 president Louis Tedeschi, said he is committed to improving NIADA's services to its members and advocacy for the used vehicle industry, as well as implementing the association's strategic plan.
"My priority is to work to unify all members, state associations and NIADA to join as one force to elevate our joint efforts to new levels of service to our membership and better protect the interests of our industry," McCloskey said through an association news release.
"I believe we can accomplish that by continuing to serve NIADA's renewed commitment to be the national association to all members, regardless of their size or business model," he continued. "We'll also continue to assist and develop the management of regional, state and local independent dealer associations.
"The NIADA Dealer 20 Groups program is an NIADA priority," McCloskey continued. "It's poised for amazing growth this year. Look for exciting things to happen with our 20 Groups and education programs. Our commitment this year is to make 20 Groups available and affordable for all dealers, regardless of their size or business model."
As NIADA celebrates its 75th anniversary as an association, McCloskey is celebrating his own milestone.
In 1971, a 13-year-old McCloskey got his first industry job — sweeping the garage floors at Bear Axle and Wheel in Pueblo, Colo. But it didn't take long for him to start moving up.
McCloskey was soon recruited by a Volkswagen/Mercedes-Benz dealership in Pueblo as what was then called a "lot man." By the time he was a 17-year-old high school junior, he'd worked his way up to selling cars.
McCloskey went into business for himself in the summer of 1989, but the first location of McCloskey Motors didn't exactly inspire confidence in his wife, Ann.
"We started in a garage in an alley with one light bulb and no phone," McCloskey recalled. "At the time we had four children and not much money. I showed Ann this sketchy garage in an alley. I flung open the garage door and there was one light bulb, hanging on a string.
"I told Ann, 'This is our future! This is the future of McCloskey Motors!' And being supportive, she said, 'Yes,' McCloskey went on to say.
That business has since grown to three locations in Colorado Springs — McCloskey Truck Town, McCloskey Imports and 4x4s and Joe's Car and Truck Repair — with some 80 employees and 275-300 vehicles in inventory.
McCloskey's operation has been honored by the Better Business Bureau for Excellence in Customer Service, has twice been named Colorado's State Quality Dealer and in 2013 won NIADA's highest dealer award — National Quality Dealer.
Manheim vehicle donation raises $22,500 for NIADA Foundation
Mike Widhalm wasn't intending to come home from the NIADA Convention and Expo with a car.
But when the bidding started, it just kind of happened.
"I'm just a sucker for a charity auction and things like that where the money goes to a good cause," Widhalm said in another news release from NIADA.
Widhalm, president of Red's Auto and Truck in Longmont, Colo., placed the winning bid of $22,500 on a silver 2010 Ford Mustang GT with just 60,913 miles on the odometer in an auction held Thursday, the final day of the NIADA Convention.
The vehicle was donated by Manheim, which held the auction at the NIADA Dealer's Lounge in the Convention's Expo Hall. All proceeds of the sale go directly to the NIADA Foundation, which coordinates the association's commitment to charitable giving and education.
In addition to making numerous donations to charities nationwide and providing matching funds for local charitable projects, the foundation has raised hundreds of thousands of dollars to assist members of the automotive community affected by hurricanes and other disasters, and has established endowments that fund university scholarships for students pursuing careers in the automotive industry.
NIADA said the Mustang will be delivered to Widhalm free by Autosled.
Later that evening, Widhalm was honored as Colorado's State Quality Dealer and a nominee for the National Quality Dealer award, NIADA's highest dealer honor. His dealership is involved in numerous charitable causes, including Colorado IADA's Used Car Dealers of Colorado Charity Fund.
In fact, Widhalm said he plans to donate his newly acquired Mustang to the charity auction at the annual UCDCCF gala on Nov. 20.
"I usually donate a car or motorcycle for the CIADA charity gala, and I was looking for a car to donate," he said. "Now I have a car. We'll donate it there and re-auction it off and earn some more money for a good cause."
Over the past nine years, benefit auctions at the NIADA Convention and Expo have raised a total of $218,500 for the NIADA Foundation.