NIADA notes: Revitalized CMD class & charge against noncompetes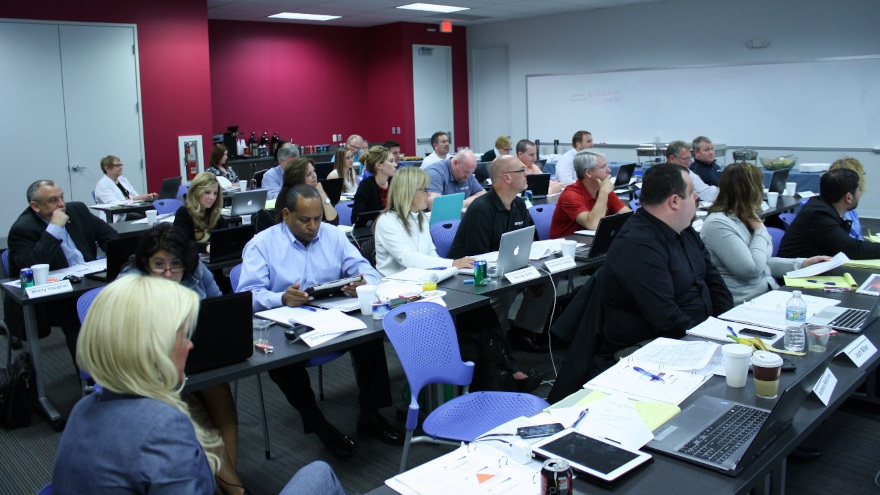 The National Independent Automobile Dealers offered updates this week on a pair of fronts — its certified master dealer program as well as federal actions involving noncompete stipulations.
In the program's near 30 years, the association said 270 auto dealers earned the distinction of being a NIADA Certified Master Dealer.
These standout dealers earned the CMD title by completing a comprehensive course, specifically designed to develop the skills of these industry leaders.
"The program is for people who are truly committed to the industry," NIADA president-elect Gordon Tormohlen said. "If you want to make a career out of this and get better constantly, want to work on your leadership skills and knowledge of the industry, this may be the program for you."
After a four-year hiatus, the revitalized NIADA CMD program will return with a new class of 20 dealers June 19-22 at NIADA's annual convention and expo in Las Vegas.
The CMD program dates to 1990 with Harold Rockwell. It was redesigned in 2001 in collaboration with Northwood University. Based on the independent dealer's scope of management, merchandising, finance, human resources and business planning, the program was delivered in several days of intensive training, with a final written exam on the last day of instruction.
Dealers who attended this training are support ethical business standards and practices, and are leaders in their communities, including current NIADA president Scott Allen.
"I'd always heard that a car sitting there costs you money. But it's different when you know it," Allen said. "When you sit down and you go through the math yourself…that's when I really started paying attention. That's when the light bulb went on. I was nodding my head and listening up until then, but the financial stuff really made me sit up and take notice."
NIADA Quality Dealer of the Year for 2019-2021 Otto Hahne attended the CMD class in 2019.
"I learned so much," said Hahne, who is president of City of Cars in Troy, Mich. "I ended up with so many takeaways to help my business be successful. I know I'm a better leader and everybody's going to benefit, from my team back home to myself to the customers I do business with."
Revitalization plan details
At NIADA's 2022 Annual Convention and Expo, a room full of CMDs gathered to discuss the revitalization of the CMD program. During the planning session, CMDs discussed the curriculum, timeline and cost, while sharing stories about their experience.
Following the convention, Tromholen, and former director of education Janet Staderman met regularly to plan the CMD curriculum and components.
Tromholen and Staderman sought support and collaboration from Elgie Bright, Faculty Chair of the Automotive Marketing and Management program, and other faculty at Northwood University.
In late January, the board of directors approved a one-year business plan.
The revitalized program will start at the June convention and span 12 months. Dealers can apply via NIADA's Learn webpage before the end of March.
An advisory committee will review the applications based on a scoring rubric and select the new cohort of 20 dealers. The cumulation of the program is a capstone where dealers will present their business plan and take a comprehensive exam.
Graduation will take place at the June 2024 convention.
"Back in the day Harold Rockwell was the lead instructor, and he put the students through a grinding five-day process to become certified master dealers. But times have changed and so has the certified master dealers program," Tromholen said.
CMD students will participate in two in-person courses and eight live online, instructor-led courses. The first in-person course, Auto Dealership 101, will cover a wide variety of topics at a macro level. In addition, the cohort will participate in team-building activities to develop camaraderie and get introduced to NIADA's Business Plan template.
The subsequent eight courses will be delivered live online, and each session will last two hours (Level II).
"It'll be about two hours you'll have to dedicate out of your showroom. The rest of the time, you're still making money and getting better," Tromholen said.
Course content includes dealership accounting principles, expense control, asset management, establishing a profitable service center, digital marketing techniques, effective leadership theory, wealth management and goal setting. Dealers will have self-study and work to complete outside of class, then take an online assessment to prove competencies in each content area. Throughout the online portion of the program, dealers will have the opportunity to participate in virtual office hours with the instructors. This is an opportunity to ask questions and seek guidance for areas of their business or study.
The dealers will also complete a 1.5-day in-person AFIP Used Car Certification Course and must pass the certification exam.  AFIP is the leading finance and insurance certification program for F&I professionals and auto dealers.
"Being Master AFIP Certified myself, I know the 'Ah-ha' moments dealers and their employees will find during the AFIP certification," NIADA vice president of dealer development Jeremy Beck said. "This adds further credibility to our program and provides knowledge and protection to our dealers.
"Understanding how to conduct their business in compliance with state and federal laws is key in understanding how to build a successful operation. We are proud to partner with AFIP to offer this professional designation to our Certified Master Dealer program," Beck continued.
The Used Car Certification is another building block to the CMD program, which is designed to create trust and lifelong customers.
As many prior CMDs have shared, a large part of this designation is service and advocacy of the industry.
Several current NIADA board members and past presidents proudly hold their CMD designation. As such, the revitalized program requires attendance at NIADA's National Policy Conference and the dealer's state annual meeting and convention.
"Advocacy in Washington D.C. on behalf of our dealer community is the number one thing an association member can do for our industry," Allen said.
To successfully complete the CMD program, students must pass an assessment following each Level II course, the AFIP certification, the cumulative exam after the final in-person course and submit a final business plan for review.
Tromholen insisted CMD graduates will leave the program with a well-thought-out business plan and a framework for success.
"The objective of the CMD program is to have you write a business plan that is customized to your dealership," Tromholen said.
The graduates will be recognized at the annual convention, on NIADA's website and other social outlets and in a local press release. In addition, they will receive a digital badge that may be displayed on their dealership website and a physical plaque for their dealership.
Another critical component of the revitalized program is peer-to-peer mentorship. New CMDs will be paired with a prior CMD as a mentor for their first year following the program's exit. This person will provide guidance and be a resource for the new CMD.
To maintain CMD status, the dealer must continue learning and provide verification to NIADA's Director of Education. The program requires the completion of 4.0 continuing education units every 2 years. One CEU equals 10 contact hours. Continuing education may be achieved by attending NIADA and state events.
For information and to apply for the Certified Master Dealer program, visit NIADA.com.
NIADA joins opposition to FTC's rule on noncompetes
In other news, the National Independent Automobile Dealers Association joined U.S. Chamber of Commerce and dozens of other associations in opposition to the Federal Trade Commission's proposed rule to impose a nationwide ban on almost all noncompete clauses.
NIADA signed onto the letter to Congress, with many state and local chambers of commerce, trade groups and associations, spanning industries from newspapers, trucking, technology, restaurants, hospitality to healthcare in opposition to the rule.
"On behalf of the undersigned organizations and our members across the country, we write to unequivocally oppose the Federal Trade Commission's proposed rule to impose a nationwide ban on almost all noncompete clauses.  The FTC lacks the constitutional or statutory authority to issue such a rule and, in attempting to do so, the agency is improperly usurping the role of Congress," the letter read.
"Moreover, this sweeping rule would invalidate millions of contracts around the country that courts, scholars, and economists have found entirely reasonable and beneficial for both businesses and employees.  Accordingly, we ask you to exercise your oversight and appropriations authority to closely examine the FTC's proposed rulemaking."
In January, the FTC proposed the rule banning employers from imposing noncompetes on their workers.
The agency estimated the rule could increase wages by nearly $300 billion per year and expand career opportunities for about 30 million Americans.
The FTC's proposed rule would generally prohibit employers from using noncompete clauses. It would also apply to independent contractors and anyone who works for an employer.
Employers would be required to rescind existing noncompetes.
The commission voted 3-1 to publish the Notice of Proposed Rulemaking, which is the first step in the FTC's rulemaking process. Former commissioner Christine Wilson cast the dissenting vote.
Along with suggesting the FTC overstepped its authority, the letter to Congress said the rule, "will likely harm both employees and employers."
"Courts, scholars, and economists all have found that noncompete clauses, when properly used, encourage investment in employees and help to protect intellectual property. Forty-seven states permit noncompete clauses, which have traditionally been an issue of state law," the letter said.