Tricolor unveils 200-bay reconditioning center near Dallas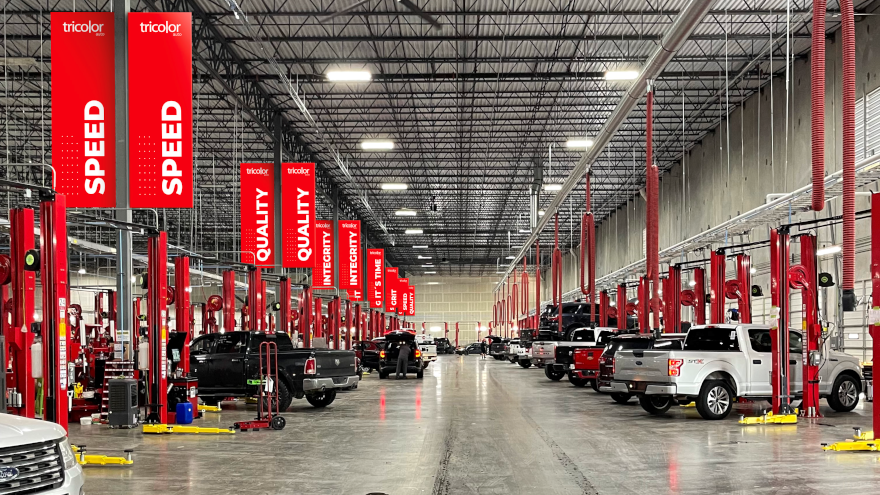 Tricolor has invested heavily in artificial intelligence and other technology resources to boost its underwriting.
On Thursday, tech-enabled Community Development Financial Institution (CDFI) and one of the nation's largest used-vehicle retailers that caters to Hispanic consumers, also enhanced its resources connected to the vehicles themselves.
Tricolor announced the opening of its new state-of-the-art reconditioning center in Wilmer, Texas, south of downtown Dallas. According to a news release, Tricolor now operates a 200,000 square foot indoor facility to accommodate 200 service bays, a full paint and body center, and an automated car wash at scale.
The facility is adjacent to a 12-acre parking facility.
Tricolor said it employs more 200 people at the facility, which is designed to be environmentally friendly, utilizing water-based paint, waste material recycling and air monitoring features.
"Our unique, integrated model allows us to execute a full end-to-end solution that meets the mobility demands and affordability needs of the Hispanic consumer, many of whom require dependable transportation for survival," Tricolor founder and chief executive officer Daniel Chu said in the news release. "This substantial investment in our reconditioning infrastructure will enable us to scale the delivery of unprecedented value to our customers."
As part of its overall value proposition, Tricolor said it performs a 150-point inspection, invests an average of $2,200 in every vehicle and provides each purchaser with a free 18 month/18,000 mile limited warranty on the vehicle's major components.
"Given today's macro environment, as the burdens of high inflation impact the financially vulnerable, managing vehicle quality allows us to mitigate major mechanical issues, which can be devastating for a low-income borrower," Chu said.
Tricolor said it has more than doubled its origination volume over the past two years, as well as doubled its market share over the past three years. Tricolor said only CarMax and Carvana sell more used vehicles than it does in Texas.