APCO Holdings & DealerPolicy partner to boost back-end gross potential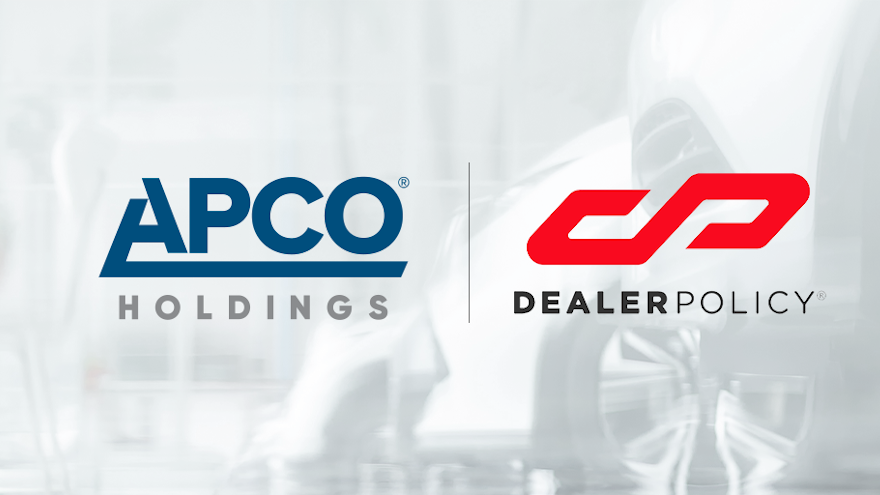 BURLINGTON, Vt. -
More opportunities to enhance the insurance opportunities within your dealership finance office recently arrived.
DealerPolicy, a leading insurance marketplace for automotive retail, announced a strategic partnership with APCO Holdings, a leading provider and administrator of F&I products and home to the EasyCare and GWC Warranty brands.
With this alliance, DealerPolicy's innovative and cost-saving personal insurance platform will now be offered through APCO's vast network of franchised and independent dealers.
DealerPolicy's platform is built to bring together automotive insurance and vehicle buying, providing a more holistic end-to-end car shopping experience for consumers while also converting customer buying power into profits for dealers.
On average, DealerPolicy said its insurance customers who report the amount save $64 per month on their automotive insurance. These savings can empower customers to reinvest in additional F&I products offered by dealerships.
According to a news release, dealers in DealerPolicy's network report an average back-end gross increase of 44%.
The company added that partnering with APCO will allow DealerPolicy to further incorporate personal insurance into the car buying process at more than 2,800 dealers nationwide.
"APCO's storied reputation and commitment to data-driven processes and results make them ideal collaborators in our shared mission to enrich the car-buying experience for dealers and customers," DealerPolicy co-founder and chief executive officer Travis Fitzgerald said in the news release.
"Partnering with APCO deepens our pledge to provide the next generation of F&I solutions that add real tangible value to dealers and car-buyers," Fitzgerald continued.
APCO Holdings chief operating officer John Lee added, "We strive to work with companies that are bringing new and exciting opportunities to the table for dealers.
"Our partnership with DealerPolicy underscores our commitment to providing the most innovative and efficient solutions that maximize value for our valued dealers and their customers," Lee went on to say.