Biden reveals nominees to lead CFPB & SEC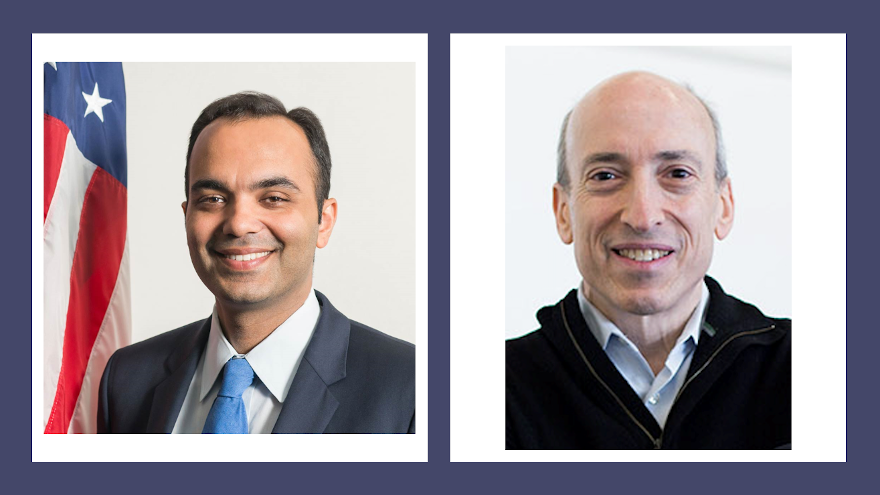 WASHINGTON, D.C. -
President-Elect Joe Biden announced a number of key administration posts on Monday, including his choices to lead the Consumer Financial Protection Bureau and the Securities and Exchange Commission.
Biden picked Rohit Chopra, currently a commissioner with the Federal Trade Commission, to oversee the CFPB, and Gary Gensler, who previously served as chairman of the U.S. Commodity Futures Trading Commission, to run the SEC.
"Our administration will hit the ground running to deliver immediate, urgent relief to Americans; confront the overlapping crises of COVID-19, the historic economic downturn, systemic racism and inequality, and the climate crisis; and get this government working for the people it serves," Biden said in a news release that also mentioned his nominations for deputy secretaries in a wide swath of departments, including interior, agriculture, transportation, education and health and human services.
"These tireless public servants will be a key part of our agenda to build back better, and I am confident they will help make meaningful change and move our country forward," Biden added.
Bill Himpler, president and chief executive officer of the American Financial Services Association, offered this reaction to Biden's selection to lead the CFPB.
"AFSA and its member companies congratulate commissioner Chopra on his nomination to lead the Consumer Financial Protection Bureau," Himpler said in a statement. "Since the bureau's inception, AFSA and our members in the traditional installment lending, vehicle finance, payment card, and mortgage industries have worked constructively with the CFPB leadership and staff.
"Mr. Chopra understands our issues from his time with both the CFPB and the FTC, and we look forward to working with him and the CFPB staff on policies that ensure consumers are both protected and have access to the credit products that meet their needs," Himpler continued.
And Dan Berger, president and chief executive officer of the National Association of Federally-Insured Credit Unions (NAFCU), shared this perspective about Chopra.
"NAFCU congratulates FTC Commissioner Rohit Chopra on his expected nomination to serve as CFPB Director," Berger said in a statement. "NAFCU has enjoyed a strong relationship with bureau leadership over the years, and we look forward to hearing more about commissioner Chopra's views on regulation and consumer protection during the confirmation process.
"We will continue to advocate for the agency to tailor regulations to reign in bad actors while allowing credit unions to successfully serve their 123 million members," Berger went on to say.
Chopra previously served as assistant director of the CFPB where he led the agency's efforts on student loans. In 2011, the Secretary of the Treasury appointed him to serve as the CFPB's Student Loan Ombudsman, a new position established in the financial reform law. He also served as a special advisor at the U.S. Department of Education.
As mention, Gensler served as chairman of the U.S. Commodity Futures Trading Commission from 2009 to 2014, leading the Obama-Biden administration's reform of the $400 trillion swaps market. He was senior advisor to Sen. Paul Sarbanes in writing the Sarbanes-Oxley Act and was under secretary of the Treasury for domestic finance from 1999 to 2001 and assistant secretary of the Treasury for financial markets from 1997 to 1999.
Gensler most recently was chairman of the Maryland Financial Consumer Protection Commission from 2017 to 2019 and also worked as chief financial officer for Hillary Clinton's 2016 presidential campaign.
One of the architects of the CFPB — Sen. Elizabeth Warren — cheered Biden's nominations for leaders of both federal regulatory agencies.
"For too long, our banking regulators have behaved like they work for the financial institutions they regulate — not the American people. But big change is coming. President-elect Biden couldn't have made two better picks to lead the SEC and CFPB: Gary Gensler and Rohit Chopra," Warren said on Twitter.
And U.S. PIRG, the federation of state Public Interest Research Groups, applauded the nominations, too, in a statement. Ed Mierzwinski is the organization's senior director for federal consumer programs, and Mike Litt is its consumer campaign director.
"Rohit Chopra has the ideal background for hitting the ground running at the CFPB," Litt said. "He helped build the CFPB from the start, served as its first student loan ombudsman and has most recently been a Federal Trade Commissioner. In his government service, he has used all policy levers available to protect consumers from corporate wrongdoers. We couldn't be happier with his selection to restore the CFPB after three years of disastrous leadership."
Mierzwinski said: "Gary Gensler possesses the critical skills necessary to fix the SEC, which has engaged in dangerous deregulation that suggests its leadership has forgotten or ignored the lessons of the financial collapse of 2008. He wasn't afraid to take on Wall Street as chair of the U.S. Commodity Futures Trading Commission and will return the SEC to an agency that both protects small investors from risky practices and protects the financial system from dangerous actors."