Car Capital & RightWay partner to get more financing & deliveries completed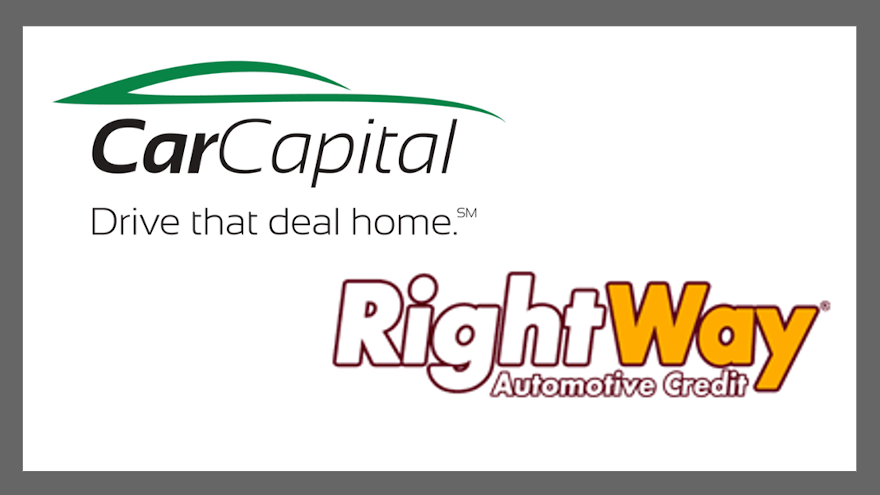 GRAPEVINE, Texas -
Car Capital not only is building its team of executives as well as its financial resources, the auto-finance technology company that strives to get any deal bought no matter the consumer credit background is cultivating its portfolio of dealer clients, too.
This week, Car Capital announced the addition of strategic dealer partner, RightWay, which operates more than 40 independent dealerships in the Midwest.
Like Car Capital, a news release highlighted that RightWay looks to cater to underserved consumers who deserve quality vehicles regardless of credit or financial situation.
Car Capital's solution is currently being implemented in nine of 43 RightWay stores and will expand to all locations by the end of the.
"We are privileged to welcome RightWay as a valuable Car Capital partner," Car Capital co-founder and chief executive officer Justin Tisler said in the news release. "RightWay shares our values to make the car buying process easier for customers with challenging credit backgrounds."
Through its proprietary, fully digital platform, Dealer Electronic Auto Loan System (DEALS), Car Capital can allow dealer partners such as RightWay to approve 100% of their customers instantly, regardless of credit history.
With DEALS, Car Capital explained dealers have the ability to make 24/7 approval decisions based on the economics of each unique vehicle and consumer. And dealer partners get back-end profit based on performance, not a minimum portfolio size.
Most of RightWay's locations are in Michigan with other rooftops in Ohio, Indiana, Illinois and Missouri.
"Car Capital could not be happier for an amazing partner like RightWay to join our growing network of dealer partners," Car Capital chief revenue officer Cory Cox said. "We appreciate RightWay for their dedication to getting underserved consumers into the best vehicles for them."
Meanwhile, Cox is among the experts and executive set to appear during the Auto Intel Summit, which runs on April 12-14 in Raleigh, N.C.
The event is designed to answer the question of "what's next" regarding technology impacting how vehicles are wholesaled, retailed and financed.
And you can save as much as $400 with early bird discounts available until March 14.
More details can be found at www.autointelsummit.com.