Cox Automotive reiterates value of smooth title processing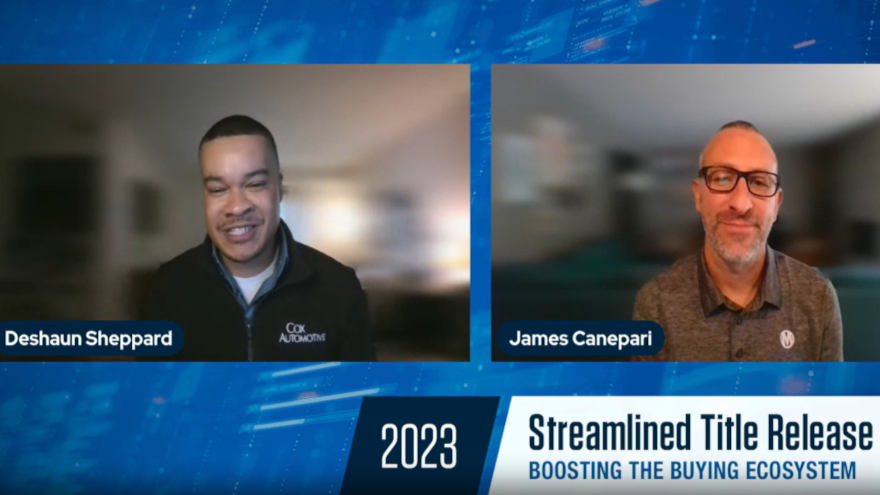 Title work is crucial for consignors, dealerships and finance companies when getting repossessed vehicles through the wholesale market, especially since they're likely in a negative position if the contract holder defaulted just a few months into the term.
James Canepari, senior director of national commercial accounts at Manheim, put it this way during a recent podcast with Cox Automotive colleague Deshaun Sheppard.
"I mean, titles are cash," Canepari said. "Whether it's a dealer or consignors, that's money in hand. It's just a piece of paper that's worth a lot. And because of that, if you don't manage it properly, you lose it or something happens, you're losing out on that car."
Canepari recapped dialogue he's had recently with a variety of customers about what might happen if a vehicle goes over the block without a title firmly secured.
"We're not going to say that a car won't sell without a title. But what we will say is that it will sell much quicker with one," Canepari said during the podcast. "So let's put a little context around it.
"Imagine you're a seller, consignor, whether commercial or dealer, bringing a load of cars in from wherever, at great distance and at great cost to transport them in," he continued. "Then you get them to the auction, you're going to do recon on them, whether it's details, condition reports, imaging, all the things that we have to do at the auction to sell the car properly.
"You run it across the block, whether in lane or online. And the car doesn't sell because it doesn't have a title. You put all that investment, all that time, all that energy, whether you're a small dealer or a big dealer, a consignor, a bank, whatever, only not to sell the car because it doesn't have a title. It doesn't make any sense."
That's when Sheppard chimed in about the capabilities of Accelerated Title, one of the services available from Dealertrack.
Sheppard emphasized the fact that Dealertrack and Manheim are within the Cox Automotive portfolio and can help when time is of the essence, which can be the case with repossessions or other wholesale volume that needs to be liquidated quickly.
"That's actually one of my favorite features of Accelerated Title is that not only are you able to see the real time payoff quote, but you're also able to see an image of the title," Sheppard said. "So you know that there's a lien perfected. You know that the title is securely stored at Dealertrack and you can expect to receive the release of that title very quickly.
"It gives confidence to the dealers to go ahead and submit payment and they know that they're going to be receiving the title," he went on to say.
To learn more about Accelerated Title and other Dealertrack services, connect with Sheppard via this website.