Credit access improves again, but approvals drop near lowest point in 3 years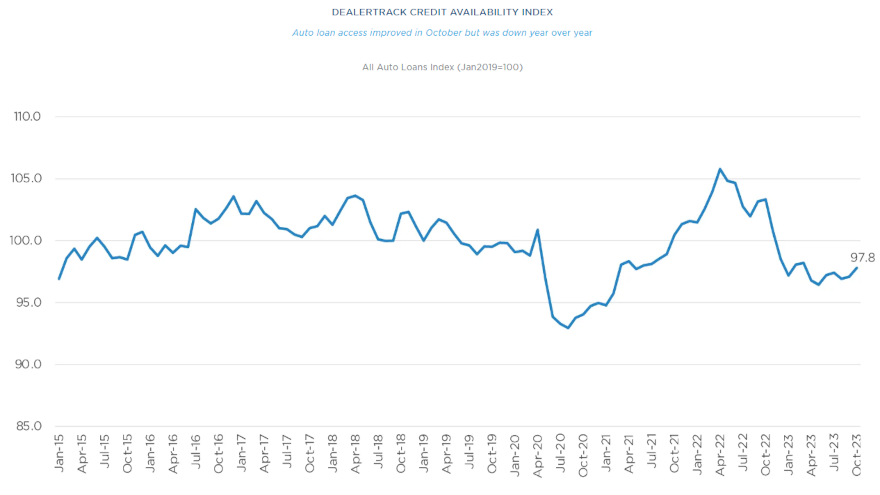 As its experts shared updated trends associated with new-vehicle prices, Cox Automotive also posted its Dealertrack Auto Credit Availability Index for October.
Perhaps helping if a non-prime consumer aspires to secure a new vehicle, analysts discovered access to auto credit improved in October continuing the trend that began in the summer.
"However, even though credit access improved, it was still tighter than a year ago and, in some channels, even tighter than pre-pandemic levels," Cox Automotive said in its commentary that accompanied the latest index reading, which came in at 97.8 in October.
That reading ticked up 0.7% on a sequential basis. But analysts pointed out auto credit access was tighter by 5.7% year-over-year and by 2.1% when compared to February 2020.
What might be more telling, Cox Automotive acknowledged the approval rate decreased by 115 basis points in October and was down 1.2 percentage points year-over-year. Analysts said this is the lowest approval rates have been since November 2020.
In a separate analysis, Cox Automotive reported the average price paid for a new vehicle in October in the U.S. was $47,936, less than 1% more than the month earlier as Kelley Blue Book revised the reading to $47,797.
Compared to one year ago, when incentives were near historic lows, Cox Automotive indicated average new-vehicle transaction prices in October were lower by 1.4%, or approximately $670.
Year to date, new-vehicle transaction prices have fallen more than 3.5%, "as downward price pressure continues to favor buyers in the market," analysts said.
"After increasing rapidly through the spring and early summer, new-vehicle incentive growth has taken a pause," Cox Automotive continued. "Average incentive packages have stayed mostly unchanged over the past three months at just under 5% of ATP. New-vehicle sales incentives are significantly higher than one year ago but remain muted by historical standards."
And to put that customer into a new model — or a used vehicle for that matter — financing is likely necessary. Cox Automotive accessed the landscape in October that continued the credit access improvement string during the past couple of months.
"Movement in credit availability factors was mixed in October. Subprime share increased, yield spreads tightened, average terms lengthened, negative equity share increased, and those moves improved credit access for consumers. However, approval rate decreased, down payments amount increase, and those moves hurt credit access for consumers," analysts said.
Cox Automotive noted that the average yield spread on auto financing booked in October tightened by 13 basis points, so rates consumers saw on their contracts were more attractive in October relative to bond yields.
Analysts added the average auto rate increased by 16 basis points in October compared to September, while the five-year U.S. Treasury increased by 29 basis points, resulting in a narrower average observed yield spread.
Also of note, Cox Automotive indicated the subprime share increased to 11.5% from 11.1% in October but was down 0.5 percentage points year-over-year.
Finally, analysts said the share of contracts with terms 72 months or longer increased slightly by 4 basis points in October but was 1.8 percentage points lower year-over-year.
Each Dealertrack Auto Credit Index tracks shifts in approval rates, subprime share, yield spreads and loan details, including term length, negative equity, and down payments. The index is baselined to January 2019 to provide a view of how credit access shifts over time.