Dissent over FTC action against dealer group questions 'unfairness jurisdiction'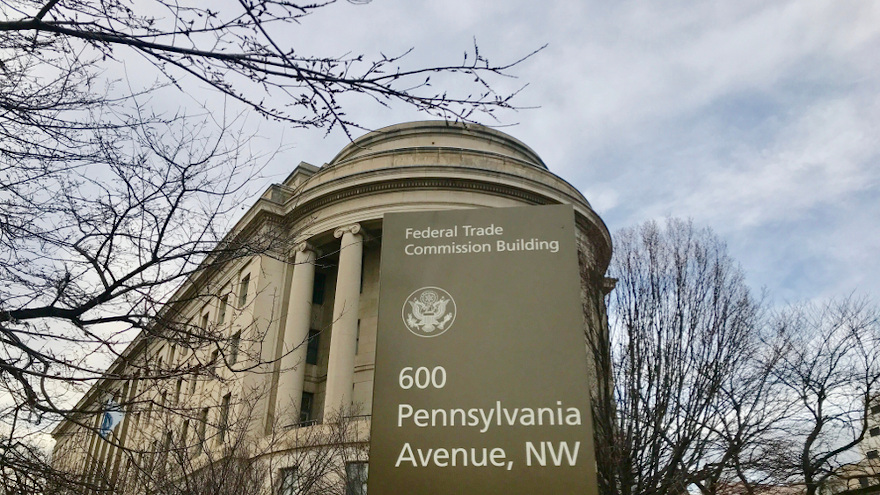 Perhaps dealerships and other segments of the auto finance and retail spaces can take solace in the dissenting statement from one of the former leaders of the Federal Trade Commission, which ordered a Washington, D.C.-area dealer group to pay more than $3.3 million in penalties over "junk fees" and alleged discrimination.
Last week, the FTC announced an action against Passport Automotive Group for what the regulator called in a news release as "deceiving consumers by tacking hundreds to thousands of dollars in illegal junk fees onto car prices and for discriminating against Black and Latino consumers with higher financing costs and fees."
The FTC said Passport Automotive Group, president Everett Hellmuth and vice president Jay Klein will pay more than $3.3 million to settle the FTC's lawsuit, which the regulator said will be used to refund consumers harmed by Passport's conduct.
Before his pre-planned resignation from his position, FTC commissioner Noah Joshua Phillips said in his dissenting statement that he had no objections to three of the four counts against the dealer group. However, the other count in the allegations prompted Phillips to explain his opposition to the regulator's actions.
"The Equal Credit Opportunity Act (ECOA) prohibits creditors from discriminating against an applicant with respect to any aspect of a credit transaction on the basis of race, color, religion, national origin, sex, marital status, age, or because of receipt of public assistance. Per the complaint, Passport's discretionary markup policy imposed higher costs on Black and Latino consumers in violation of ECOA," Phillps wrote.
"The complaint also alleges that the higher costs Passport imposed on Black and Latino consumers caused substantial injury to those consumers, were not reasonably avoidable by them, and were not outweighed by any benefits to consumers and competition, and therefore Passport's conduct was unfair. This is the first case in which the Commission has alleged that the disparate impact of business conduct is unfair," he continued.
"I have no quarrel with Counts I and II, nor Count IV's allegation that Passport's discretionary markup policy violated ECOA. I would have voted in favor of a complaint limited to those complaint counts. I cannot support Count III and its novel interpretation of unfairness," Phillips went on to say.
"Count III accomplishes nothing in this case. The sole reason for its inclusion is to announce to the world that the FTC has expanded its unfairness jurisdiction to include antidiscrimination. But because that announcement raises myriad questions about the liability rule, it serves no useful function for businesses eager to stay on the right side of the law," he added.
Despite Phillips' reasons, the FTC voted 4-1 in favor of the enforcement that climaxed a matter that began four years ago.
In 2018, the FTC brought action against Passport, its president and vice president, alleging the company mailed more than 21,000 fake "urgent recall" notices to consumers in 2015 and 2017, to "lure them" to visit dealerships.
In its complaint announced, the FTC alleged that Passport regularly advertises certified, reconditioned, or inspected cars at specific prices, but then added extra certification, reconditioning, or inspection fees that it falsely claims consumers are required to pay.
The FTC also alleged that Passport charged Black and Latino consumers hundreds of dollars more in financing costs and fees, on average, than White consumers. In its complaint against Passport, the FTC alleges that the company has for years violated the FTC Act and the Equal Credit Opportunity Act by:
• Charging illegal "junk fees," as the FTC said Passport advertised vehicles as "certified," "inspected," or "reconditioned" at specific prices. But the FTC alleged that when customers try to pay the amount advertised for those vehicles, Passport added hundreds or thousands of dollars in fees. These fees either increase the price over what was advertised or negate any discounts the consumers negotiated.
The complaint cited one case in which a vehicle advertised for $24,050 was in fact sold for $26,440 "due to illegal add-on fees."
The FTC said, "Passport frequently described the extra fees it charges to customers for inspection, reconditioning, or certification as required when in many instances, auto manufacturers specifically prohibit dealers from charging separately for certification costs.
• Discriminating against Black and Latino customers, as the complaint alleged that Passport regularly charged Black and Latino customers more in financing costs and fees than they charge non-Latino white customers.
Although Passport claimed that it had a policy to prevent discrimination, the complaint alleged that Passport did not even enforce or monitor the policy.
The FTC's complaint alleged that Black and Latino consumers paid on average about $291 and $235, respectively, more in interest than non-Latino white consumers did. It also alleged that Black and Latino consumers paid an extra fee on average of 24 percent and 42 percent more often, respectively, than non-Latino White consumers.
According to the news release, Passport, its president and its vice president have agreed to a proposed federal court order that would:
• Prohibit them from charging different groups different markups: The order would require Passport to establish a fair lending program to ensure it does not discriminate going forward, including a provision that will require each Passport dealership location to either charge no financing markup or charge the same markup rate to all consumers.
• Prohibit them from deceiving consumers about prices and fees: The order would prohibit Passport from misrepresenting the cost or terms to buy, lease, or finance a vehicle, or whether a fee or charge is optional. It would also require them to only charge consumers fees with their express, informed consent.
• Require them to pay money to refund consumers: The order would require Passport to pay the FTC $3.38 million to refund consumers harmed by Passport's unlawful actions.
"With this action against Passport and its top executives, the Commission is continuing its crackdown on junk fees and discriminatory practices that harm Black and Latino consumers," said Samuel Levine, director of the FTC's Bureau of Consumer Protection. "As families struggle with rising prices, companies that think they can hit consumers with hidden fees should think again."
The FTC said it files a complaint when it has "reason to believe" that the named defendants are violating or are about to violate the law and it appears to the commission that a proceeding is in the public interest. Stipulated final orders have the force of law when approved and signed by the district court judge, according to the FTC.