LPS chosen as 2021 Large Business of the Year in Mississippi home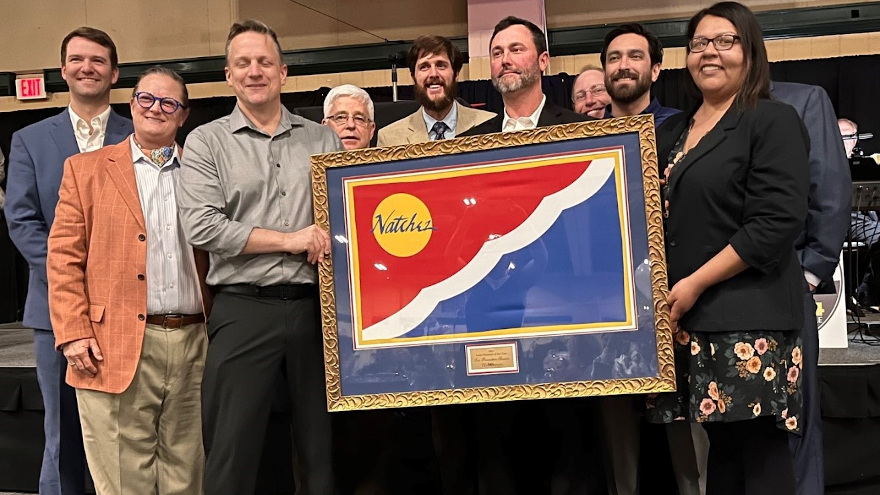 The Natchez-Adams Chamber of Commerce named Loss Prevention Services (LPS) as its 2021 Large Business of the Year at the annual chamber gala on Jan. 25.
The chamber presents this award annually to a member business with more than 25 employees that excels in workforce development, employee retention, career development for employees and overall contributions to the community, that are "internal and externally involved in promoting Natchez."
"In the midst of the pandemic, LPS continues to grow and thrive in this uncertain economic climate with hard work, great business and respect for all," Middleton said, Wes Middleton, chairman of the Adams County board of supervisors and presented the award.
"When visiting the site on Franklin Street, you are well-aware of the measures taken to make this a state-of-the-art facility," Middleton continued in a news release. "The employees and the pride they take in their job is imminent. Champions are selected on a regular basis to encourage high performance as well as to show employer appreciation."
Middleton also said that LPS has "a strong employee activity committee" working to support local causes such as the American Cancer Society and local nonprofits including the Relay for Life initiative, Natchez Children's Home, Stewpot, the Natchez-Adams Humane Society and many others.
LPS also took home the "People's Choice Award" at the 2021 Chili Cook-off fundraiser for the Natchez Rotary Club. The company implemented what it believed to be a clever strategy of hosting a pre-event cook-off in-house to choose the best recipes from its employees.
Loss Prevention Services said it is one of the top five largest asset and portfolio management companies in the industry.
"The company takes great pride in their management team that has designed and deployed innovation automation that assures consistency, effectiveness and efficiency," the company said.
In 2020, LPS relocated its corporate headquarters Natchez, Miss., as its offices are located in the city's beautiful and historic downtown.
LPS still operates its location in Grandville, Mich.